Rodmarton Manor in the Cotswolds has been described more than once as the ultimate Arts and Crafts house and garden. In garden parlance, it is a style that is referenced now more than ever as a framework that continues to accommodate just about any kind of relaxed planting—grassy perennial, traditional herbaceous, exotic, orchard and meadow—grounded by evergreen topiary and enclosures of yew.
But what does it mean? The original Arts and Crafts adherents were motivated by a desire to promote good honest craftsmanship in the face of industrialization in the latter half of the 19th century. It was an aesthetic reaction to overwrought Victorian twiddling, a desire for simplicity, and a consensus that mass-produced goods were inferior to something made for purpose by the local blacksmith or woodworker.
These ideas still have currency: keeping sheep to nibble the grass is very Arts and Crafts (Vita Sackville-West's variation was Abdul the donkey), and so is hand-woven hazel edging and willow bent into plant supports. Contemporary landscape designers like Jinny Blom are builders as well as plants people, commissioning gates, tables, kitchens from the best craftspeople around. The idea of making a garden at the same time as a house—instead of tacking it on at the end—speaks to the logic of Arts and Crafts architects: at Rodmarton, the garden is integral to the orientation of the house, connecting it seamlessly and delightfully with the wider landscape.
Photography by Britt Willoughby Dyer, for Gardenista.
Part of the reason that the Arts and Crafts aesthetic still works is that it involves an intimate and individual response to place; it is impossible to speak of the garden away from the house, and vice versa. Making full use of local vernacular, it was also successful as an export, not least in the output of Frank Lloyd Wright, and the Mingei movement in Japan.
The first owner of Rodmarton Manor, Claud Biddulph, called it a "cottage in the country"—not a glib reference, like the mansions in Newport, Rhode Island, but an insight into how seriously he and his wife Margaret took their rural project. Like Nathaniel and Daisy Lloyd whose Sussex house, Great Dixter, was remodeled by Edwin Lutyens, they wanted a garden that was built from the same materials as the house, to which they added their own green structure. The Lloyds were expert gardeners, and in a similar way Margaret Biddulph (Claud's wife), who had trained at horticulture college, knew exactly what she wanted from her architect, Ernest Barnsley, and head gardener William Scrubey.
The Cotswolds, around two hours northwest of London, were a hotbed of radical design thinking from the 1870s on, not least because thinker and doer William Morris of Morris & Co had rented a small Elizabethan manor there for weekend use. His print designs such as 'Willow Bough' have more to do with Englishness than fashion, and are as popular as ever (see: Retelling the Classics: Ben Pentreath's Latest Collection for Morris & Co).
The Biddulphs took their anti-industrial principles so seriously that steam-engines were eschewed even in converting oak trees into house beams: instead, everything was sawn by hand. Furniture was made in the Rodmarton workshops, and even the house usage had an integrity: the biggest rooms, such as the ballroom, were used for community crafts, including weaving, embroidery, and painting by Rodmarton Women's Guild.
The Arts and Crafts vision is timeless and mythical; it speaks to our idea of what a country house should be.
Paths are cleaved from stone found on the property, including these circular stepping stones set in turf. Tapering stone plinths (shown here) would have supported them, as staddle stones for keeping buildings aloft, clear of vermin and water.
Rodmarton's original Arts and Crafts style has been improved on (one could argue) in a looseness, with roses winding around themselves to form casual baubles, and clematis scrambling through towers of bent willow and hazel. Shaped yew and local stone provide the kind of parameters that flatter today's more naturalistic planting.
Rodmarton is still under the stewardship of the Biddulph Family. "There have been a few tweaks here and there, but there is certainly more to do," comments owner John Biddulph with classic British understatement.
Here, an original, bespoke drain contrasts with a later one (which still seems perfectly serviceable from a 21st century perspective, and it's not plastic), illustrating the problem that the Arts and Crafts intelligentsia predicted, in the downgrading of craftsmanship.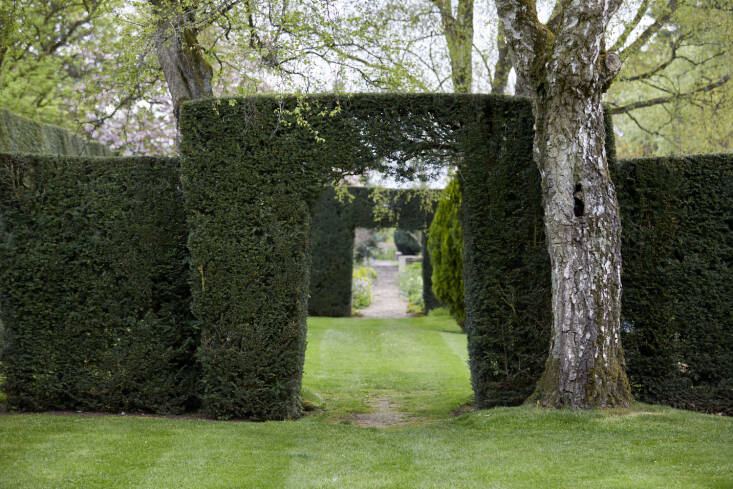 An infilade, perfectly demonstrated by the ever-diminishing arches of yew shown above, is a favorite device used by designers today, revealing hints of a garden's splendors, while requiring the undertaking of a journey. The compartments progress from the first one containing a tennis court, then a swimming pool, then a croquet lawn, then a cherry orchard, finally revealing the Daffodil Paddock and open country beyond.
Like any self-respecting walled garden, the one at Rodmarton is rallying round, after a few decades of being surplus to requirement. The new head gardener, Sue Cranch, has cleared the glasshouses and built work benches, on which the beginnings of a new cutting garden are flourishing. New specimens have been added to a matrix of fruit trees both here and in the outer kitchen garden—where they mix with ornamental trees, all set in uniform circles that have been cut into the grass. Rodmarton's symmetry, pollarding of some trees and topiarizing of others, adds to the medieval air, while contrasting brilliantly with the wild garden that fringes the formal edges.
The effect of contrast is played out to perfection at Rodmarton, with plinths of tightly clipped Nitida lonicera mimicking the old stone plinths, rising out of rounded mounds of lavender and vertical flags of iris. On leaving, the straight drive down to the village is flanked on either side by tightly clipped, yet undulating beech hedging, and grass with mown edging  that has been allowed to grow long in the middle. This is where contemporary gardening reaches over the weed-spraying years of the 2oth century, revealing orchids and wild flowers that were waiting in the grass.
Rodmarton Manor is open until the end of September, on Wednesdays, Saturdays and holidays.
For another Arts & Crafts garden visit: Beneath the Brambles: CFA Voysey in an English Garden.
(Visited 556 times, 1 visits today)