I discovered Yukiko Masuda's thoughtful photographs on Instagram, where I quickly fell in love with a small study of fall hues that she captioned "autumn palette." On her feed, @nonihana, the flower stylist and wire-work artist photographs the arrangements and wire-and-glass vases she creates in her Tokyo studio. Here, a glimpse of Masuda's work—and her secrets to getting those moody, Insta-perfect shots.
Photography courtesy of Yukiko Masuda.
Above: Spotted on Instagram: an "autumn palette" of blush-colored hydrangea, green-stemmed daisies, faded leaves, and orange berries. Masuda shoots "99 percent" of the photos on her Instagram feed with her iPhone 6—no high-tech camera needed.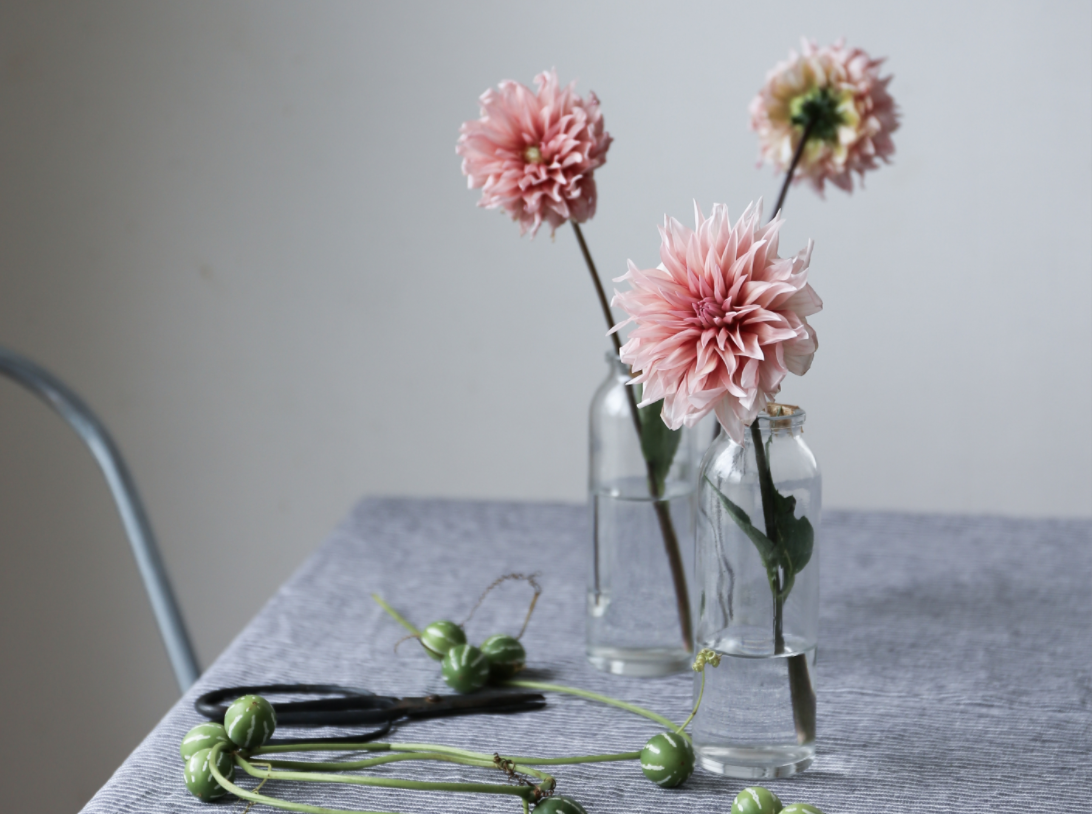 Above: Coral dahlias are delicately arranged in simple glass vases. For the best photos, lighting is key: "I usually take photos using only natural light from a window," Masuda tells iPhone Photography School. "I control the amount of light coming in through the window with a board. If it's too bright, I cover the window with it, allowing me to get the right amount of light on my subject."
Above: "Try experimenting with different objects for a clean background, such as a simple white board, some natural linen cloth, a wooden table or a black board," advises Masuda on iPhone Photography School. Here, green stems and leaves are vibrant against a slate-colored backdrop.
Above: Masuda also creates original wire vases and lights. The 5Peace vase, shown, holds small wildflower stems; it's available through Ex Flowers for 26,000 Yen ($251.26) but is currently sold out.
Above: One of Masuda's flatlays: summer flowers against a gray background.
Above: A tall, wire-framed Sabi vase by Masuda, also available through Ex Flowers (23,000 Yen or $222.23, currently sold out).
Above: Small wire vases by Masuda display trailing silhouettes.
Above: Masuda creates bouquets and teaches classes on floral arrangement in her Tokyo studio. A black ribbon adds a dramatic detail.
Above: Masuda shoots more than flowers. She also incorporates her love of baking into her photographs. Here, lilac stems are effortless table decoration for an afternoon slice of plum cake.
We love the stark silhouettes of the autumn garden. For more, see our posts:
(Visited 293 times, 6 visits today)