From here to infinity is the view you get in a swimming pool with a vanishing edge. Infinity pools make you feel as if you are one with the horizon, floating above the landscape, luxuriating in sky, and finally understanding how it feels to be a bird. So…exactly how do infinity pool designers accomplish the disappearing act?
So many questions. If you're adding a backyard pool, should you ask for a wildly Instagrammable #infinitypool design? Or will today's design darlings go the way of the kidney-shaped pool of yesteryear? How much do infinity pools cost, anyway?
Read on for everything you need to know about infinity swimming pools.
1. What is an infinity pool?
An infinity pool, also known as a zero edge pool, looks like it disappears into the horizon. An infinity pool is designed to play a visual trick on the eye, making you think that there is no separation between the water and surrounding landscape features.
2. Who invented infinity pools?
There's a lot of debate about the historical precedents for today's infinity swimming pools. In earlier centuries, recirculating fountains with water spilling over the edge into basins were precursors to infinity pools. In the US, modernist architect John Lautner began building swimming pools with a vanishing edge in southern California in the mid 20th century. One of his famous early designs, at the Silvertop home commissioned by industrialist Kenneth Reiner, was "a cantilevered swimming pool that seems to flow directly into Silver Lake Reservoir far below," notes the LA Conservancy.
Today a "Lautner knife-edge design" refers to  an infinity pool where water flows outward to the edge of the pool at deck level and overflows into a slot at the edge.   The treatment of the coping distinguishes a Lautner knife-edge pool from an infinity pool with submerged coping where "you look down and see wet decking or coping material at the edge of the pool," writes Brian Van Bower in Pool Spa News. "But when you approach a knife-edge perimeter-overflow pool, you look down inside the pool to the full depth of water and your feet remain dry. It's a genuinely cool detail that creates a certain 'wow' factor, because it mystifies, intrigues and delights those who know nothing about how these systems are made."
3. How do infinity pools work?
To understand how an infinity pool's design works, imagine a waterfall. You see water go over the edge of a waterfall and—disappear into thin air. What really happens, of course, is that the water flows down to a lower level and (depending on how steep a waterfall's slope is) is captured in a lower pool, which then overflows again as more volume cascades down from the top.
An infinity pool is sort of like a waterfall with a single lower level—one section of the pool's edge is lower, acting like a dam which overflows into a lower catch basin. From there, water is pumped back into the upper pool to create a continuous overflow.
4. What is an infinity pool edge?
An infinity pool's edge is like the edge of any swimming pool, except that there's a dip in one section of it to allow water to flow over, into a lower catchment basin. To create the disappearing-edge illusion, infinity pools are designed without a visible cap: at the deck level, there's nothing—coping, pavers, or decking—to call attention to the edge.
5. What sites are best for infinity pools?
Above: A landscape by designer Ive Haugeland with "awe-inspiring views of the Pacific Ocean" in Sausalito, California has an infinity pool sited on a steep hillside. See more in On the Edge of the Continent in our 2018 Gardenista Considered Design Awards. Photograph by Marion Brenner.
"An infinity-edge pool needs an appropriate setting," says San Francisco-based landscape architect Scott Lewis. While it can be a striking design element, this type of pool works best on a site with a significant drop-off, he says. Read more design tips in Ask the Expert: An Insider's Guide to Swimming Pool Design from Scott Lewis.
6. What is the world's best-known infinity pool?
The most famous infinity pool in the world? That would be the cantilevered pool on the rooftop at the Marina Bay Sands hotel in Singapore.  People travel from around the world to swim in it or to take photos of it. The views of the city are dizzying. Check them out on Instagram: #marinabaysandspool.
7. How much does a typical infinity pool cost?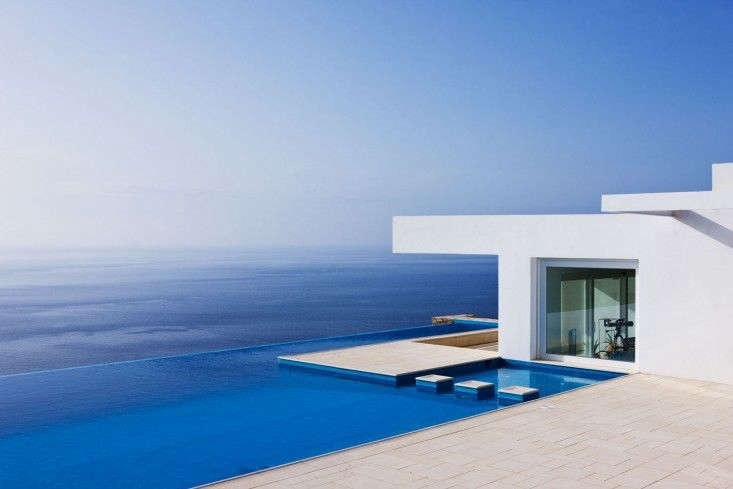 The catchment and recirculation systems in an infinity pool add a degree of difficulty—and expense—beyond a basic swimming pool. To prevent pool water from flowing in the wrong direction, you also need a vacuum basin, plus a special filtration system to remove leaves, bugs, and other debris from the pool's edge.
Pool designers estimate that a vanishing edge will add 30 percent to the cost of any in-ground pool. And that's for one disappearing edge. Some infinity pools are designed to allow water to overflow on more than one side of the perimeter, which adds to the cost.
The average cost of an infinity pool? $79,000, estimates Home Advisor, with an average range from $55,000 to $130,000.( The base cost per square foot is about $80.)
8. Are infinity pools safe?
Yes, infinity pools are safe. Remember, the disappearing edge is a visual trick, not an actual disappearing edge. If you swim up to the edge of the pool, you'll reach a wall. (At the Marina Bay Sands hotel's infinity pool 57 stories above street level in Singapore, "Contrary to what I thought prior to visiting, the pool does not just completely drop off into nothing as it appears to," writes The Wander Blogger. "A few feet beneath the edge of the infinity pool is another platform, so were you to somehow flip over the edge of the pool, that's where you'd land. But if you then fell off that second ledge, you'd be pretty well screwed, so security makes sure no monkey business goes on at the pool's edge. Even lifting yourself up to look over the edge will get a whistle blown at you.")
9. Do infinity pools require additional maintenance?
Infinity pool technology is  more complicated than old-fashioned pool technology, so expect more maintenance requirements as well. The water catchment basin is an additional area to clean, for one thing. The filtration and water pump need to be monitored; if one gets clogged or the other breaks down, there will be no effective recirculation. And finally, as water flows over the edge of the pool and into a lower basin, it will evaporate faster than in a typical swimming pool.
See more design tips in our guide to Swimming Pools 101 in our curated design guides to Hardscaping 101 projects. Read more:
(Visited 3,956 times, 18 visits today)