When three college friends created online crafts marketplace Etsy in 2005, their inspiration was Grandma's clutter. "When I was a kid, one compensation for visiting my grandmother in Buffalo after an eight-hour trip was that I got to root around in her basement," said co-founder Rob Kalin.
A decade later, the site is so big that it would be impossible to root through everything on your own. A search for "garden tools," for instance, turns up 45,939 results. There are 65,238 planters for sale. And 11,057 garden books. 
In honor of Etsy's 10th anniversary this month, we've cut through the clutter for you. From some of our favorite Etsy makers and craftspeople, here are our top 10 Etsy picks for gardeners:
Above: Avid gardener Chandra Hartman "wanted to satisfy her itch to grow things, but had very little land. Knowledgeable of urban permaculture, she went about turning her small space into a mini growing area by focusing on the tiny and humble seed." A collection of 10 Packets Of Organic Heirloom Seeds includes such varieties as Black Valentine Beans, Clemson Spineless Okra, and White Scallop Summer Squash; $27 from Moonlight Micro Farm.
Above: Made to order, a porcelain Graphyne Planter in a matte finish has a glossy interior and comes with a hexagonal drainage tray.  "Cutaway shapes play with shadows updating the conventional drainage tray to become the design focus,"says Brooklyn-based designer Farrah Sit; $300 from Light and Ladder.
Above: A canvas Klein Tools Zipper Bag is 13.99 from In the Hands of Professionals. For more Etsy-inspired storage, see 10 Easy Pieces: Etsy's Best Canvas Carry-Alls.
Above: A Handmade Bentwood Hanging Planter has a shelf for a plant and is $65 from Ethanollie.
Above: "Before Gertrude Jekyll, there was William Robinson, a Victorian iconoclast who invented the idea of the 'wild garden,' " Kendra tells us. A hardcover copy of William Robinson's classic The English Garden with a dust jacket is $26 from Forsythia Hill. And for more of William Robinson's work, see The Ultimate UK Getaway: 1 Hour from London and a World Away, at Gravetye Manor.
Above: Above: The Volcano Store's Waxed Duck Canvas Half Apron ($42) is a favorite of Justine, who calls it "an efficient and elegant way to carry your tools as you work."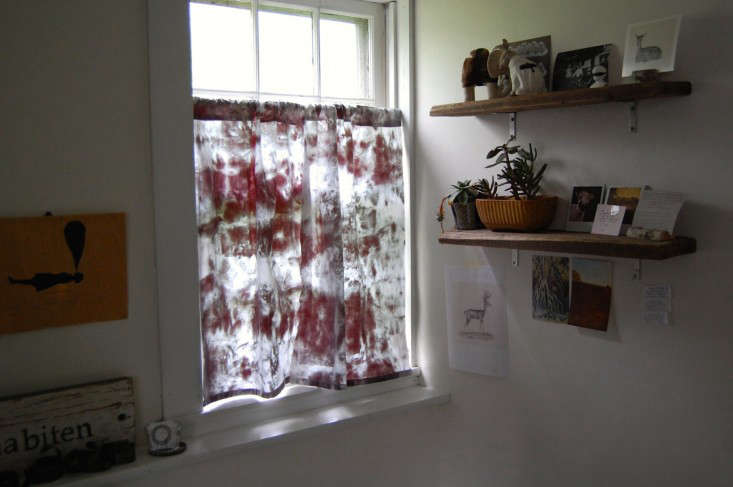 Above: Artist Liane Tyrrell used plant-based dyes to make a pair of hand-stitched Hand Dyed Cotton Curtains ($65). For more about her Enhabiten shop, see DIY: Black Walnut Tie-Dye Napkins.
Above: Made of jute twine, a Crocheted Plant Pouch from Australia-based design shop My Very Own Goggles is $32. For more about My Very Own Goggles, see Etsy Find: Hanging White Cloud Planters.
Above: Made in the US, a handmade trowel and cultivator Garden Tool Set from Ashfield Tools in Massachusetts has birch handles ; $90.
Above: We're inveterate collectors of vintage gardening books. A collection of 5 Vintage Garden Books is $30 from The Vintage Decorator.
For more from our favorite Etsy shops, see:
(Visited 94 times, 1 visits today)