South Africans love the outdoors and are as at home out as they they are in. Inspired by gardens from the suburbs and farmlands around Cape Town, we've rounded up 11 garden ideas to steal to refresh your personal botanical hideaway:
Photography by Marie Viljoen.
See-Through Security
Above: South Africans are security conscious. Transparent steel screens are safer than solid walls because they do not obstruct sightlines, but do provide a deterring barrier between the street and the home. And they can double as trellises. Here, in a suburb of Cape Town, a raised bed below the screen's brick footing allows good soil to be contained above street level for rose bushes and a spring planting of screen-climbing annual sweet peas.
Feline Friendly
Above: Garden with friends. Grow organically so that your furry companions can eat grass with pleasure and indulge in worry-free catnip. And always keep a litter box indoors, cleaned daily and well-stocked with fresh litter in order to discourage the feline from using the vegetable beds as his local loo. 
For more ideas for organic gardening, see Dirty Secrets: 10 Ways to Improve Garden Soil.
Shady Discovery
Above: Underplant trees with shade-loving shrubs and perennials, and make a walkway in an unused space. Here, at the Relais & Chateau Cellars Hohenhort, lush plectranthus and mophead hydrangeas flank a narrow mulched path, creating a sense of exploration and discovery in an otherwise forgotten and negative part of a garden.
Invite The Neighbors
Above: Birds bring enchantment to a garden. Lure nectar-loving birds with the plants that delight them. At Kirstenbosch National Botanic Garden, this lesser double collared sunbird sips from native agapanthus.  Read up on indigenous plants for your region to discover what your local birds love (in New York City hummingbirds are partial to jewelweed), then wait for the feathery party to begin.
Pack Away the Mums
Above: Think ahead for fall planting. There really are alternatives to mums. South African plectranthus has spread its wings and has flown to the rest of horticultural world, performing in most climates as an annual. Plant it now for a gorgeous late season show in semi- and full shade. 
Beat the Heat
Above: Gardens are for living. Shake off your shoes and set up a table in the shade. Perfume the table water with garden herbs and bring the flowers, too. Your friends won't want to leave. We assume that is a good thing. 
Water, Water, Everywhere
Above: Better even than feeding birds is providing fresh water. Would you want to drink out of a city sidewalk puddle? If you have space for a small circulating fountain like this one where these cute swee waxbills are cavorting, all the better. But even an abandoned terra cotta saucer can double as a birdbath. Be sure to wash birdbaths weekly and refresh them daily. 
For more ideas for adding a water feature, see Ultimate Luxury: 10 Favorite Fountains and Water Features.
Succulents Story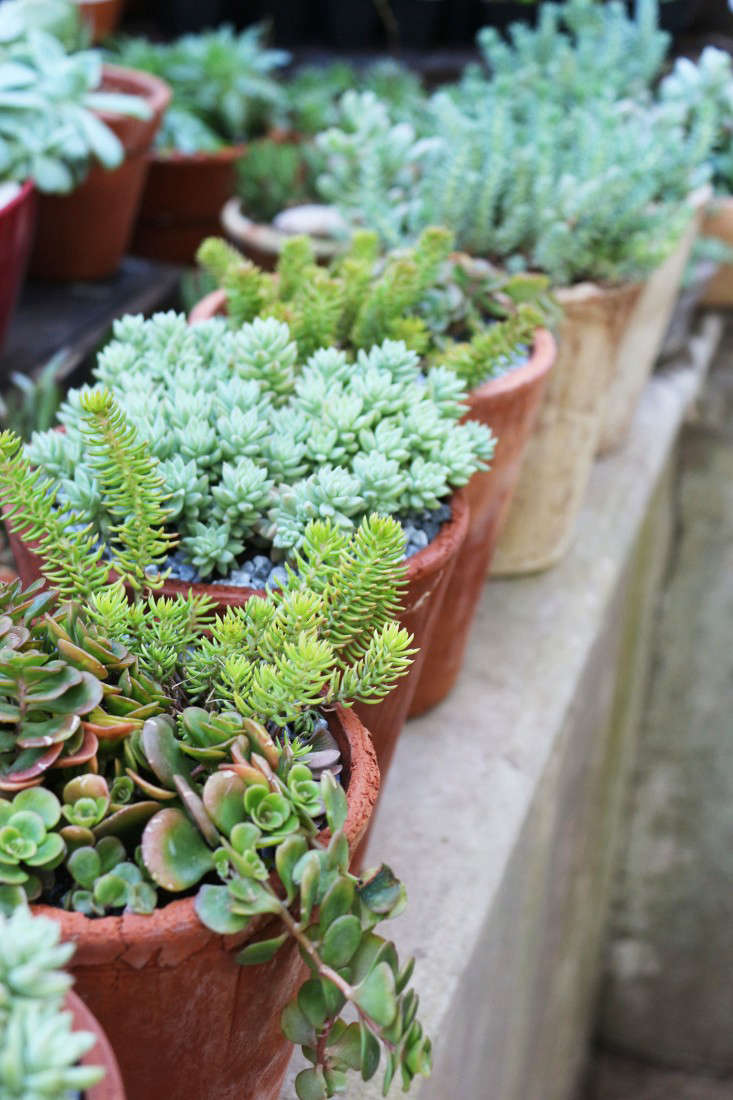 Above: Instead of planting one high impact succulent pot, plant six. The range of texture, form, and color in succulants is vast. Pair sharp with smooth, round with long, drape-y with stiffly upright, glaucus with lime. Sync them up in a series of same-size pots. And when you come home from a week on the road they will still be there, smiling. Happy to see you.
Wondering which succulents to plant? See 10 Easy Pieces: Best Succulents.
Fragrant Foliage
Above: In a Cape Town suburb indigenous coleonema (confetti bush) and Artemisia afra–fragrant and generally unruly shrubs–are kept clipped in a formal border. The shearing tightens their loose structure, emphasizes the fine grain of their leaves, and releases a cloud of scent during the process. Every region has local plants that can be used in new ways. Study your local flora and choose new plants to use in old ways. 
Practical Beauty
Above: At Babylonstoren near Paarl, vine clippings are woven into baskets that help to force the stems of rhubarb. Limiting the light allows rhubarb stems to grow taller and to stay paler (and to taste less bitter). After the plants die back, the baskets are objects in their own right, lending rustic structure to the kitchen gardens. 
For more of this garden, see Babylonstoren Greenhouse: An Idyllic Garden.
Society Garlic
Above: Native to South Africa, society garlic (Tulbaghia violacea) is a worthy addition to the herb garden and is not that genteel. It is very pungent and makes an excellent substitute for the culinary garlic we all know. Use the leaves and flowers in salads and pestos (eating the tubers will announce your presence a day before your arrive). The pretty flowers bloom even under duress; this is a waterwise plant and is beautiful planted en masse.
For more landscaping ideas from South Africa, see:
(Visited 6,285 times, 31 visits today)