I am always looking for good gifts to give to the gardeners in my life. And by "good," I mean: practical, well-made, and original. Hello, Etsy.
Etsy, the world's biggest crafts fair, has come a long way since the last time I wrote about the site nearly six years ago, when I said: "If it evokes your grandma's basement, that's no accident." Times change. Nowadays, many of Etsy's handmade items–mostly one-of-a-kind, by the way–are among the most interesting new product designs I see. If I were a buyer for a big retail chain, this is where I'd go hunting for new finds:
Above: The Heirloom Seed Kit in Paper Envelopes is $28 from Sarah Rainwater Design. Six kinds of seeds (basil, cherry tomato, arugula, greek oregano, nasturtium, and lemon bergamot) come with folded paper pots, a wooden crate, a 2012 calendar, and instructions.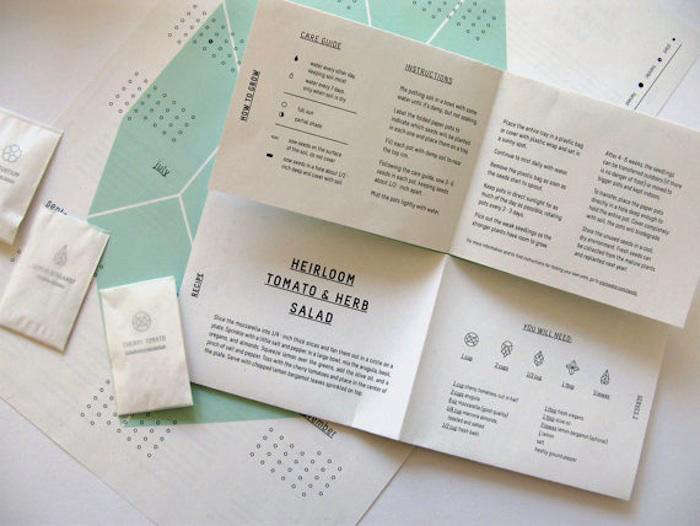 Above: The Heirloom Kit's instructions include a recipe for tomato and herb salad.
Above: A pack of 20 Garden Markers Made From Recycled Wood is $25 from Andrew and Melissa. Made from Alaskan yellow cedar, they give off a pleasant sweet, peppery (is this an oxymoron?) scent.
Above: A Bee House is £19.95 from Mike in Edinburgh, Scotland. It's designed to attract solitary polinators–such as masons or leafcutters–and should be hung in a sheltered spot "to keep the rain from flooding the bees' bedrooms."
Above: A set of six Seed Saver Envelopes is $12 from Heidi Schweigert. Each envelope also comes with a small glassine envelope for saving even the tiniest seeds.
Above: A set of fou cedar Seed Starting Trays is $47 from Andrew and Melissa. Wooden trays regulate temperature better than plastic seed flats; they're assembled with stainless steel staples and food-contact-safe glue.
Above: An ash Handturned Wooden Garden Dibber is $13 from Roy Diggi. Approximately 10 inches long, it's useful for planting bulbs, seedlings, and plug plants.
(N.B.: For more Etsy finds, see "Books Covered in Antique Maps.")