I come from a family of campers. But when I was growing up, the extent of our true wilderness experience was as far down a dirt road as our lumbering blue Dodge Caravan could manage to take us. Still, from the time from when I was age zero to a very recalcitrant 17, my family hit about every state and national park along the East Coast. My parents would load the back of the minivan with meticulously rolled sleeping bags, Rubbermaid bins filled with camp supplies, and enough hot cocoa mix to keep their four daughters sufficiently nourished. It wasn't adventure camping per se, but it did make me accustomed to sleeping in tents. And in case you had any doubt, yes, I became a Girl Scout.
A recent visit to the Minam River Lodge in the Eagle Cap Wilderness of eastern Oregon has significantly expanded my wilderness experience. Accessible only by foot, horseback, or small single-engine plane, the lodge isn't a place the Boyle family minivan would have been able to access.  But that doesn't stop Boyles on foot. Besides, don't let the wilderness location fool you; what the lodge lacks in paved roads, it makes up for in amenities. There are hot showers, warm meals, and a wood-fired hot tub to soothe sore muscles. If you book a night in the newly built cabin, you might decide never to leave.
My husband and I recently made the 8-mile hike into the wilderness. Here, a few details:
Above: Recently under new ownership, the Minam River Lodge has served visitors to the Eagle Cap Wilderness in the Wallowa Mountains for more than 50 years. A multi-phase reconstruction is in the works, but for now a spruced up version of the original lodge remains, welcoming hunters, packers, wandering cowboys, and over-eager hikers from Brooklyn alike.
Above: Single-engine airplanes land on the airstrip adjacent to the lodge.
Above: Visitors who aren't up for the hike can charter flights from nearby airports. Private planes are also welcome to land. On one morning we there, a family flew in for breakfast.
Above: The Minam River burbles past the lodge–hikers have the treat of hiking alongside the Little Minam River on their way in–and at this time of year you can spot spawning salmon. Guests can head out for adventures on their own, or the lodge can refer guests to independent guides for horseback trips.
Above: The first in a series of new log cabins planned for the site. The cabins are built entirely on site and with materials–from timber to river rocks–sourced locally.
Above: Inside, the cabin has two beds, a bathroom, a kitchenette, and a wood stove; $250/night.
Above: Coffee enjoyed on the front porch is a good reminder of civilization.
Above: On mile seven of our hike, James and I vowed that next time we make the trip we'll be arriving on horseback.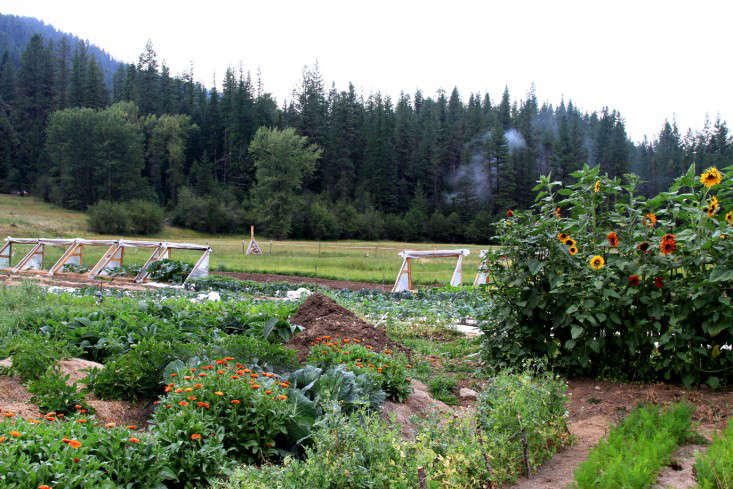 Above: I first learned about the Minam River Lodge because my sister Laura is busy building its vegetable garden. The garden provides much of the fresh produce for the guests and crew. Stay tuned for her wilderness garden survival tips later in the week.
Above: Family-style breakfast, lunch, and dinner served inside the main lodge daily.
Above: For guests seeking to rough it, there are two teepees on site; $95/night. Campers also may pitch their own tents; $40/night. But a word to the wise: don't listen to too many campfire stories about cougars and bears before spending the night in a teepee.
Above: After the long hike in, guests can take advantage of the wood-fired hot tub. No extra charge for the spectacular view of the night sky.
For booking and confirmations, see Minam River Lodge.
For another unusual (and unusually fun) Pacific Northwest campsite, see Little Cargo Container in the Big Woods.
(Visited 210 times, 2 visits today)