Seed bombs are the main weapon guerrilla gardeners can use to spread flowers in bare spots, creating pockets of beauty and habitats for pollinators. Gardening without permission is another way of describing these activities: not strictly legal but filed away by the authorities under the category of "What's not to like." Alex Mitchell in her book The Rurbanite shows us how to make seed bombs, using guerrilla tactics to spread cheer.
Read on for step-by-step instructions to make seed bombs:
A "rurbanite" is someone who has "a passion for the countryside but no intention of leaving the city," says Alex Mitchell, adding: "A growing band of rurbanites is getting in touch with the green side of the city." Enter guerrilla gardening.
"Seed bombs are best, and the most fun, when thrown into neglected roundabouts, central reservations, flower beds, and planters," says Mitchell.
Many guerrilla gardeners arm themselves with trowels and work nocturnally. But with seed bombs it is possible to make a difference without that considerable commitment; lob a bomb from a bicycle, a car window, or when passing on foot.
Seed bombing is best done in spring and autumn, says Alex Mitchell. Or, time your attack to coincide with heavy rainfall.
Before seed bombing, assess a site for sunniness and choose your seeds accordingly. They do not need to be sun-loving annuals: foxgloves would suit a shadier site. Cosmos (as shown above), a classic annual, is a perfect candidate for guerrilla gardening.
Different types of seed may be combined to make a seed bomb, says Alex Mitchell, but check that they can all be sown at the same time of year.
Best flowers for seed bombs: for sunny areas, annual meadow flowers including poppies, cornflower, marigold; Californian poppies; cosmos; hollyhocks; nigella; verbena bonariensis; viper's bugloss. For shady areas, use a woodland seed mix; foxgloves, tobacco plant, honesty.
Wildflower Seed Mix collections for various growing zones including Texas, California, Midwest, and Southeast  are $5 apiece from Urban Farmer Seeds & Plants. In the UK Pictorial Meadows offers a wide choice of meadow seed for any situation.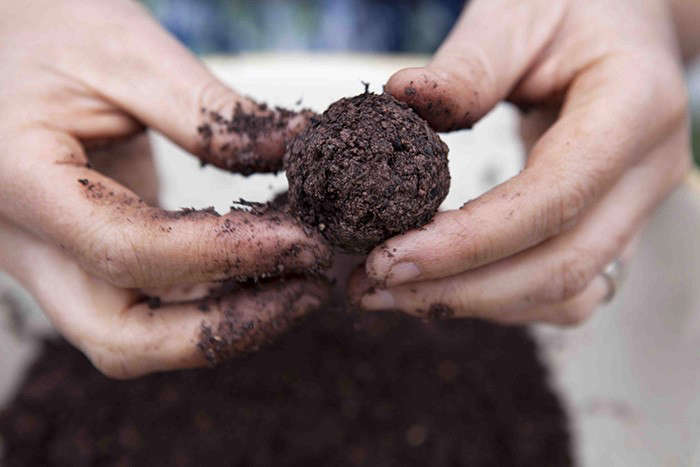 The instructions are simple enough, a bit like making chocolate truffles. Takes 30 minutes.
Ingredients:
Flower seed
Potter's clay powder, from any craft shop
Peat-free compost
Water
A bowl
A baking tray
Instructions:
Mix the seed, clay, and compost together in a bowl to a ratio of three handfuls of clay, five handfuls of compost, and one handful of seed. Then carefully add water slowly and gradually (you don't want it too gloopy), mixing it all together until you get a consistency that you can form into truffle-sized balls. Lay them out to bake dry on a sunny windowsill for at least three hours.
Targets for seed bombing should not be brownfield sites, derelict and depressing as they seem. They may be privately owned and will have their own micro eco-system, best left alone. Ditto parks and other people's gardens. Instead, rescue neglected planters and flower beds as well as civic spaces to which the planting plan has long been lost.
Now is the time to fight the good fight, says Alex Mitchell: "Urbanites the world over are looking at public green spaces around their homes with a new sense of responsibility and pride."
The Rurbanite published by Kyle Books is available for $28.05 from Amazon.
For more about the British guerrilla gardening movement, see: Throw It, Grow It, London's Guerrilla Gardeners.
(Visited 2,114 times, 4 visits today)