When a carnation was first crossed with a Sweet William in 1717, the man responsible (Thomas Fairchild) lived in dread of divine retribution; he was messing with the natural order of things. Three hundred years later, fear of the unnatural has been replaced by snobbery; double flowers are too showy, too vulgar, too flowery.
Here is something to reflect on: many flowers for which we harbor a nostalgic affection are double. Lilac, night-scented stock, most roses. Their scent is a reminder of the perfect summers of youth; we loved them before we realized that we didn't love double flowers. A new book, Double Flowers: The Remarkable Story of Extra-Petalled Blooms, begun by writer Nicola Ferguson before her death in 2007 and completed by the writer and photographer Charles Quest-Ritson, argues in their favor.
Roses
Extra-petalled blooms hold their own against a wall, a busy border, or on a street tree, contrasting with single, more dainty flowers, which can become lost. In the case of roses, extra floriferous types are more often grown than singles because their increased surface area creates a more intense experience in color and scent. The cells that exude fragrance are often held in the petals.
Pelargoniums
What do bees and other pollinators make of double flowers? It can be confusing: the amount of pollen and nectar produced is variable, just like the number of petals. On some doubles, the pollen-carrying stamens are disguised as petals, in which case they still contain pollen. It is less usual for double flowers to be completely sterile. Unfortunately, pollinators can't tell in advance so they are more likely to go elsewhere, and pollination can be a problem. In a commercial apple orchard, single blossom varieties are grown, for this reason. In a garden, the agenda is more relaxed for ornamental crab apples, cherries, and the extravagantly magenta hawthorn (Crataegus laevigatica 'Rosea Flore Pleno').
Camellias
An "imbrigated" flower such as double camellia has geometric, precisely arranged petals. The absence of a visible eye at the center of a flower gives it a more formal status in an arrangement. According to the late author Nicola Ferguson, extra-petalled flowers with visible eyes (such as zinnias and bachelor's buttons Ranunculus aconitifolius 'Flore Pleno') are informal, with an "uncomplicated charm."
Peonies
Flowers that are already round and many-petalled, such as ranunculus, rose, and peony, are the most likely to be successfully developed into doubles. With peonies and roses, the thinking is: double the double. Heavy-headed peonies are best cut and displayed with other peonies, "crammed" together in a vase with stems that are not particularly long.
Columbines
Double columbines have the advantage of coming into flower a few weeks earlier than singles, their petals lasting longer. Another thing: They have plenty of nectar, and set just as many seeds as single strains to prove it. Furthermore, Columbines go with everything, from a traditional border featuring alliums, early-flowering roses, and iris, to prairie planting. Piet Oudolf is quoted in Double Flowers as saying that there is nothing wild about the double columbine, "but it would still look good in the wildest garden."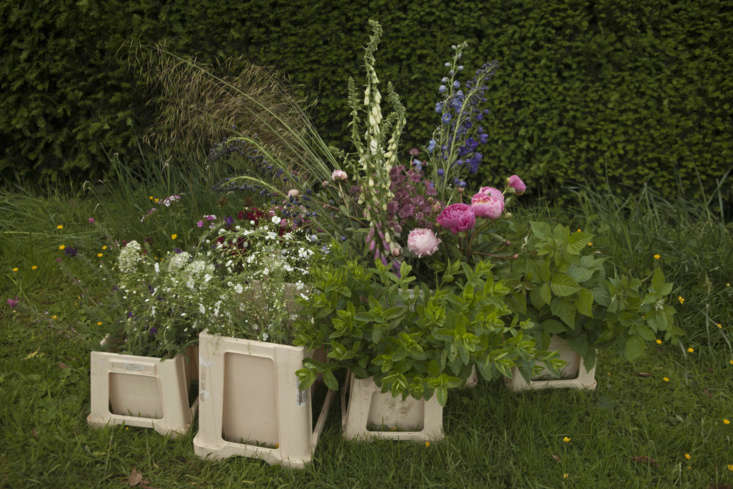 A flower decorator's skills are tested with their handling of double flowers; the sheer flower power can show singles to a disadvantage. Dahlias, chrysanthemums, delphiniums, nigella, cornflowers, garden pinks, and thalictrum tend toward double forms. A mix of formal doubles with informal doubles requires extra quantities of single blooms, so that they can hold their own.
Double Flowers by Nicola Ferguson is published by Pimpernel Press this month, £30.
If you're planning a spring (or summer) flower garden, see growing and design tips in our curated guides to our favorite Perennials 101, including:
(Visited 12 times, 1 visits today)