Last week, I threw a dinner party using recipes from Gardenista's library of Garden-to-Table Recipes, and we profiled the finished product in The Dinner Party Project: Easy Weeknight Recipes. 
But we didn't mention the incredibly easy and affordable tablescape, which required no planning whatsoever. In fact, I mapped it out only after I spotted potted succulents at the grocery store. Read on for the easy-to-recreate details. 
And don't forget–enter our fall recipe contest and send us your favorite fall recipes by Friday, October 3. If we choose your recipe, we'll feature it at our next dinner party. Enter Here.
Photography by Meredith Swinehart.
Above: I grabbed seven little succulents at my local Whole Foods. I was drawn to the red-inflected plants, so I bought all five on offer, plus two light-green versions. Each succulent was $2.50. 
Above: I used amaranth–a sometimes edible seed and my new favorite flower–and seeded eucalyptus to complement the shades of the succulents. 
Above: Next, I chose vessels from my overflowing closet. I wanted a "fancy" look, so I grabbed all the silver and pewter (and faux versions of both) I could find. Note that only one of these is a family piece–the little silver-plated candy dish on the right–and the rest I've sourced over the years at my local San Francisco Goodwill store, for an average price of $3 each. 
Above: I readied the goblets and julep cups for the succulents by stuffing them with crumpled newspaper; the plants weren't going to stay in the vessels for long, and I needed to give them some height. 
Above: I used potting soil to fill in around the edges of each container. In no time, I had six of my little succulents "planted."
Above: Anyone who designs with flowers can probably tell I'm no expert. But I assembled this simple arrangement by soaking a block of floral foam, tucking it into a low bowl, and making a bed of seeded eucalyptus. I tucked the amaranth in the middle, then added my last succulent–which looked like a little flower–into the center of the arrangement.
Above: The extra amaranth required no arranging and looked beautiful in a Mason jar. (Note the succulent competing for attention in the background: it's a deep purple aeonium.)
Above: I set half the vessels on the buffet table, to keep the dining table from looking cluttered.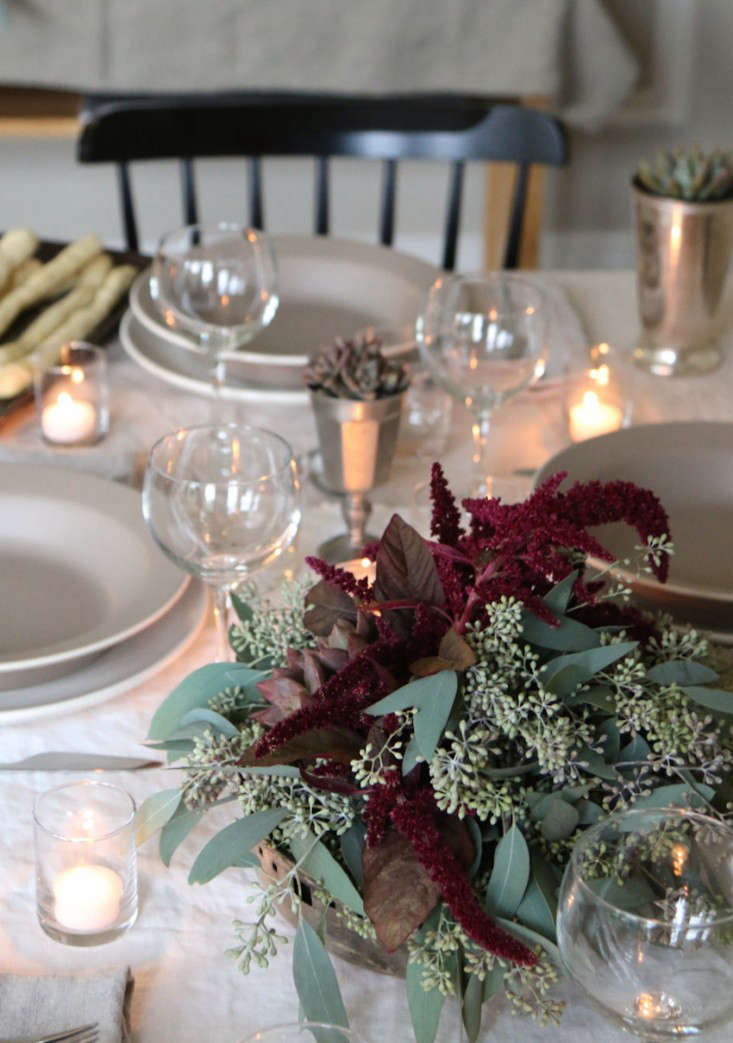 Above: The final–but critical–touch: candles. I bought a handful of 2.5-inch clear glass votives at my local hardware store for $2 each. (A set of twelve 2.5-inch Votive Candle Cups is $12.99 on Amazon.)
Above: A little succulent looks downright regal in a pewter goblet.
Above: For the tablecloth, I bought a 4-by-12-foot canvas painter's drop cloth, washed it, and cut it in half. This made for two perfectly sized tablecloths for my six-person dining table. (A Paint Essentials Drop Cloth is $16.69 on Amazon.) 
For a runner, I draped a piece of white linen across the width of the table. I served Maldon flaked sea salt in my 2-inch Blanda stainless steel serving bowls from Ikea. My salt spoon is more upscale: it's a Grand Prix Polished Steel Salt Spoon from Danish designer Kay Bojesen; $25 at Fjí¸rn Scandinavian.
Above: The overall effect was perfect for early autumn: still bright, but suggestive of the warmth of holidays to come.
Don't forget to send us your favorite fall recipe in Recipe Contest: We'll Feature Winner at Our Next Dinner Party.
Keep reading our entertaining tips: Start with Gardenista's trove of Garden-to-Table Recipes; style the best flowers in DIY Floral Arrangement: Smoke Bush and Queen Anne's Lace, and find the right advice in A Guide to Intimate Gatherings from the CAMP Workshops. 

You need to login or register to view and manage your bookmarks.