When I think of the still lifes of Flemish Renaissance masters, dramatic lighting, saturated colors, and hyper-realist flowers come to mind. In other words, the best of the autumn garden.
To honor the season, I made my own study of light and texture by using a palette of rich colors: blue, orange, and yellow. With days getting shorter and markets brimming with vibrantly hued fruits, autumn is the perfect time to create a moody arrangement modeled after the Belgian greats. Here's how to make your own masterpiece.
Photography by Sophia Moreno-Bunge for Gardenista.
Above: A saturated palette that includes blue, orange, and yellow in complementary shades.
Materials:
2 bunches of blue delphinium (I chose two slightly different shades of blue)
1 bunch of yellow dates
1 bunch of pomegranates on the branch
1 bunch of orange cyrtanthus
A few sprigs of witch hazel, or any other green foliage with large-ish sized leaves
1 small urn shaped vase (mine was about the size of my hand)
A dark backdrop for drama (I chose a matte black fabric)
Above: The painterly markings of a pomegranate.
Above: Variegated blue delphinium.
While many still life arrangements use many varieties of flowers, I stuck with one to highlight the variations of blue delphinium in natural light. I wanted the final composition to be rich and saturated, but still simple.
Above: Delphiniums are arranged at a strong diagonal to create a heart-shaped base.
Build a base that's dense in the middle with stems that extend to both sides. To maximize drama, I cut some stems short, and kept others very long. Try grouping different colored blooms together for a stronger color contrast.
Above: Delphinium base.
Next, I added a few sprigs of witch hazel on the right. I wanted the arrangement to read blue, so foliage was kept to a minimum.
Above: Cyrtanthus and pomegranates.
The final step was to add fruit. The old-world paintings that I love have both an extravagance and effortlessness. To symbolize the ephemeral nature of life, I cut fruits and left them untouched. Flowers out of water are waiting to be placed. 
Above: Dangling delphinium.
A couple of stems hanging over the edge of the table show movement, an element I think is crucial to a floral still life.
Above: My witch hazel foliage had a spider web attached, which I think is a macabre detail that the Belgian masters would have loved. This detailed image is my favorite in the post. There's something really satisfying about a closeup that suggests there is more beyond the frame.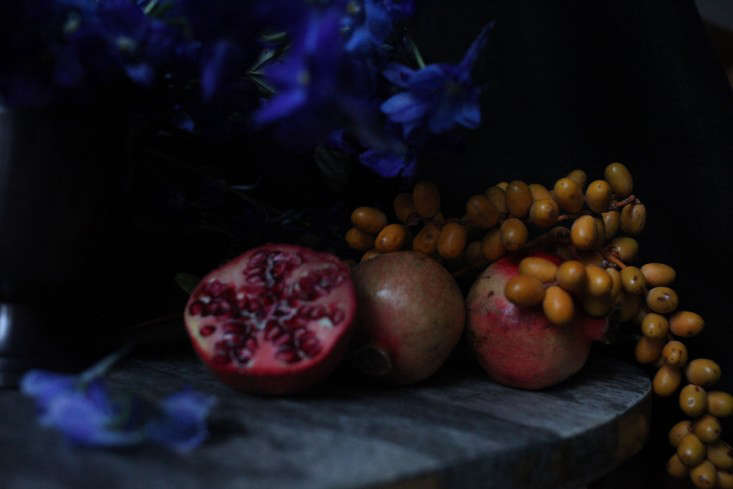 Above: I placed dates over the side of the stool, because their composition is begging to be draped.
Above: The final image.
For more of Sophia's favorite seasonal DIY Floral Arrangements, see Smoke Bush and Queen Anne's Lace and DIY: A Hanging Orchid.
(Visited 54 times, 1 visits today)