Over the weekend, we hosted a dinner party to welcome the fall, featured in The Dinner Party Project: Easy Weeknight Recipes. We built the menu using our favorites from Gardenista's trove of Garden-to-Table Recipes.
For our next dinner party, we want to feature someone else's favorite seasonal recipes: yours. Do you have a go-to succotash that makes everyone swoon? Did you inherit your grandmother's apple cake recipe? Did you create a genius side dish the other night from farmers' market finds?
Send us your best fall recipes using the comments section below, today through next Friday, October 3.  We're looking for recipes for all courses, including cocktails, starters, salads, sides, main courses, and desserts. We'll pick one winner in each of those categories–then we'll make the dish, serve it at our next dinner party, and feature it in our next Dinner Party Project post.
A few things to keep in mind:
Think about the season: we know that seasonal produce varies by region, but we're in San Francisco and have a fairly temperate climate. We can handle most ingredients you would consider "fall."
Remember the "garden-to-table" mandate: we're eager for recipes that use at least one fresh ingredient from the garden or farmers' market.
We'll host our next dinner in October (yes, around Halloween), but we're leaving the cookies shaped like witches' fingers and cocktails with floating fake eyeballs to Martha–so no need to send anything spooky.
Your recipe needn't be original. If it's taken from somewhere else but happens to be your favorite, tell us where you got it and we'll give credit where credit is due.
Submit your favorite fall recipes–one or many–using the comments section below, today through Friday, October 3. Thanks for participating!
Fair's fair: here are a few of our fall favorites from the Gardenista Recipes archive to inspire you:
Above: Michelle has been known to hoard Quinoa Fruit and Nut Bars from blogger John Bek of He Needs Food. A cookie sheet that looked just like this one was wrested from her grip over the weekend.
Above: An easy way to flavor any dish with broth: a bouquet garni. Erin Boyle points the way in DIY: How to Make a Bouquet Garni. Photograph by Erin Boyle.
Above: Justine made a Victorian-inspired tea cake using leaves from her rose-scented geranium in Tea Cake with Meyer Lemons and Rose Geraniums. Photograph by Justine Hand.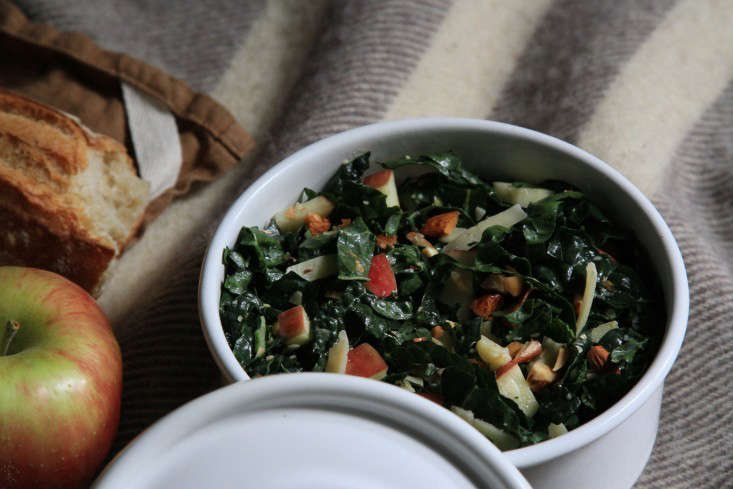 Above: Michelle chose this kale and almond salad for her latest Recipe Roundup: 5 Favorite Garden-to-Table Salads. Photograph by Erin Boyle.
All this cooking means we're spending a lot of time in the kitchen. Browse some of our favorite kitchen stories: Required Reading: The Forager's Kitchen; Steal This Look: Island Cabin Kitchen, and A Clever Kitchen Herb Rack from Austria.
(Visited 38 times, 6 visits today)