We first spotted Carl Verdickt's Greenhouse back in 2009, and the project has been a favorite ever since. Antwerp-based Verdickt & Verdickt Architecten's super-reflective glass serves as a mirror to the forested setting in Asse, Belgium. To increase the reflection of the windows, glass was coated with a translucent polycarbonate layer. For more information on this treatment, visit Verdickt & Verdickt Architecten.
Above: The exterior of the barn-style house on a sunny day. Photographs by Lander Loeckx, courtesy of Verdickt & Verdickt Architecten.
Above: Replacing walls with windows brings the outdoors inside in all seasons.
Above: The house was built with a reverse layout where the private quarters are mostly located below the main floor's open floor plan; above sits a small section of private space as a lofted area.
Above: A Vola faucet and the NO Fruit Pendant (see Design Sleuth: NO Fruit Pendant Light from Dark).
Above: A revolving fireplace hangs in the center of the main living quarters.
Above: Warm neon lighting is installed throughout the main floor.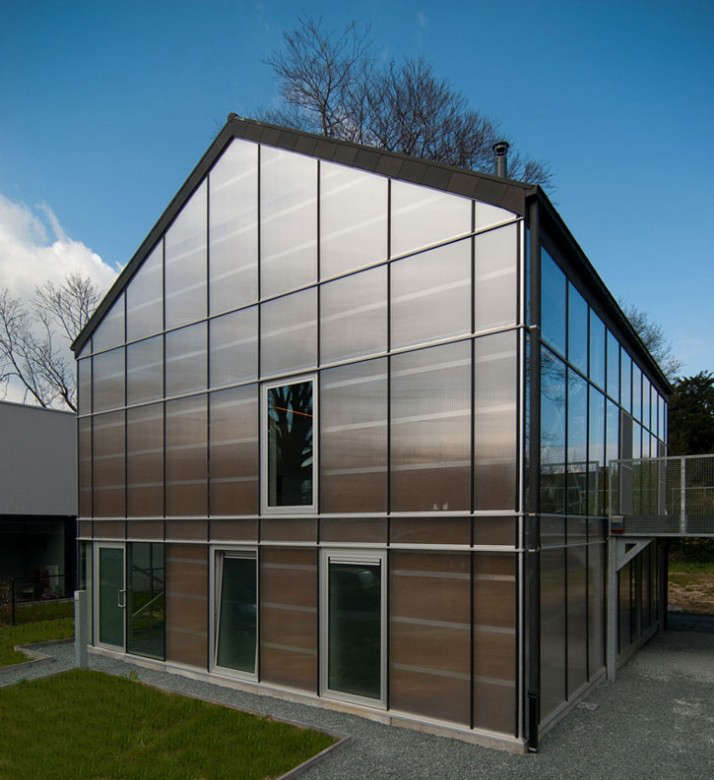 For a peek into greenhouse dining, see Into the Field: A Dinner in an Oslo Greenhouse.
N.B.: This post is an update; the original story ran on April 10, 2009.
(Visited 21 times, 5 visits today)