Every year I admire the simple warmth of my clever friend's advent wreath; so much so that this year I was inspired to make my own. Of course, being an avid forager, I had to experiment.
Above: To make the wreath, I simply bent the branches, secured them with floral wire, tied a ribbon around the branches, and clipped on the candle holders. Once I had collected all the materials, the whole thing took about 10 minutes to make!
Above: I used rose hips, larch, grape vine, and a little bit of hemlock from my yard.
Above: Advent candles and clip-on holders are readily available online. I got mine in very good time from Ingebretsen; $9.50 for a pack of ten in either gold or silver.
Above: I knew when I started this project that I wanted to use grape vines. All those curlicues add a touch of unexpected whimsy.
Above: For a contemporary look, I chose an Italian cotton ribbon in chartreuse from Angela Liguori; $10 for five yards or $36 for 44 yards.
Above: Just a bit of greenery on the grape vine wreath adds to the holiday feel.
Above: The warm tones of the larch wreath add a nice contrast to my Gustavian Gray walls (actually Farrow and Ball's Cornforth White.)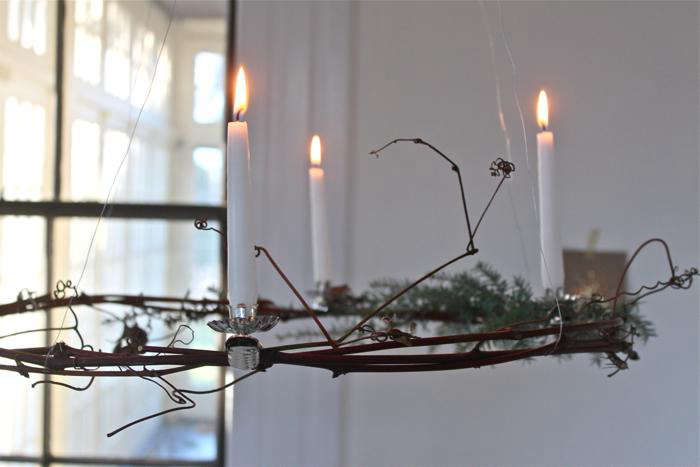 Above: Here, instead of ribbon, I chose silver wire, which complements the delicate tendrils of the grape vine.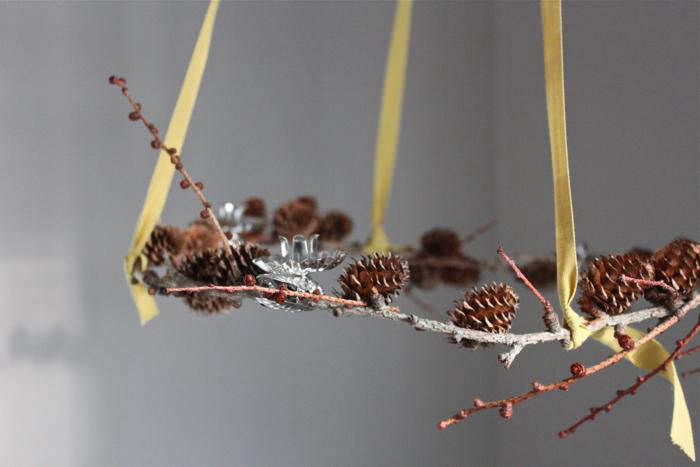 Above: A detail of the lovely larch. Despite the lithe silhouette, my wreaths were surprisingly sturdy. I like the wonky effect of the natural boughs, but for extra security, you can also use an Advent Wreath Frame such as the ones at Wilson Evergreens; $8.
Above: My rose hip wreath adds the finishing touch to the holiday table.
N.B. This is an update of a post that originally was published on December 14, 2012.
For more of Justine's DIY holiday projects, see DIY: Gilded Holiday Decor, DIY: Plant Your Christmas Tree in the Garden, Gilded Tree Inspired by Nature, and DIY: A Succulent Wreath to Display All Year.
Looking for even more holiday inspiration? See these DIY videos to learn how to make your own garland and holiday wreath.
(Visited 29 times, 1 visits today)