Chilly weather means that I spend a lot more time inside than I'd like to. Happily, I've found one January treat that brightens even my most homebound days: paperwhites. Most years, I've grown my paperwhites in a pot with small stones, but this year I opted to put my antique bottle collection to good use and grow them in water:
Photography by Erin Boyle.
Above: Incredibly easy to force indoors, paperwhites add a much needed spot of spring to the depths of winter.
Above: I started this project by heading to a local flower shop that sells bulbs so I could rummage through their stock and take my pick. I wanted bulbs that were as symmetrical as possible so they would be less likely to lean to one side after the shoots began to grow. My local florist still has paperwhite bulbs in stock, but in case they're hard to find in your neck of the woods, you can give hyacinth bulbs a try instead.
Above: When you're starting paperwhite bulbs, it's important to make sure the root hairs are submerged in water, without submerging the bulb itself. Bottle necks work nicely because they keep a bulb up and out of the water.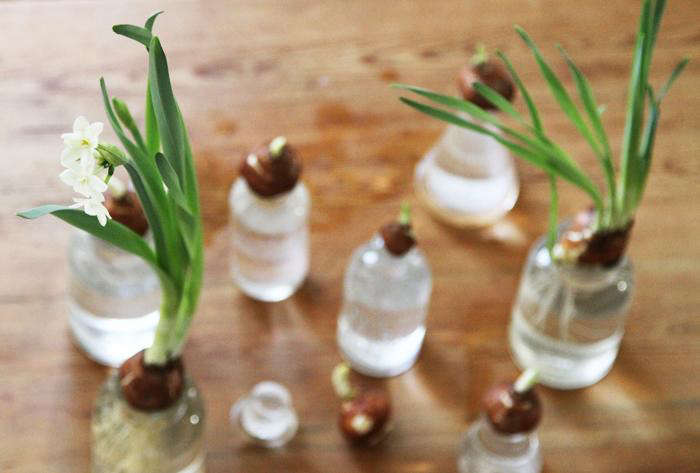 Above: The paperwhite bulb acts like a stopper on the top of the bottle and prevents too much water from evaporating, but it's still a good idea to check in with your bulbs for the first few days to make sure the roots are still in water. After the roots begin to grow downward, a little water loss won't hurt.
Above: As shoots begin to grow upward, paperwhites can become top heavy. Forcing bulbs in a pot with small stones has the advantage of giving the roots something to cling to, but I love the look of the roots suspended in water and so I'm willing to fuss a little bit more to keep them standing. Wedging a small stone under a bulb does the trick nicely. If your paperwhites become really heavy, you might simply try leaning the shoots against a window or propping them against one another for balance.
(N.B.: Another technique is to add alcohol to the water to stunt the growth of the stems but not the blooms; see "DIY: Get Your Paperwhites Drunk for Better Blooms.")
Above: Because I started my bulbs at different times, I'll be able to move the bulbs I started in tiny bottles to larger bottles where there's more room for the roots to grow and more surface area for the bulb to balance. The total time from bulb to flowers was about a month for my earliest bulbs, but timing will be somewhat dependent on the amount of sunlight you have in your space. I keep my bulbs in a window that gets just about two hours of direct sunlight a day. It's not enough for my poor sweet succulent, but it's been just right for paperwhites.
If you accidentally knock your shoots, like I did, and end up with a paperwhite casualty, there's no reason to worry. The flowers will last almost as long in a vase with water as they do on the plant.
Above: One of my favorite things about paperwhites is the incredible scent. When these flowers finally pop, they bring with them a fragrance that's heady and delicious and shockingly strong. Just the thing to dash away wintertime blues.
Finally, get more ideas on how to successfully plant, grow, and care for paperwhites with our Paperwhites: A Field Guide.
Interested in other bulbs and tubers for your garden or indoor space? Get more ideas on how to plant, grow, and care for various bulbs and tubers with our Bulbs & Tubers: A Field Guide.
N.B.: This is a post originally published January 17, 2013.
(Visited 170 times, 1 visits today)