Every weekday morning, before sitting down to work, I slip on a pair of old sneakers and take a quiet half hour walk to see what's happening in my Brooklyn neighborhood. These walks have become especially delightful in December, as one by one my neighbors have added wintry decorations to their front doors.
This season, I've been finding myself drawn to wreaths hanging on black painted doors; I love the dash of bright green standing in relief against a sophisticated black backdrop. Here are a few favorites from the neighborhood.
Photographs by Erin Boyle except where noted.
Above: This enormous wreath is a show stopper even without ribbons or bows.
Above: Nicole Franzen captured this simple boxwood beauty. I can't decide whether I'm most drawn to the wreath or the sweet brass knocker. Photograph by Nicole Franzen.
Above: This Brooklyn house has a grand front entrance, but I was partial to the smaller side door with a simple wreath hung up high–with pine cones in lieu of a bow.
Above: While it doesn't have quite the same oomph as its greener cousins, this twig and berry wreath is beautifully understated.
Above: These neighboring townhouses have matching black doors–and matching fir wreaths.
Above: Garden-level entryways also deserve a little sprucing up. This wintry wreath incorporates tiny white tallow berries.
Above: OK, not in my neighborhood–but this intricate set of French doors would look right at home if they were. Currently making the rounds on Pinterest, these doors got a whimsical greeting via paper maché artists Farfelus Farfadets. Photograph via Marie Claire Maison.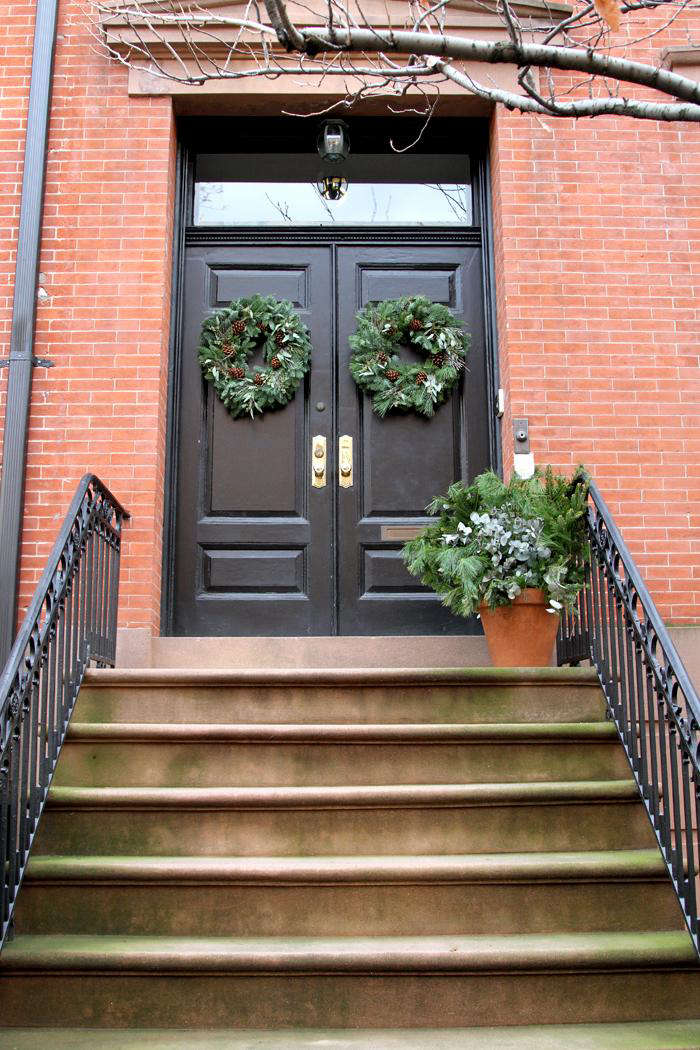 Above: Back to Brooklyn, where double doors get double the attention with matching wreaths. Pine cones and eucalyptus add texture.
For more painted doors, see "5 Favorites: Daring Red Doors" and "5 Favorites: British Front Doors with Style."
N.B.: This is an update of a post published December 17, 2012.
(Visited 114 times, 1 visits today)