Gardening is an imaginative response to a crisis and the Lemon Tree Trust garden on Main Avenue at this year's Chelsea Flower Show is full of good ideas.
The trust's Texan founders believe that a container of herbs and a lemon tree are good for the soul—not just for us, but more specifically for the 26,000 refugees at Domiz camp in northern Iraq. Lemon Tree has planted 11,000 trees and plants in the region since 2015, the year that this garden's designer, Tom Massey, graduated from the London College of Garden Design. His debut at Chelsea highlights the remarkable beauty hidden in the camp and is an homage to its resourceful gardeners. It is a show garden with heart and soul.
Photography by Britt Willoughby Dyer for Gardenista.
Rather than a movie set mockup of a refugee camp, the aesthetic is chic, and this works. Camps are made up of people from all walks of life; creative and engineering skills are put to use. In this vein, elegant lattice panels for screening out the sun are topped by intricate fretwork, in turn topped by a pavilion roof that supports tiers of edible plants.
Not only does this garden feature a fire escape ladder but also its screens revolve on pivots, which were opened for the visit of Prime Minister Theresa May on Monday morning. May talked to the trust about their work with absolute transparency.
In front of a couple of low pomegranate trees, gravel ,and crushed rock, is tough, sun-loving plants that have been made at home. These include cardoon, salvia, poppies, verbascum, and herbs.
It is worth taking a look at the Festival of Gardens section on the Lemon Tree website. Displaced people in Syria and Iraq arrive at the camps with seeds and plants. Herbs are the foundation of cooking as well as a psychic connection with home, and this impulse to grow is strengthened by the garden competitions organized by Lemon Tree, with every participant receiving a lemon tree.
Pomegranate trees coincidentally play an important structural role in this garden, as well as Sarah Price's garden across the way. For more drought-tolerant planting (and glamour), see Chelsea Flower Show 2018: A Behind-the-Scenes Look at Designer Sarah Price's Mediterranean Garden.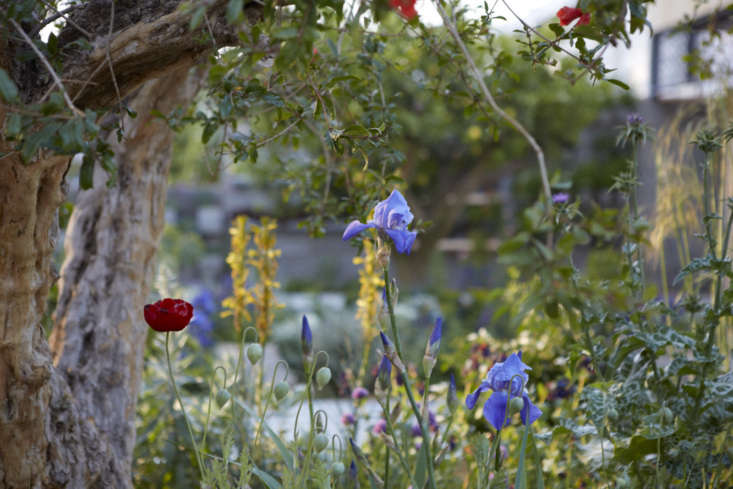 Style elements in this garden (poured concrete, corrugated planters) are based on utility. Steel and concrete are the building materials of Domiz Camp; the fountain shown here is pumped with graywater, a vital commodity for hydrating plants. Above the lattice-work screens, water is collected from the roof garden where it runs along a channel and down a chain into the garden below.
Now for the takeaway: With no permanence, refugee gardens are made for expedience. These are beautiful shelves but they are simple, held together with nuts and bolts. Plastic bottles never looked so good.
It is difficult to talk about an excellent show garden like this one without mentioning medals. The Lemon Tree Trust garden won a silver-gilt. For designers and sponsors, a nongold can be like an elephant in the room on the morning of the first public day, but visitors don't seem to care. Should the gardens at Chelsea be judged at all?
A change of rules would probably require a change of name, since "show" with all its village show connotations implies a serious competition. But it has been argued before that with show garden sponsors (investment bankers, travel agents, wine merchants, and so on) breathing down one's neck, gold medals must be won. Undoubtedly, this stifles creativity.
Medals are based on points, a bit like college exams: Admiring a submitted piece has nothing to do with anything. "The gardens need more horticultural scope," says one of our favorite outspoken landscape designers, Jinny Blom. "'We need a standard, rather than a judgment." That standard, she suggests, is one of horticultural excellence. No more judging: What do you think?
Have the show gardens at Chelsea inspired you to design your own? See our Garden Design 101 guides with ideas for planting our favorite Perennials, Annuals, and Ground Covers.
(Visited 143 times, 1 visits today)