Designer Sarah Price makes gardens that garden editors adore. She is an artist who sculpts with aggregate and tough plants and she never looks ruffled. Her gardens hum with energy and authenticity yet, like her, they are—serene.
Show garden judges like her gardens too; having won a gold medal at her last Chelsea Flower Show appearance in 2012, Sarah Price decided to "use color in a different way" with this year's entry at Chelsea, winning another gold medal.
Plants aside, there is no getting away from earth red: It's on the walls, the ground, the seats, and under the water. Let's take a closer look.
Photography by Jim Powell, for Gardenista.
For this designer, saturated color has a useful effect on other strong colors: "They sing and clash, creating harmonies or discord," she says. Being an artist, Sarah's palette has an overall unity. Look at the colors in Monet's paintings of his Giverny garden and there is this lively color effect. In fact, a rare showing of Monet's Agapanthus Triptych at the Royal Academy a couple of years ago gave Sarah the germ of an idea for a show garden.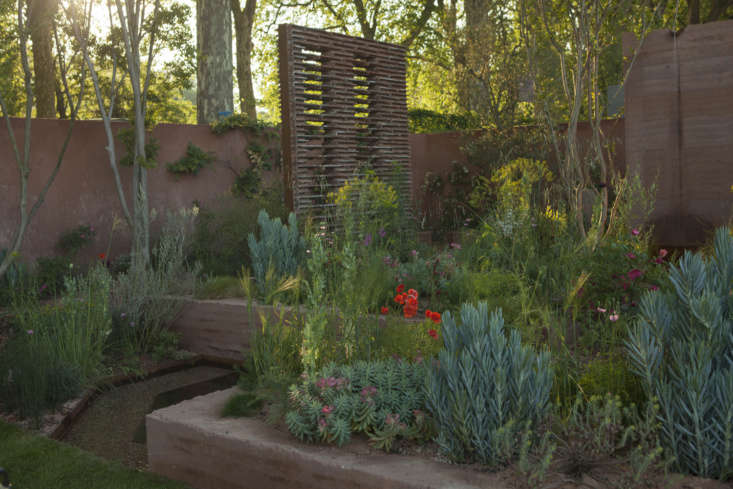 The garden art made by Sarah resonates with sensitive souls as well as cynical journalists. Christopher Woodward, director of the Garden Museum, describes the effect that particularly memorable Chelsea gardens can have over the years: "These unique intensities blur and seep into your consciousness of what gardens can be." Sarah is able to do this.
Even the tree trunk (Lagerstroemia indica) is red-brown. Like an Impressionist painting, the soft blur is woken up with shots of glowing color.
Sarah is (probably) pestered to do more show gardens than she is keen to do; her offering, to use corporate language, is attractive to risk-averse sponsors. Winning gold again this year, she is a safe bet without being safe in her choices. In a textural mix of herbs and at least seven different euphorbias, there is green in all its variations and acid yellow with amethyst and pink.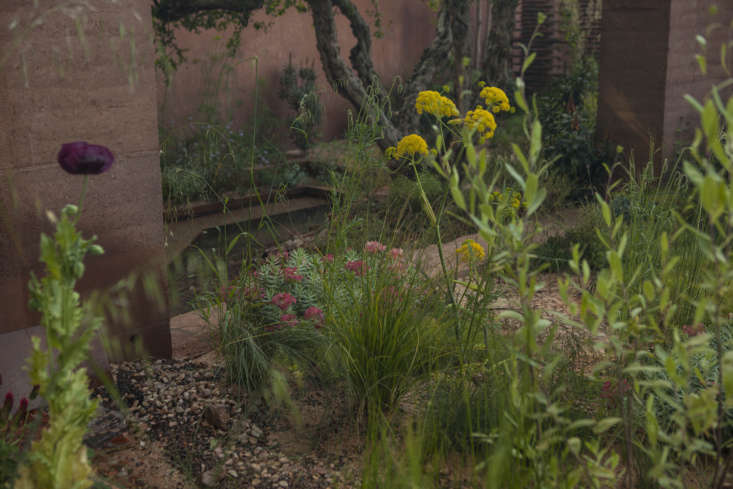 A red clay base note could seem rather heavy in the British climate, especially if the weather happened to be the usual festival wind and rain. A couple of minutes spent watching the sponsor's video from earlier in the year is unconsciously revealing about this hue. As Sarah puts together her "material palette" of aggregates and plant samples, she adds paint in the red-brown spectrum to mounds of pebbles. She is standing in a lean-to conservatory facing on to a wintery walled garden and the walls happen to be plaster pink, with glaucous green succulents hanging from shelves. Harmony is all around.
Price uses plants that might clash in a formal border but that rub together here. This is drought-tolerant, Mediterranean planting: Everything goes together because it is culturally cohesive, whether it's acid yellow or bright pink.
For anyone perplexed by the matrix of walls, there is another way. In the words of our own Clare Coulson: "Just look at the plants."
Have the show gardens at Chelsea inspired you to design your own? See our Garden Design 101 guides with ideas for planting our favorite Perennials, Annuals, and Ground Covers.
(Visited 834 times, 5 visits today)