The Best Indoor Garden winner in our Considered Design Awards is Liz Tan, a digital designer with a keen eye for styling and a knack for indoor gardening.
Tan's adventures in gardening began when her boyfriend, Eli, became "obsessed" with greening their Brooklyn home with air-filtering plants. He collected the flora but fell short on the care front. Tan took over–and her interest in gardening took off.
She eventually started a blog called Seats Plant House to document her adventures (read on for the source of the moniker). She now tends her plants indoors and out (on the couple's roof garden), and her collection includes Eli's original air filterers, as well as presents from friends who for all occasions now know exactly what to give her.
Tan is gifted at creating indoor vignettes with her plants, though she modestly describes her role as "just keeping everything growing and as tidy as possible." As an interactive software designer, Tan spends most of her time on the computer and finds it therapeutic to come home and tend to her living things. "I love watching tiny buds morph into towering plants," she says. "The resilience of life is truly fascinating."  
Photography by Liz Tan.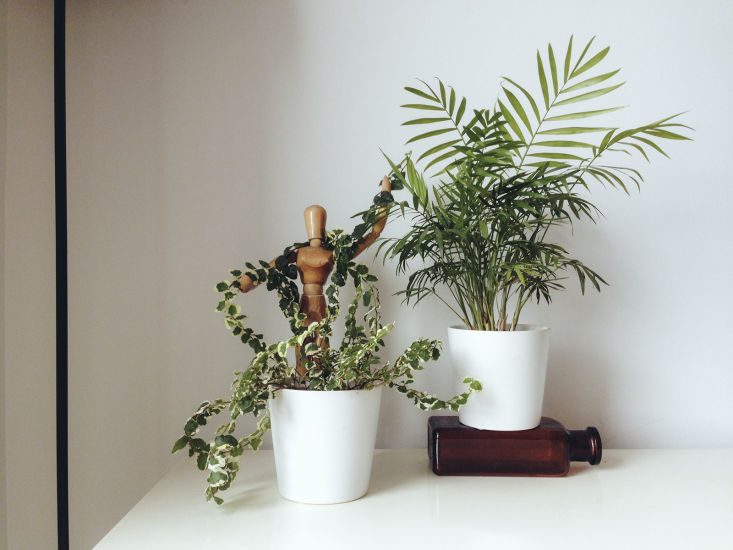 Above: Tan's winning vignette makes its home in her living room. The wooden mannequin is a relic from her art school days: "I try to position him as if he's greeting an old friend." When her vine started to expand, she used the mannequin as a makeshift trellis. "This whole setup was very serendipitous." 
Above: Pots in a sun-filled nook share space with the couple's bicycles. From left to right: succulents from a friend's wedding, sprouted garlic from the fridge, a cactus from Ikea, and a housewarming jade plant from friends. 
Above: An odd-sized nook in the bedroom houses aloe vera and a spider plant. In winter, Tan lets her outdoor roof plants huddle here for warmth.
Above: Cacti on the windowsill in the bedroom nook.
Above: Look closely; a tiny wooly mammoth guards the jade plant.
Above: Heart-leaf philodendron and golden pothos filter the air while beautifying the stairwell.
Above: Marigolds from the roof garden brighten a vintage clock radio.
Above: A huge banana-like plant in the bedroom; Eli purchased it, but neither know exactly what it is. Any ideas?
Above: A giant sign in the living room is the source of the "Seats Plant House" name. (Its origin, says Tan, is a long story.)
(Visited 64 times, 1 visits today)