Ingredients for the ultimate summer escape: two trees, one hammock, and a gentle breeze. Here, a roundup of our favorites made of exceptionally soft woven cotton and detailed, in several cases, with hypnotic swaying tassels and fringe. Bring a page turner and stay put.  
Above: Made in Denmark, Skagerak's Sambito Cotton Hammock is 11.5-feet long and 4.5-feet wide; $238 at Horne.   
Above: The Single Cotton Hammock is an Austrian design in beige and red with ashwood spreaders; €179,00 at Manufactum.
Above: The Single Cotton Hammock is also available in a beige and green stripe; €179,00 at Manufactum.
Above: Spotted at the Ace Hotel in Palm Springs, the Extra Large Brazilian Fabric Hammock with Fringe is made of stretchy cotton and measures 8-feet long and 4.5-feet wide; $99.99 at Hammocks.com. For more bohemian chic see Steal This Look: Ace Hotel Outdoor Lounge.
Above: The traditional bed of the Guarayo Indians of Bolivia, each of these these Bolivian Hammocks from L'Aviva Home takes a month to complete, from initial spinning and weaving to final braiding and crocheting. The design is available in a natural and white weave (shown) or a natural and black weave; $485.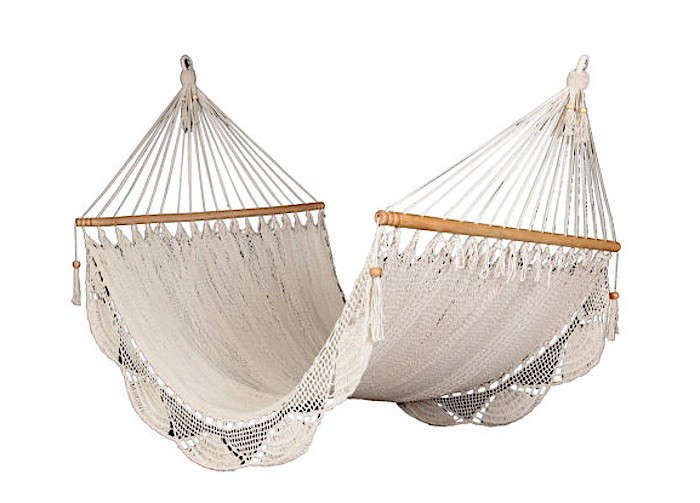 Above: Fringed with tassels and scalloped edging (and available in a range of colors and patterns), the Nicaraguan Beach Hammock is framed with 44-inch-wide wooden spreaders; $133 at Masaya Market. 
Above: The Vineyard Haven Hammock is handwoven by artisans in Thailand using 3.2 miles of ultra-soft yarn. The bed measures 6 by 7.5 feet; $179 at Yellow Leaf.
Above: The Cape Cod Style Hammock of fringed cotton with a wood spreader is $49.95 through Amazon.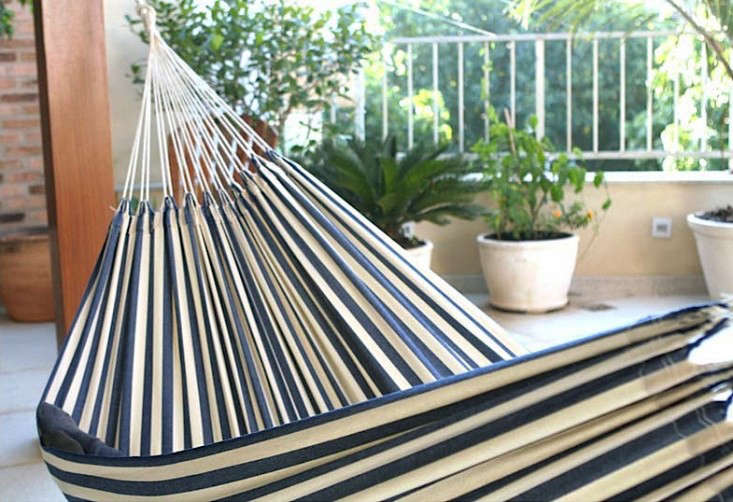 Above: The blue-and-white striped Maritime Brazil Cotton Hammock comes from the Brazilian state of Ceará. It's $69.99 at Novica.
Above: From Byers of Maine, the Barbados Single Hammock is made in the traditional Brazilian gathered style. The fabric is a blend of 85-percent recycled cotton and 15-percent polyester for durability. It measures 58 by 89 inches and is available in six colors, including mocha (shown here); $80.99. 
Above: And, don't forget tools to hang your hammock. If you're lucky enough to have two perfectly placed sturdy trees, you can use this set of two Hammock Tree Straps; $19.99 at Hayneedle. Byers of Maine offers a solution for those with just a single tree: the Madera Hammock Stand allows you to attach one end of the hammock to a trunk while anchoring the other end with wood stakes; $49.46.
Above: A Wall Holder for Hammocks can be used outdoors or indoors, and will support up to 550 pounds of weight; it's 49€ from Manufactum.
The ultimate outdoor sleeping arrangement? Check out Alexa's Utilitarian DIY Hammock.
(Visited 24 times, 1 visits today)