The Best Edible Garden winner in our Considered Design Awards is Jennifer Ivanovich and Branden Adams of BaDesign, a multi-disciplinary design studio in Oakland, California. The pair combined their strengths in landscape architecture and furniture design to create a modern, cohesive garden in downtown Palo Alto.
BaDesign's clients are a young couple who at the time were expecting a baby–she's an architect, and he's "serious about his fruit," says lead designer Ivanovich. The pair had planted fruit trees throughout their yard somewhat haphazardly over time, and after remodeling the house decided it was time to add some structure to their outdoor space. They wanted fluidity between indoors and out, privacy, and as many edible plants as possible. The challenge, according to Ivanovich, was "to maintain a clear design intent while trying to maximize the diversity of plants, and I think we succeeded."
Adams designed all the site fittings and furnishings. They include modular garden armatures that can be reconfigured from one season to the next, a new Corten steel gate and trash enclosure, and steel raised garden beds–which kickstarted BaDesign's Modern Edibles product line. A new deck connects the kitchen to an outdoor dining and grilling space.
As for the designers, both are landscape architects but come from far-ranging backgrounds: Ivanovich studied conservation biology, and Adams sculpture. This project is a perfect marriage of their skills. As a sculptor, Adams designs and fabricates the custom furnishings BaDesign uses for projects and for the company's own furniture line. Ivanovich knows how to create an edible garden for the long haul. She's also an avid cook who concocts drinks and tinctures using fresh garden produce. When a project is done, she says, "We hand you a slice of cake with lavender cream harvested from your garden."
Photography by Branden Adams.
Above: Steel planters in the front yard hold rotating seasonal vegetables.
Above: On the ground, concrete pavers and decomposed granite are interspersed with thyme and chamomile.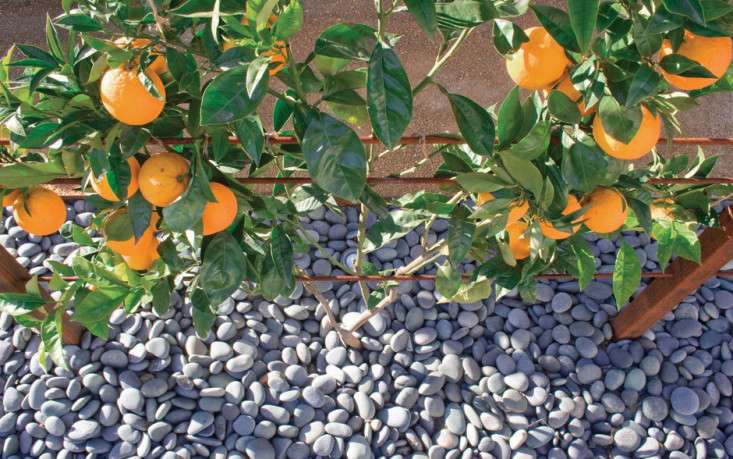 Above: Espaliered pixie mandarin on armatures of powder-coated steel.
Above: Custom armatures support peas.
Above: A Corten steel fence and several fruit trees set in river rock.
Above: The custom steel gate and trash enclosure.
Above: In an effort to keep costs down, the designers preserved the existing wood fencing and painted it dark brown to blend in with the overall palette.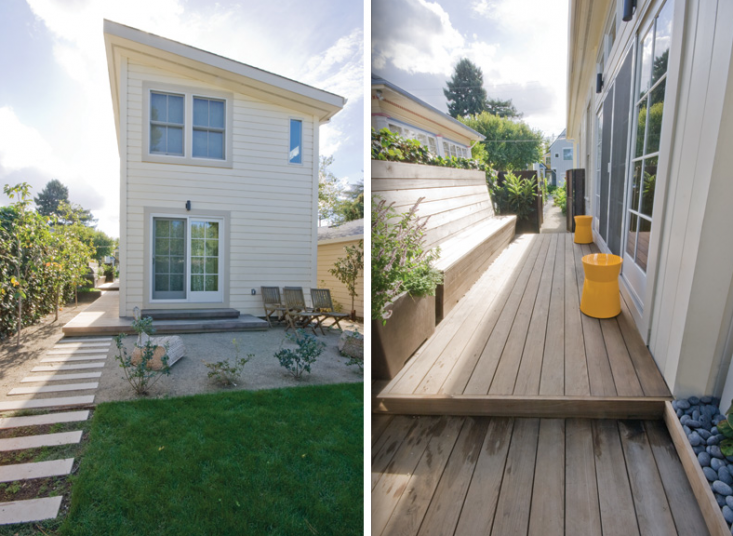 Above L: The newly completed backyard. Above R: The cedar deck, accented with BaDesign's yellow Shaker Stools.
Above: A bronze loquat tree next to the Corten steel gate.
See all five winners of the Gardenista Considered Design Awards here and check out their profiles as they publish this week.
Finally, learn how to successfully design and create an edible garden with our Hardscaping 101: Edible Gardens guide.
(Visited 362 times, 1 visits today)