The Winner of our Considered Design Awards Best Architectural Garden Feature category is the modern architectural landscape surrounding a new house by Specht Harpman Architects. Sited on a hilltop in New Canaan, Connecticut, the property's original structure was a nondescript midcentury design that had undergone a series of unfortunate additions from the 1960s through the '80s. The owners, a pair of marketing executives who entertain constantly, simply wanted to update their kitchen with modern conveniences. But then, as so often happens, the scope of the project grew, and the clients and their architects soon decided to tear down the building and start anew.
What remained from the site–the old-growth trees and the privacy–is what drew the owners to the property in the first place. The original house had been designed to interact with the landscape, but the owners wanted to take that idea several steps further. Their architects, Austin- and NYC-based Specht Harpman (members of the Remodelista Architect/Designer Directory), were ready to make the surrounding nature the star of the show. 
The resulting design includes a driveway that winds through the forest, arriving at a dramatic all-glass entryway framed by a tidy landscape. The transparency of the house is immediately evident: floor-to-ceiling windows reveal the densely treed landscape on the other side. The building materials–white stucco, steel, ipe wood–assert the structure's modern lines without drawing attention to themselves. 
Spaces in the top level feel as if they exist within the tree canopy, and the view dramatically changes with the seasons. The lower level, meanwhile, looks directly onto the forest floor, and a series of outdoor rooms featuring a fireplace, several seating areas, and a modern blue pool, are put to good use during parties. 
Photography by Elizabeth Felicella.
Above: When viewed from different angles, the house feels alternately light-filled and expansive, and grounded and cozy. 
Above: From the upper level, a view of the backyard lounge area (reflected in the expansive window), which leads to the pool. 
Above: The landscapes were designed in collaboration with Alec Gunn & Heather Morgan of Gunn Landscape Architecture.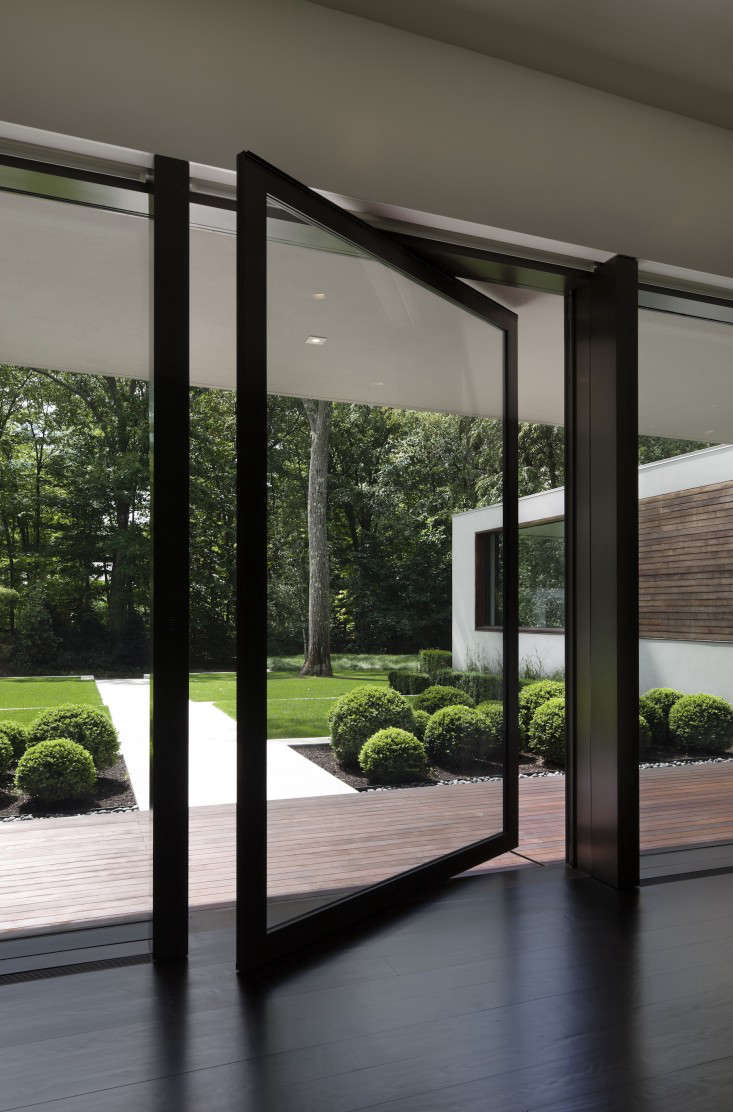 Above: A dramatic steel pivoting door serves as the main entry.
Above: Residents can take in the tree canopy from an ipe wood back deck that runs along the upper level. 
Above: The glass entry pavillion. 
Above: When desired, linen curtains provide privacy for the occupants. Interior design by Carrier & Company.
Above: The neatly groomed landscape contrasts sharply with the wilderness of the surrounding forest. 
Above: A small kitchen/bar in the pool house. 
Above: The owners have dubbed this outdoor lounge area the "Lower East Side." 
Above: The pool house overlooks the main house across the turquoise swimming pool. 
See all five winners of the Gardenista Considered Design Awards and check out their profiles as they publish this week. 
(Visited 71 times, 1 visits today)