Bergenias labor under the unflattering name of elephant's ears but deserve better—they are useful perennials for filling awkward spaces or ending a border. Typically tolerated as tough ground cover plants, some small bergenias we recently noticed in Essex have much in common with young shoots of beetroot, burnished dark red in the cold.
The best varieties of bergenias are versatile in garden design, whether cottage, exotic, or formal. Read on to see favorite varieties of bergenias and how to use them to great effect in a garden bed.
Photography by Britt Willoughby Dyer, for Gardenista.
Bergenia 'Eric Smith'
Crimped, leathery leaves, resembling an old pair of shoes from the flea market, give bergenias a touch of the Victorian aunt. Indeed, Gertrude Jekyll's first published photograph in 1885 was of a clump of bergenias on the edge of a wall, interspersed with spikes of yucca. The caption read: "Group of Broad-leaved Saxifrages on bank, showing effects of unity as compared with 'dotty' planting of borders." This gets to the heart of the matter.
Bergenia: Companion Plants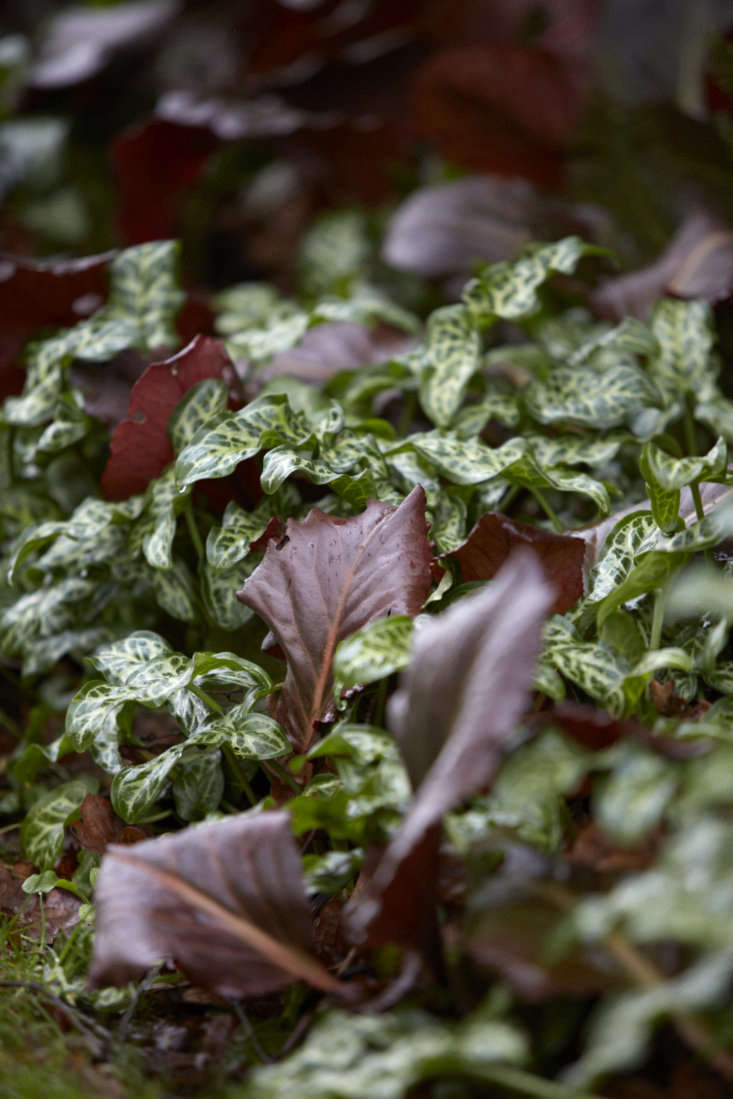 Bergenias work well when planted in a broad sweep, especially for somebody as short-sighted as Miss Jekyll. Her poor eyesight also meant that she peered at plants and what she found was texture.
Before spring really kicks in, bergenias come into their own, reflecting light and rain, and often burnished red in autumn. The smaller, neater varieties shown here would earn their place in a compact garden, providing contrast in leaf shape and color. The combination shown here is dynamic in autumn, winter, and spring. Other spring pairings: coppery bergenia with evergreen hellebore, Hedycarya angutifolia, or bergenia and Euphorbia wulfenii.
See more growing tips in Gardening 101: Bergenias.
Bergenia 'Irish Crimson'
Today the greatest promoter of under-appreciated bergenias is Beth Chatto. They are all over her garden, sometimes covering sizable areas en masse. Bergenias, she argues, are a bit like hostas, in the way their non-flapping foliage covers the ground as part of a tapestry of leaf texture. Their advantage is that they remain in winter, are generally left alone by slugs, and have more attractive, early flowers.
Most bergenias tough it out in summer drought, looking less tattered when they have good drainage. With increased moisture in autumn they perk up, turning a deep red in the case of hybrids such as 'Irish Crimson' (shown). They are at their best over three seasons and least instrumental in summer.
Bergenias: Edging Plants
Bergenia 'Wintermarchen'
The case for bergenia's "cabbage-like" leaves, is best argued in Beth Chatto's Gravel Garden
(£11.04 used on Amazon UK)
.
 They even have their own section: "A Passion for Bergenias."
The British landscaper Russell Page was also persuasive in his book Education of a Gardener, describing the way the leaves reflect and balance planting in a formal pool.
Bergenias: Container Gardens
Bergenias get the elevation they deserve in a pot, and are particularly suited to this enclosed environment since they don't require much attention. Think of them as giant alpines; they are saxifrages after all. When they bloom, bronze-green leaves are flattered by sturdy red stems and nectar-rich flowers. These are appreciated not only by bergenia fans but also by bees, early in the season.
For more design and growing tips for bergenias, see Bergenias: A Field Guide to Planting, Care & Design and see our curated plant guides for more of our favorite Ground Covers and Perennials, including Bugleweed, Lilyturf, and Lungwort. Read more:
(Visited 519 times, 1 visits today)