Here in Brooklyn we know winter is on its way. The Farmer's Almanac is predicting plenty of snow and ice for the eastern half of the country this year. So what's a plant lover to do when it's too cold and miserable to visit outdoor gardens?
Photographs by Jeanne Rostaing for Gardenista except where noted.
Above: An option for those lucky enough to be able to get to Pittsburgh is the Phipps Conservatory. Unlike our big public gardens here in New York City, which are mainly outdoor gardens attached to relatively small indoor display spaces, the Phipps is largely under glass–perfect for cold weather visiting.
Above: Indoors, it's a completely different climate.
Above: A gift to the city in 1893 from steel and real estate tycoon Henry Phipps, the conservatory is a Pittsburgh historic landmark and is listed on the National Register of Historic Places. Phipps declared that the purpose of his gift was to educate and entertain the people of Pittsburgh. One hundred nineteen years later, that is still happening. Within the sprawling Victorian greenhouse are 17 different garden rooms. It seems that no matter what the visitor wants to see, there is a room for it here.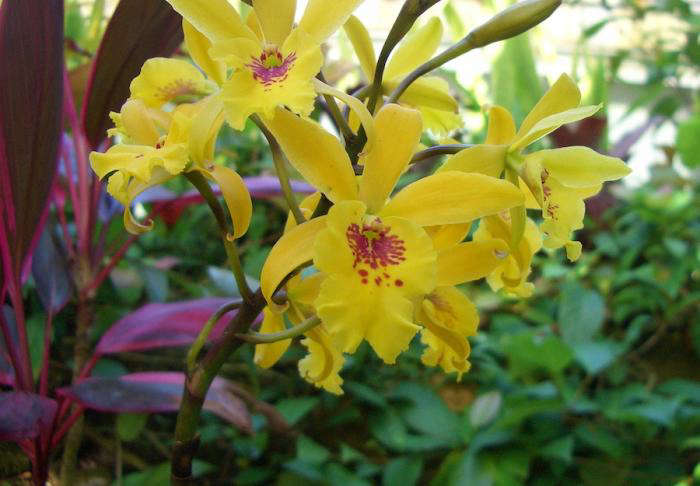 Above: But for those who come simply to see the plants, it is the meticulously tended spaces tucked away in the original Lord and Burnham glass house that offer the most delightful surprises.
In recent years the Phipps has embarked on an ambitious state-of-the-art capital expansion plan. In 2005 it opened a soaring glass welcome center which was the world's first LEED-certified building in a public garden. Other green buildings have followed, including the 15,000-square-foot Tropical Forest Conservatory. Photograph by Carrie Chan via Flickr.
Above: In the orchid room exotic blooms are tucked high and low almost like Easter eggs at a spring time hunt. If you look closely you will see that the space is populated by the whimsical glass figures of East German-born artist Hans Godo Frabel.
Above: Dale Chihuly is another artist who has partnered with Phipps. Thirty pieces of fanciful colored glass sculpture adorn the conservatory and include a large yellow and teal chandelier that hangs in the 50-foot rotunda of the welcome center. Other pieces appear throughout the garden… distinctive in their shapes and hues but never out of synch with the surroundings.
In the desert room a Chihuly glass star hangs from the ceiling. The plants nearby echo its spiky form. One can imagine how delightful it would be to stand in this room when the snow is swirling outside.
For another conservatory to visit this winter, see Modern Vertical Gardens for a Victorian Glass Palace.
(Visited 53 times, 1 visits today)