British gardening and cookery writer Sarah Raven is fortunate in being scientific as well as artistic. She is also a busy person who likes to eat so her kitchen garden is organized in a way that gives maximum output while avoiding the look of a messy market garden. Quite the opposite. She shares her logical yet aesthetic ideas with us from East Sussex. Seeds are available in the UK from Sarah Raven; for US gardeners, good sources are Johnny's Seeds and Baker Creek:
Photography by Jonathan Buckley except where noted.
Following are Sarah's top ten tips for bounty, ease, and good looks in your kitchen garden:
1. Grow as much of what you like as possible. Clear as big a space as you can and think about maximum productivity per square inch.
2. Skip the fancy frills. A vegetable patch divided by mini hedges, potager-style, means more work and less food. Rows of boxwood will encourage slugs and snails, and perennial weeds tangle themselves around the roots. Instead, try edible edging: rows of hardy alpine strawberries and nasturtiums will do the trick.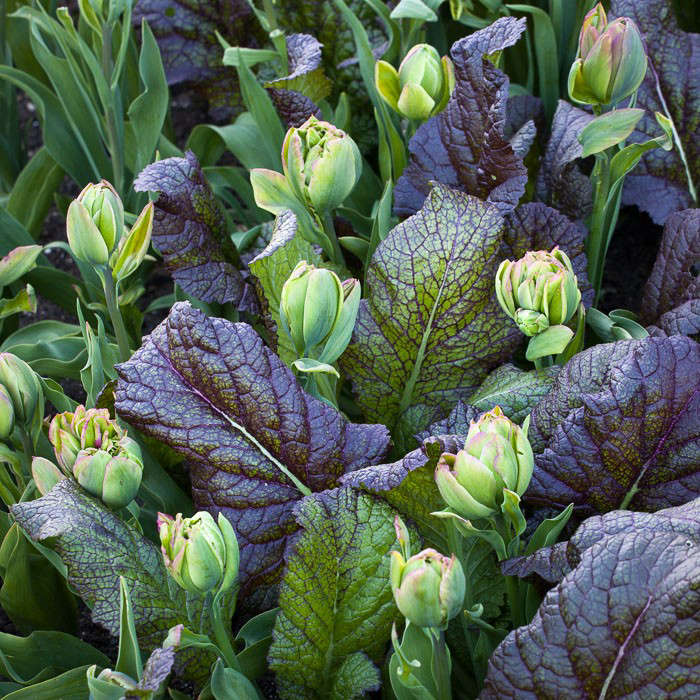 3. Combine ornamentals and edibles. In an unexpected partnership (above), Mustard 'Red Giant' mixes with Tulipa 'Compassion'. Bonus tip: green-flowered tulips are more perennial than the standard colored ones.
4. Layer. Sarah planted this area (above) near the drive more than a decade ago, greatly reducing labor while keeping the bed full over a long period. Perennial artichokes mix with bulbs and tubers in three layers: dahlias in trenches at the lowest level; Allium hollandicum 'Purple Sensation'  plus earlier and later allium varieties in the middle level; artichokes at the top level. The artichokes shown here are a mixture of 'Green Globe', 'Violet de Provence', and 'Gros Vert de Laon'.
5. Grow edible flowers all year. The following can all be harvested in the UK in winter and early spring: Pot marigold (Calendula officinalis 'Indian Prince',  viola, polyanthus and primula. Conversely, vegetables such as kale are not just for eating. Green and purple kale look great in flower arrangements and are a good foil for flowers in an ornamental border.
6. Plant the unusual. Planting heirloom or heritage varieties in unusual colors—including the purple French bean 'Blauhilde'  yellow 'Rocquencourt'—is proof to the world that you've grown them yourself. As is the size: greengrocers and supermarkets providing mainstream produce often sell vegetables harvested after they have grown too big. Beans taste better when they are younger and smaller and, it goes without saying, fresher.
7. Sow heavy croppers. Tomatoes, zucchini, and beans all produce abundantly. Salad leaves (above) also crop more heavily if you cut and come again. Start cutting non-hearting lettuce such as Mizuna or Oak Leaf lettuce at one end of a row and by the time you get to the other end, you can start again. Harvest by twisting off leaves around the edges: don't bulldoze the whole plant.
8. Avoid gluts. Too much, then too little, leaves bald patches in the garden. Successional sowing of salad leaves every few weeks, for instance, will ease this pattern of feast or famine. Succession planting can also be applied to beans and peas.
9. Build good bones. Raise your vegetable patch to another level in the middle as well as around the edges. Teepees, arches, and walkways in Sarah's small (and private) kitchen garden at Sissinghurst greatly increase the growing space in a smallish area. They can be covered in sweetpeas followed by the cup and saucer vine (Cobaea scandens) or morning glory. A sturdy arch will support squashes and zucchini.
10. Don't grow everything. Tricky plants such as celery are best bought, as are mainstream vegetables including cabbage, parsnips, and main crop potatoes. This still leaves plenty to choose from as Sarah Raven demonstrates.
N.B.: This post is an update; it was first published February 11, 2016.
For more kitchen garden design, see:
(Visited 722 times, 4 visits today)