Back in 1996, San Francisco architect Olle Lundberg responded to a classified ad about a property in Cazadero, CA (population: 354). Little did he and his wife, Mary Breuer, realize they were embarking on a project that would consume countless hours and mountains of scavenged materials. Nor could they have dreamed that they would still be at it so many years later. As Lundberg cheerfully confirms, "It will never be done."
The site is 16 pristine acres in Sonoma County, two hours north of San Francisco and surrounded by redwoods. The land in the vicinity lacks water and will never be developed. "We couldn't really afford it," Lundberg says, "but we fell in love with it and bought it anyway."  An uncompleted cabin provided a starting point for the house that Lundberg designed and built with his own hands, occasionally helped by friends and employees. Since his company, Lundberg Design, was thriving in the city, he only had weekends to work on the cabin. He and Breuer slept in a tent in the living room until the roof was finished.
Photography courtesy of Lundberg Design except where noted. 

Above: The cabin may be small–less than 1,000 square feet plus a 1,500-square-foot deck–but it has become the site of countless unexpected refinements. Photograph by J.D. Peterson.
Above: One reason the work has progressed slowly is that Lundberg insists on the perfect materials–often industrial discards found in unlikely places. The swimming pool, for example, is a former livestock watering tank made of virgin-growth redwood which Lundberg says could be 80 years old. It was a major undertaking to dismantle the tank and truck it in sections from a client's ranch to the cabin. Photograph by Alan Owings.
Above: The pool is 25 feet in diameter and 14 feet deep, not ideal for laps but great for diving. It's beloved by Lundberg's dogs, especially his black Lab. Photograph by Angkana Kurutach.
Above: The industrial steel sash windows in the cabin were salvaged from various remodeling jobs. Photograph by J.D. Peterson.
Above: Interior walls are covered in thin strips of Montana white pine; the exterior siding is reclaimed redwood. The firewood holder was custom-designed for the cabin.
Above: Lundberg and Breuer entertain a lot; the open-plan kitchen puts everything in easy reach.
Above: There's also an outdoor kitchen, with a cement pizza oven, a tandoor, and a cooking hearth.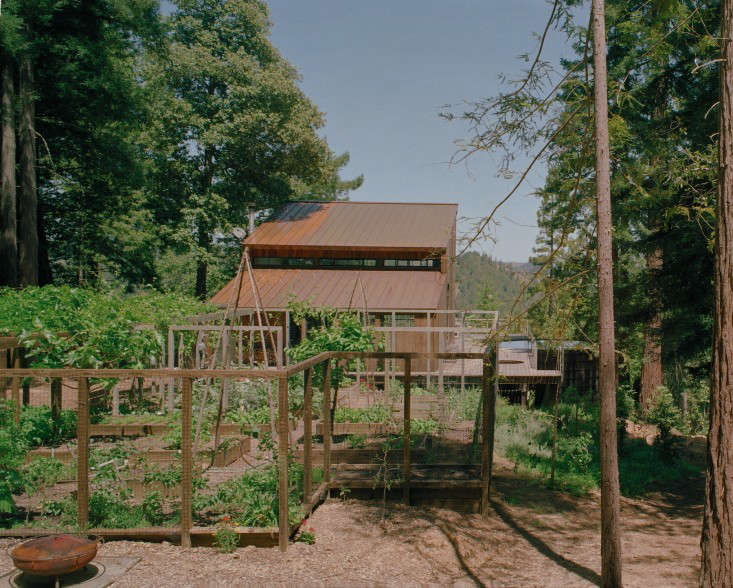 Above: One of the first things Lundberg installed was a garden, figuring that Breuer could grow tomatoes while he was busy building. At first a simple vegetable patch, it has since expanded to 5,000 square feet. Besides flower beds, there's an orchard where Breuer grows figs, apples, apricots, olives, lemons, grapefruit, and the weirdly shaped Buddha's Hand, a citrus fruit that Lundberg candies and uses to garnish desserts and cocktails. Photograph by J.D. Peterson.
Above: Lundberg also built a combination greenhouse and office nearby for Breuer. A sliding door between the two spaces makes it easy for her to tend her heirloom tomato seedlings and lettuce plants while working. Photograph by Olle Lundberg.
Above: To make the design of the greenhouse harmonize with that of the cabin, Lundberg built a shed-style roof–but reworked it with standing seam glass. Photograph by Olle Lundberg.
Above: The result is a jewel-like glass box in the midst of the forest. Photograph by Olle Lundberg.
Above: Using the cabin as a laboratory for new techniques, Lundberg installed a biological filter for the pool. The technology, developed in Europe, involves creating an artificial wetland with plants to clean the pool, thus eliminating the need for chemicals. Photograph by Alan Owings.
Above: It's easy to imagine that Lundberg would revel in being able to design whatever he wants, free of clients' desires and demands. He doesn't see it that way, though. Architecture is always a collaboration, he says, and in this case it's one between him and his wife. Fortunately, their tastes are similar. Photograph by Mark Seelan.
Above: What's different about this project, he says, is that it gives him the "Zen experience" of building it himself. There's also the luxury of time. The next project will be a guest house, "but we're not in any rush."
To see cabins designed by members of the Remodelista Architect and Designer Directory, check out 10 Summer Cabins and The Ultimate Creekside Cabin, one of our favorites in northern California. 
(Visited 615 times, 1 visits today)