Above a babbling creek, a vintage weekend cabin in northern California got modernized without sacrificing period details. How? Sonoma-based architect Amy Alper, a member of the Remodelista Architect and Designer Directory, essentially wrapped the old building in a new, light-filled shell to take advantage of the Calistoga property's spectacular views:
Planning a rustic weekend getaway? See Steep Ravine Cabins: $1 Million Views for $100 a Night.
Photographs by Eric Rorer via Amy Alper.
Above: Built in the 1920s, a cabin set on a hillside above a creek in Calistoga, California was used historically as a weekend retreat. But the original floor plan didn't take advantage of the setting; for instance, you couldn't see the creek from the windows. Enter architect Amy Alper, with a plan to remodel the space.
See 73 more of our Favorite Cabins.
Above: Huge redwoods and mature fir trees shade the property. Alper opened up the interior rooms to welcome in more sunlight and to create sight lines from the windows to the creek.
See 67 more Cabins in the Woods in our Photo Gallery.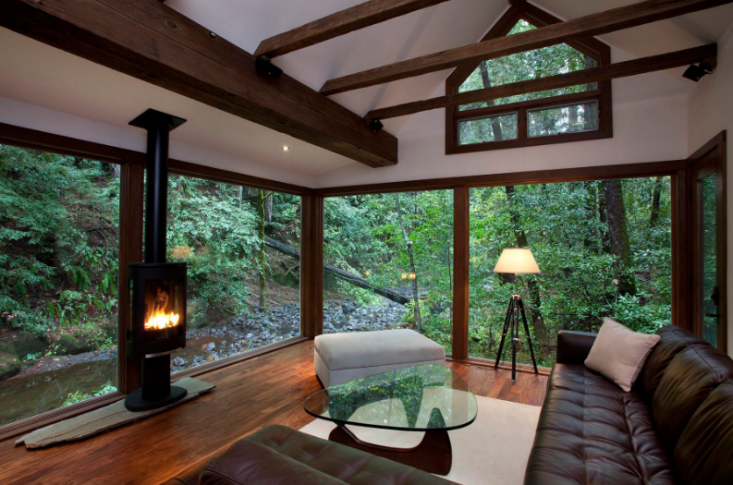 Above: Alper's design includes a double-heigh living room addition that wraps around the exterior of the cabin.
Above: A hallway addition with floor-to-ceiling windows on one wall and the preserved original exterior of the cabin on the other.
Above: "The original cabin exterior is preserved and featured as a backdrop to the new spaces," architect Alper said in an interview with Freshome. Vintage windows were moved and reused in the model, and redwood timbers from the original deck also found a home in the modernized cabin.
For another of our favorite cabins in a forest, see Little Red Treehouse in the Big Woods.
(Visited 3,359 times, 5 visits today)