If the world of gardening has rock stars, Piet Oudolf qualifies as Mick Jagger, David Bowie, and Prince rolled into one. The Dutch landscape designer—whose work is instantly recognizable for its dreamy romanticism and oft-copied for its emphasis on sustainable, sensible plantings—makes it look so easy. But is it?
We've dog-eared Oudolf's books. Hummelo and Planting: A New Perspective are our two gardening bibles (and we quote from both below). Reading them, you learn that signature Oudolf style calls for drifts of grasses, perfectly appropriate perennials, and garden beds that look beautiful even in the depths of winter. Here are 10 of Piet Oudolf's best ideas to steal for your own garden.
Photography via Hummelo, courtesy of The Monacelli Press.
Make a four-season garden.
Flowers fade. Oudolf chooses plants more for shape and texture than for their blooms. Stripped bare, stalks, stems, and seed pods become architectural elements in the garden. The secret: Embrace decay instead of rushing into the garden with your pruners at the first sign of wilting.
To create a four-season garden, start by planting perennials and grasses that thrive in your USDA Plant Hardiness Zone (if you don't know your zone, enter your zip code here.) The hardier the plant, the better it will withstand changes in weather. (Avoid perennials "that collapse into mush with the first hard frost," says Oudolf.)
After flowers wither, leave the plants in place instead of cutting them back. Sturdy stalks and dried seed pods will stand up to frost and snow, coated in white, will take on an ethereal otherworldliness.
For a similar look: Choose perennials and grasses that grow to a height of two to three feet, so their stalks and stems will stick out of the snow in a distinctive way. By late winter, when stalks break off or start to look scraggly, sad, or deflated, cut back everything to the ground.
Plant in hazy swaths.
Grasses set a mood in a garden, like candlelight at a dinner party. Plant grasses in masses to create a soft, blurred background for other plants. It's a romantic, forgiving look, not unlike the effect you get from rubbing Vaseline on a lens before snapping a photo.
Follow the 70 percent rule.
Oudolf says perennials fall into two categories: structure and filler plants. (The difference between the two is structure plants provide "clear visual interest until autumn at least" and filler plants are "only used for flower or foliage color, becoming formless or even untidy after mid-summer.")
About 70 percent of a garden should be filled with structure plants; the other 30 percent can be filler. For structure, choose repeat bloomers, long-season perennials, and grasses.
Repeat a theme.
The secret to getting a similar look: "Good repeating plants need to have a distinct personality and a long season of interest, or at least disappear tidily or die back discreetly," says Oudolf.
Some of his favorite repeating plants are Salvia pretensis 'Pink Delight' (for color, structure, and tidiness); Hosta 'Halcyon' (because it looks good from spring to fall), and Aster oblongifolius 'October Skies' (which flowers late, in tidy mounds).
Employ matrix planting.
Oudolf draws a comparison between matrix planting and fruitcake: both are shaped like rectangles, and studded with treats. Good fruitcake depends on good batter. A good matrix planting depends on background plants that are "visually quiet, with soft colors and without striking form," says Oudolf. Grasses are an obvious choice; they can occupy the space for a long period of time, year-round perhaps, without having to be replaced.
Within the matrix, plant a few visual treats that will bloom in succession over the course of a year: a clump of irises to bloom in spring, perhaps, followed by poppies in summer and sedums in late summer and asters in autumn.
Support the locals.
When appropriate, Oudolf plants native species, but never just for the sake of planting natives. "It is important that planting schemes for biodiversity combine species which really support wildlife effectively as well as those which simply look good and tick the 'native' box," he says.
When choosing native species, ask: Is this a plant that bees like? What about birds? Or butterflies?
Plant in layers.
When designing a garden, keep it simple: Two or three layers are enough, says Oudolf. The idea of layers is to help the eye "read the confusion of leaves and stems in front of you" to make sense of the garden. Evergreen shrubs in the background and perennials in the foreground, for instance, are enough to create distinct visual focal points.
Frame the views.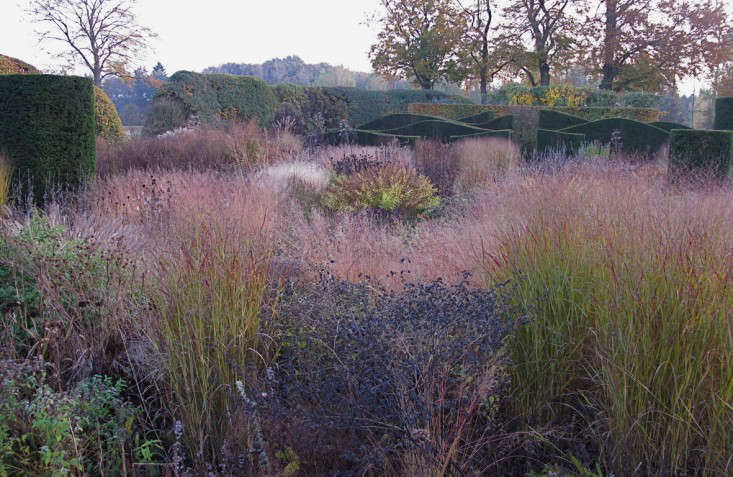 Borrow landscape features–your neighbors' trees, or a distant mountain–and make them part of your garden by keeping plantings low and uniform. With that approach, the foreground can become a backdrop.
Blur the edges.
Learn to love brown.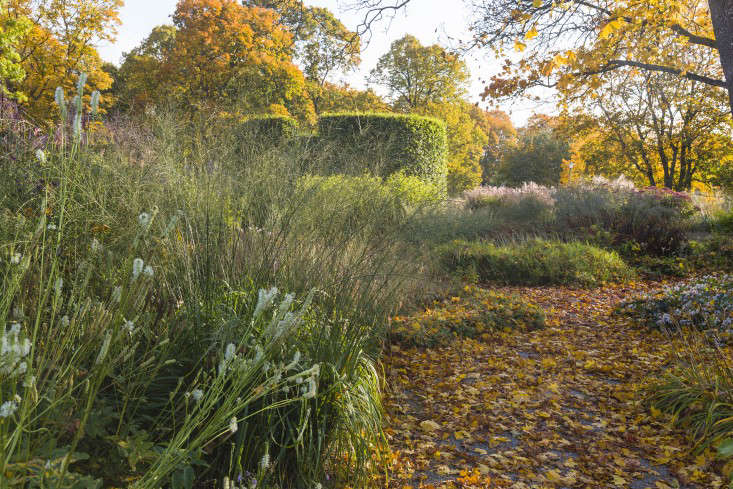 Life is a cycle, the garden reminds us, and every phase of it is beautiful. "Gone are the days when brown and yellow foliage was seen as compost material to be cleared away as quickly as possible," says Oudolf.
Planting a perennial garden? See our curated Garden Design 101 guides, including Perennials: A Field Guide to Planting, Care & Design. For more of Oudolf's gardens, see:
N.B.: This is an update of a post published November 15, 2015.