Retaining walls are the unsung heroes in many a landscape. On a slope, they prevent erosion, control rainwater runoff, and create terraced levels for patios and garden beds. In an ideal world, retaining walls do their jobs quietly, focusing attention on the plants and other hardscape elements they support with their quiet strength.
Gabion walls, pony walls, and check dams are all retaining walls, each designed to make a specific landscaping problem disappear; well-designed retaining walls will last for decades.
Does your hardscaping project require retaining walls? And if so, what is the right design and material to use in your garden? Use our brand-new guide to Retaining Walls for inspiration and tips on everything from materials—from poured-in-place concrete to stone, metal, or pressure treated wood—to designs to complement your landscape.
Here's a glimpse of what you'll find in our new Retaining Walls 101 field guide.
Pony Walls
Pony walls are low barriers you can see over in a garden (a term that goes back to the days when you needed a wall high enough to keep livestock out of the garden without blocking the view).
As low retaining walls, built-in seating, and backdrops to plants, pony walls are useful features today (even in gardens without livestock). See more in Hardscaping 101: Pony Walls.
Gabion Walls
"Derived from an old Italian word, gabbione, meaning 'big cage,' gabions are enclosures that can be filled with any sort of inorganic material: rock, brick, or concrete debris," writes Janet. "The cages were originally wicker, but now are usually a welded mesh made of sturdy galvanized, coated, or stainless steel wire that won't bend when filled with rocks."
See more at Hardscaping 101: Gabion Walls.
Poured Concrete Walls
See more at Hardscaping 101: Poured-In-Place Concrete.
Dry Stone Walls
"Dry stone walls have been created for thousands of years and, if done well, will look as if they have been in place for at least that long," writes our contributor Clare Coulson. See more in Hardscaping 101: Dry Stone Walls.
Cor-ten Steel Walls
"What sets Cor-ten apart from regular steel—and one of its biggest benefits in the garden—is that it becomes harder and stronger when exposed to weather over time," writes Meredith.
Retaining Walls: A Primer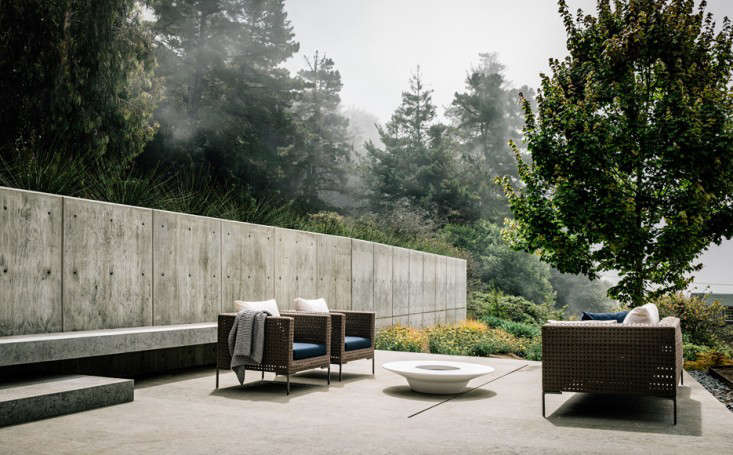 Do you have more design questions about retaining walls? Start with our primer, Hardscaping 101: Retaining Walls.
See more inspiration and ideas (and materials) in our new guide to Retaining Walls: A Field Guide to Design. Read more about hardscape design elements in our curated guides to Hardscape 101, including Driveways, Fences & Gates, and Decks & Patios.
(Visited 20 times, 1 visits today)