Welcome to the biggest shopping day of the year. On Cyber Monday we traditionally return after a long holiday weekend to the office, where we will spend the next three weeks shopping online nonstop (with brief coffee breaks) for holiday gifts.
Is this a good or a bad use of time? That is a question for our bosses to answer (perhaps during a brief coffee break from their own online holiday shopping).  But in the meantime, the National Retail Foundation predicts a record $6.6 billion in holiday sales today—and to make it easier to get started, we've rounded up our favorite Cyber Monday deals for gardeners and houseplant lovers.
Bee Houses
Save 10 percent on gifts and accessories with code black10 and 20 percent on furniture, lighting, textiles, and rugs at Really Well Made (sale ends at 11:59 pm tonight).
Plant Stands
San Francisco-based Gump's is offering 25 percent off and free shipping on orders above $100 through November 28; use cod FRIENDS25 at checkout to apply discounts.
Mossariums
At Food 52, use code MERRYMONDAY to get 20 percent off everything today. (In addition to goods for the home, kitchen, and table, the shop also as a selection of wreaths and holiday decor.)
Flower Shears
With code BFCM2017, take 15 percent off  purchases through Cyber Monday at Horne.
Fingerless Gloves
Guideboat's holiday coupon is a tiered promotion; shoppers can get $25 off purchases of at least $150, $50 off purchases of at least $250, and $100 off purchases of at least $450 with code GOGIFTING until midnight PT on December 5.
Pruning Saws
Brook Farm General Store is offering several deals: 10 percent off orders above $100 with code THANKS10; 15 percent off orders above $200 with code THANKS15; 20 percent off orders ABOVE $300 with code THANKS20, through midnight on Tuesday.
Garden Tote Bags
Magnolia is offering three discount codes until midnight: $15 off purchases of $50 or more with coupon 15OFF, $50 off purchases of $150 or more with coupon 50OFF, and $100 off purchases of $300 or more with coupon 100OFF.
Plant Trays
Enter coupon code GRATEFUL at checkout for 15 percent off at ABC Home today.
Ikea Glass Cloches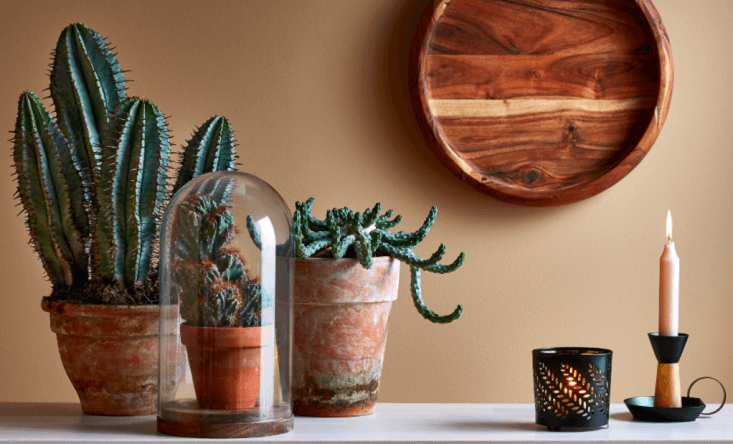 Above: Through today, get a free $20 Ikea e-gift card emailed to your in-box for every $100 in gift cards purchased online (in one transaction). Note: Due to heavy demand, online gift cards may take up to 36 hours to be received from time of purchase, says Ikea.
Copper Watering Cans
West Elm has deals online and in stores: 15 percent off $100 or more, 20 percent off $500 or more, 25 percent off $1,000 or more, and 30 percent off $3,000 or more, plus free shipping for online orders (except furniture and rugs), all with code SAVEMORE.
N.B.: See more holiday shopping ideas, including Botanical Calendars and Cards from Moontree Letterpress and Remodelista's picks for 8 Sales for Cyber Monday (and the Weekend), 2017 Edition.