In 1980 a grand house sale was held by Sotheby's, at the former home of Sir Cecil Beaton in Wiltshire. The hardworking polymath and bon viveur had recently died, and the contents of Reddish House were on view. My mother couldn't resist having a look around, so we drove down from London.
It was a memorable day. The house was largely undisturbed and we wandered through the rooms, admiring the Picasso in the bedroom and the great wicker commode in the loo. I wanted to own the brass bath bridge with a place for book, candle, and wine glass. The plants in the conservatory (or Winter Garden as it is formally known) were going, going, gone and we squeezed an oversized ginger plant into the trunk of the car, next to my mother's friend Joan.
A new exhibition at the Colefax and Fowler headquarters in Mayfair–opening November 18 and running through December 5–aims to reproduce the spirit of Beaton's interiors and exteriors, not just at Reddish but also at the house he rented before that, Ashcombe (bought many decades later by Madonna) and his London home. For details, see Beaton at Brook Street.
All photographs by Cecil Beaton, from The Cecil Beaton Studio Archive, Sotheby's, except where noted.
Above: Reddish House as it stands today at Broad Chalke, Wiltshire. Photograph by Tania Compton.
The excitement and fun of Reddish and its contents reflected the recently extinguished life of its owner whose paid talents included portrait, fashion and reportage photography, cartooning, bitchy social commentary, theater, and film design. Unpaid pursuits were friendship and gardening.
Above: Cecil strikes a pose in a self-portrait overlooking Reddish House, his home from 1947 until his death in 1980.
Above: The lawn ascending from the back door at Reddish House. This was where Beaton spent as much time as he could, the place where he would dig in when working on larger projects. Gardening increasingly preoccupied him, holding as much interest as his excursions to Buckingham Palace or the Vogue studios.
Above: Roses round the wooden carved architrave at Reddish.
Beaton at Brook Street is the name of the Beaton celebration which will take place throughout Sibyl Colefax and John Fowler, the legendary townhouse at 39 Brook Street in Mayfair. In the Yellow Room (former salon of Nancy Lancaster) a show within a show called Cecil Beaton at Home – Town and Country, has transferred from the Salisbury Museum in Wiltshire. Curated by Andrew Ginger, it will recreate room decorations from Beaton's houses.
Above: Master of the self-timer, Beaton gives the impression of relaxing on the terrace.
Another part of the Beaton at Brook Street show focuses on photography and Beaton's rarely seen oil paintings. This coincides with the publication of a new book by Beaton biographer Hugo Vickers, Cecil Beaton: Portraits and Profiles ($32.56 from Amazon in the US and £30 from publisher Frances Lincoln in the UK).
Above: "How lucky I am to have this house," writes Cecil in one of the diary entries from the show. And how lucky is Tania Compton the designer, who currently advises in the garden at Reddish, in its 21st century role as a private house.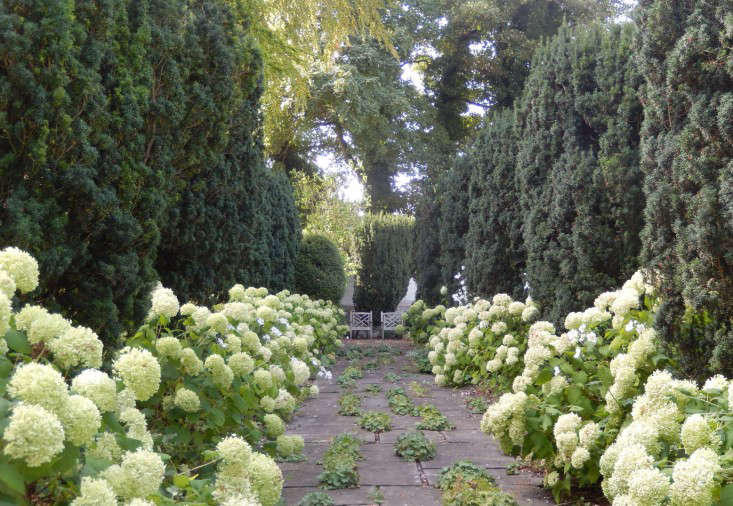 Above: The yew walk is now underplanted with Hydrangea arborescens 'Annabelle' and the self-seeders in the flagstones, always encouraged by Cecil, are Alchemilla mollis. The owners and gardening team have been pleasantly struck with a sense of synergy between their planting ideas and Beaton's photographs, when they were unearthed from his archive at Sotheby's for the show. Photograph by Tania Compton.
Above: Cecil Beaton's photograph of his meadow looks as though it could be from the last decade and uncannily echoes the meadow mix that is now sown annually as part of the vegetable garden rotation.
Above: Beaton's house in South Kensington was filled with flowers sent up from Reddish. Cutting beds have been reinstated, including dahlias from Cecil's own stock. As curator Andrew Ginger says, the Wiltshire garden was essential to Beaton's country existence: "The rooms at Reddish were filled with enormous displays of bloom and blossom, much to the gardener's frustration." Even the garden was expected to perform with the same energy levels which the photographer-designer-writer applied to all aspects of his life.
Further 20th century country house characters:
You need to login or register to view and manage your bookmarks.