As a born-and-bred do-it-yourselfer, I like to rely on Mother Nature for summertime entertaining. On a visit to my Connecticut hometown, I gathered Queen Anne's Lace from a fallow field and clipped branches of crab apples to make a festive tablescape. 
Photography by Erin Boyle.
Above: Queen Anne's Lace is one of my favorite summer flowers. It's scrappy enough to grow in empty city lots and beneficial enough to be used as a companion crop in vegetable gardens, luring wasps and other insects away from more precious plantings. But it can also be a pest, overtaking pastures like the one above. For this forager, that only provided an abundance of raw materials.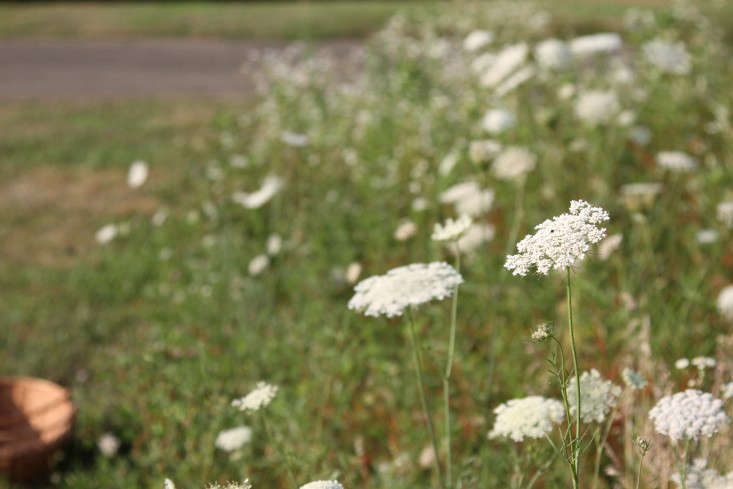 Above: Queen Anne's Lace has one tiny red flower in the center of its lace-like blossom. That spot of red–which attracts pollinators–is said to be the spot of blood from a needle prick to Queen Anne's finger. Whether it was Anne, Queen of Britain, or her great grandmother, Anne of Denmark, whose finger stained the lace is a matter of debate. 
Above: Fruit branches make an unexpected addition to a summery table. Luckily, my parents' generous neighbors were willing to spare a few branches. I think the bright yellow spots on these leaves are pretty, but they may be a sign of cedar-apple rust. (Any experts out there?)
Above: A basket and a good pair of scissors and pruners were all the supplies I needed for this foraging expedition, along with a friendly smile to ask permission. See 10 Easy Pieces: Floral Scissors and 10 Easy Pieces: Garden Pruners for tools to get you started on your botanical table runner.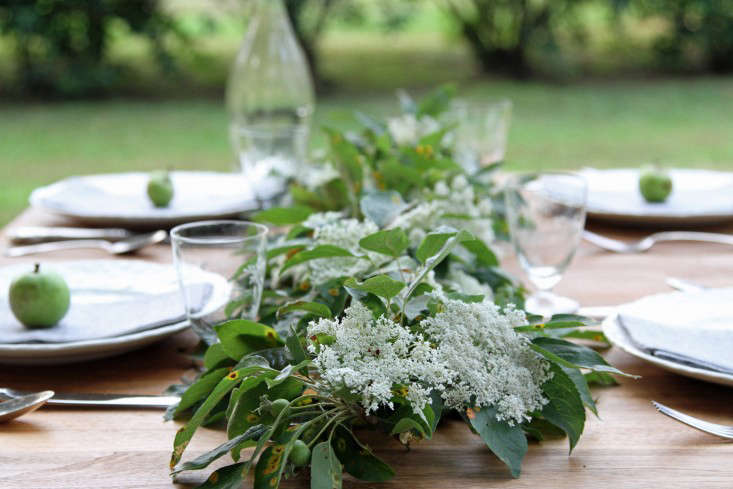 Above: First, I placed five crab apple branches down the center of the table, layering them at alternating angles to achieve a uniform look.
Above: I cut the stems of Queen Anne's Lace to 3 or 4 inches so I could nestle them between the branches at interesting angles. 
Above: I added glass votive candleholders, placing them between the flowers and branches in a serpentine shape. Beaker Glass Candleholders from CB2, only 95 cents each, are satisfyingly simple.
Above: The votive candles among the foliage lent a glow to the table. The Queen Anne's Lace was sturdy enough to last the evening, but I protected the flowers from the heat of the flame by putting the candles next to the crab apple branches.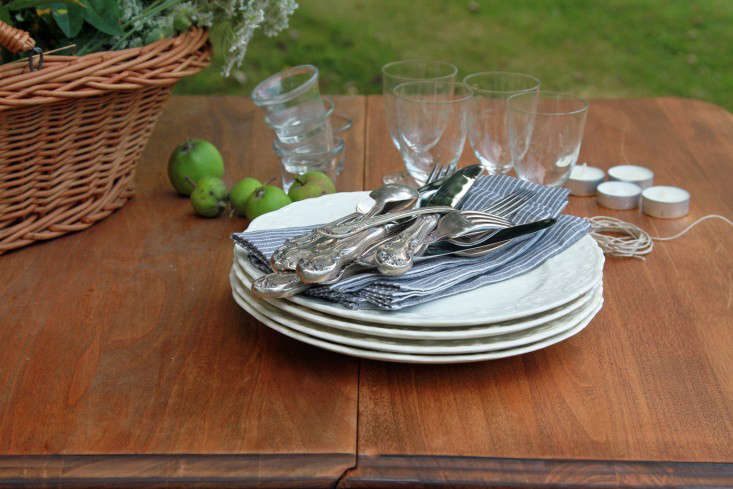 Above: I like simple white dishes for the table. Here I used my parents' vintage china; at home I'm partial to the Tourne Ceramics Collection from Brook Farm General Store. 
Above: Napkins should do more than catch crumbs–they should spruce up a table, too. I used one of my favorite wedding gifts: 
Grey Thin White Stripe Napkins
 ($14 each, from Shop Fog Linen). At each setting I placed a small green apple from a tree in my parents' yard. 
Above: I'm a fan of bringing the indoors out for small gatherings. I used a motley crew of antique chairs, but Julie's 10 Easy Pieces: Dining Chairs Under $160 has lots of choices that would work well here. The Hairpin Back Bentwood Chair would be particularly nice. 
Above: Sterling flatware should be used daily to avoid tarnishing, if you ask me. But if you don't have a family silver box to pull from, 10 Easy Pieces: Everyday Stainless Steel Flatware lists other options. At my house, we use Teak Cutlery from Brook Farm General Store, $55 for a five-piece set.
Above: I kept the overall look of the tabletop low, but I like the height that a pretty glass water bottle adds. The Korken from Ikea is an inexpensive option at $3.99.
Above: Under the apple tree, the table looks set for a summery meal. I'll leave the food to your imagination.
For more summery tabletop ideas, see Steal This Look: A DIY Tabletop with Rustic Appeal. For fresh ideas on what to serve, see Garden-to-Table Recipes.
This is an update of a post originally published July 31, 2013.
(Visited 70 times, 1 visits today)