In our opinion, Babylonstoren hotel in South Africa comes close to paradise. It is one of those faraway places that gives you instant wanderlust. Its latest addition is an impressive greenhouse, where greens and plants live happily ever after.
Babylonstoren, located in the Cape Winelands outside Franschhoek, recently added a 26-meter-long green steel conservatory to its eight-acre vegetable, fruit, and herb garden. The greenhouse was a collaboration between co-owner Karen Roos (the former editor of Elle Decoration of South Africa) and general manager Terry de Waal. Guests are offered tea and refreshments, most of which are cultivated from inside or in the massive garden. Let's drop in:
Photography via Babylonstoren.
Above: The greenhouse doubles as a teahouse and arboretum.  The greenhouse helps the staff conserve different varietals which otherwise would be victims of Western Cape's heavy winter rainfall and dry summers.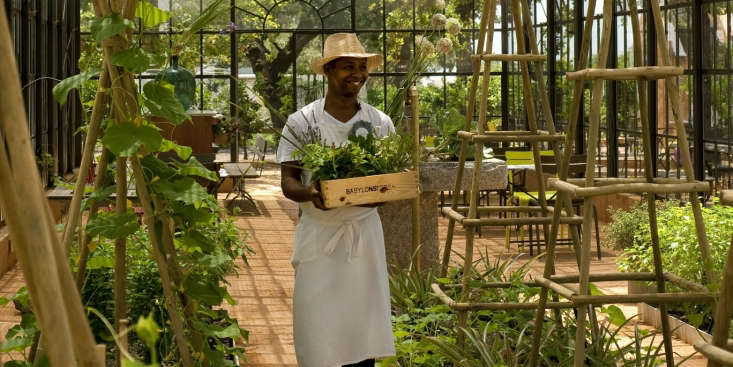 Above: The greenhouse has removable bamboo roof screens imported from France, in case the sunlight needs to be controlled.
Above: For more about the gardening techniques at Babylonstoren, see DIY: Captive Pears for Winter Brandy.
Above: The teahouse serves guests on Delft plates, and the same blue and white pattern can be seen throughout the grounds.
Above: The lit greenhouse during night hours.
For more about Babylonstoren, see Garden Visit: Behind the Scenes at Babylonstoren.
(Visited 686 times, 1 visits today)