At the end of a lane of Victorian cottages in North London is No. 24a Dorset Road, a tiny 800-square-foot brick house with an enormous vegetable garden in the front yard. The proportions look perfect to us.
The owners, who had lived next door for 20 years before asking architect Sam Tisdall to design a smaller house, sold their previous home but kept an attached garage. On its site, Tisdall designed the new house to take advantage of available sunlight and growing space, giving it a brick facade to match the rest of the block's Victorian era homes (which were built for railway workers).
Photography via Sam Tisdall.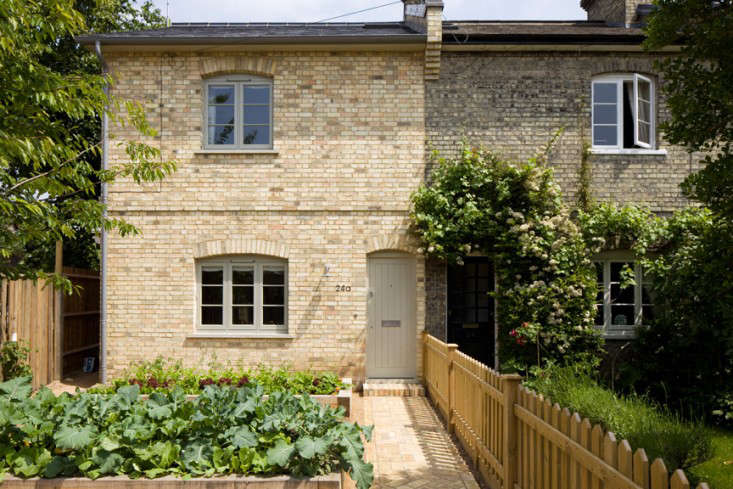 Above: Recycled brick covers the facade and was used to pave the front path.
Above: Raised beds built of oak railway ties reference the block's 19th century history as a housing for railway workers.
Above: Surrounding the vegetable garden is a bed of Breedon gravel, a finely graded natural limestone quarried in Derbyshire.
Above: From the front threshold, it is possible to see through the entire house to the small, fenced backyard. To the left of the walkway is a freestanding kitchen.
Above: The U-shaped kitchen is flooded with sunlight from French doors that open on to the back garden as well as a side door and window.
Above: The kitchen and dining area open onto the back garden and a patio with brick pavers laid in the same tapestry pattern as the front path.
Above: Says architect Tisdall, "The terrace was locally listed so we knew that we would be up against reasonably strict planning restrictions, but it soon became apparent that the conservation officer would not accept anything other than an exact replica cottage."
For more of our favorite small-space edible gardens, see:
You need to login or register to view and manage your bookmarks.