Here's to all the hipsteaders who've gone back to the land to farm (and post on their Instagram accounts), as well as to all seasonal settlers and weekend escapees who've left city life behind part-time. From the Cotswolds to the Catskills to the California coast, they've changed our ideas about organic gardening, farming, and country curb appeal.
Here are 11 great ideas to steal from hipster homesteaders.
1. Add egg amenities.
See more of this chicken coop, and its inhabitants, in The Exquisite Egg: Raising Chickens with Style at the Fancy F.
2. Install weathervane technology.
In New York's Catskills region, actress Amanda Seyfried transformed a barn into a guesthouse for friends and family. "People have a romantic idea of converting a barn," says Brooklyn-based designer Sarah Zames of General Assembly, "but they're not built to code for people." The solution was to rebuild the guest quarters. On the roof, a weathervane lets her know which way the wind is blowing. See more in 
A Converted Catskills Guest Barn for Actress Amanda Seyfried
on Remodelista.
Going retro? See more of our favorite old-school weathervanes at 10 Easy Pieces: Weathervanes.
3. Pretend you're a pioneer.
The couple host Hudson Valley harvest meals in the fall, spring, and summer and also host a weekend farm stand. (See the schedule for the full list of goings-on.) See more at The Indoor/Outdoor Holiday: 11 Ideas to Steal from the Hudson Valley.
4. Hoist a hammock.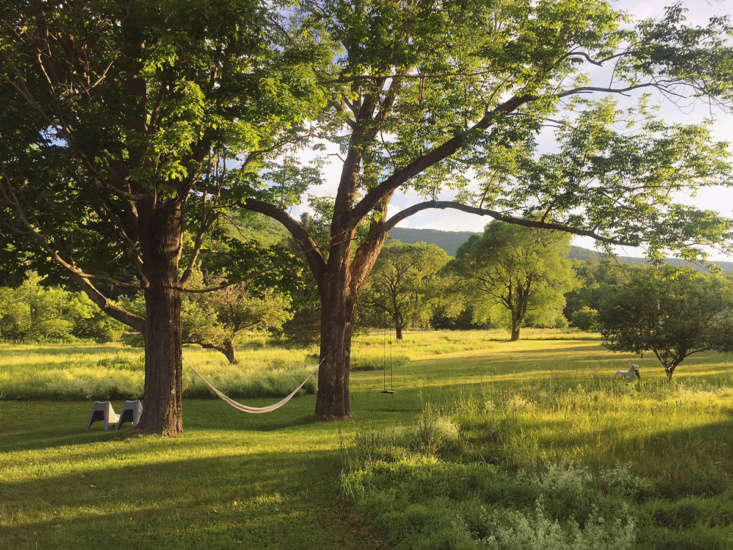 When Brooklyn native Casey Scieszka and husband Steven Weinberg decided to open a nine-room inn next to their Catskills farmhouse, they went the DIY route as much as possible, painting their own eaves and building from scratch the Spruceton Inn's wooden bar. Then they balanced effort with ease, with a hammock hung between two serendipitously sited trees.
See more at The DIY Motel: The Spruceton Inn in the Catskills on Remodelista.
5. Pump your own.
Looking for a slower way of life that feels worlds away? See Maine Getaway: A Simpler Way of Life on Deer Isle.
6. Love your llamas.
"Near the blue waters of Tomales Bay in Marshall, California, owners Kelli and Ken Dunaj sustainably tend olives, sheep, cows, and chickens on 200 acres of land, careful to honor the natural balance of predator and prey in their beloved, wild West Marin landscape," writes contributor Sylvia Linsteadt.
"Coyotes are an important part of the natural ecosystem, helping to keep everything in balance," says Kelli Dunaj, who relies on nonlethal rings of defense—an Akbash dog named Cassie and a Grand Pyrenees/Maremma cross named Bear on the periphery, a series of movable electric fences, and a guardian llama inside each pen with every flock. See more of Paco the llama at Behind the Scenes: A Visit to Spring Coyote Ranch in West Marin.
7. Build an open-air kitchen.
8. Do a makeunder, not a makeover.
See more in Saved from Abandonment: A Historic Hudson Valley Farmhouse Receives the Ultimate Makeunder on Remodelista.
9. Mow with sheep.
"The gray stone walls combined with the shock of wild foxgloves and color and texture of the surrounding area are a great source of inspiration for my knitwear designs," says Holland. See more at A Rustic Farmhouse in Wales, Wellies Included on Remodelista.
10. Paint your barn black.
See more at 
Sky High Farm: Artist Dan Colen's Painterly Landscape in the Hudson Valley
.
11. Remodel a shepherd's hut.
Sign up for a rural workshop to learn to forage, hunt, carve, cure, and cook over an open fire. And see more of the mobile kitchen at Stockpot and Two Smoking Barrels: A Rustic Kitchen in a Shepherd's Hut in England on Remodelista.
For more ideas, see our curated design guide to Edible Gardens 101. Read more: