Meet Dana McClure, Chris Lanier, and their son, Parker. Former Brooklynites —she's an artist/textile designer, he's a chef/food stylist—three years ago they decided to head for the hills to combine talents and set up their own upstate New York creative center. At Ravenwood, their newly remodeled 1850s barn, the couple stage Hudson Valley harvest meals one weekend a month in the fall, spring, and summer and also host a weekend farmstand. The Ravenwood motto: "Where farming, food, and design meet."
Join us for their advice on how to set a table that's both simple and sophisticated, rustic and refined.
Photography by Brooke Fitts, courtesy of Ravenwood.
1. Mix don't match.
Above: Their expandable maple table (made by András Gipp of Hudson Workshop) seats up to 30.
Dana and Chris are careful to celebrate their setting without getting hokey: No hay bales in sight. They also added urbane elements to the mix: The surprise brass chandelier hanging from the rafters is one of Lyndsey Adelman's DIY Pendant Lights (Chris built it using instructions on Adelman's site). They laid the new pine floor themselves—and, after "an insane amount of research and tests," bleached it (go to Remodeling 101 to learn how to make Easy Whitewashed Scandi Floors).
2. Intersperse bouquets with single stems.
Arrangements of local flowers by Kelli Galloway of Hops Petunia are in brass pots to add a touch of glamour to the setting. Galloway balanced them with black bottles that each a hold single stem. "If you only have manicured arrangements, it starts to feel Martha Stewart-y and too formal," says Dana. "The bottles make it looser and more moody."
3. Opt for neutral tableware and patterned napkins.
Having run a dinner series out of the Williamsburg loft for years, the couple know how to create cost-conscious place settings that look good. When feeding a big group, they skip placemats and runners and use Ikea Färgrik white plates and Svalka wine glasses ("it doesn't make sense to splurge on the most breakable items"). Their flatware is mix of vintage silver-plated pieces that they buy in inexpensive odd lots on eBay ("they come all tarnished and mixed in with a lot of junk; we pick out the good pieces").
As for the napkins, Dana makes them herself using striped and checked linen from Gray Line Linen, a favorite budget source among New York stylists. Dana has a Juki serger (a specialized sewing machine) in her studio that she uses to create stitched edges but says you can easily make your own napkins with simple hemming or raw edges.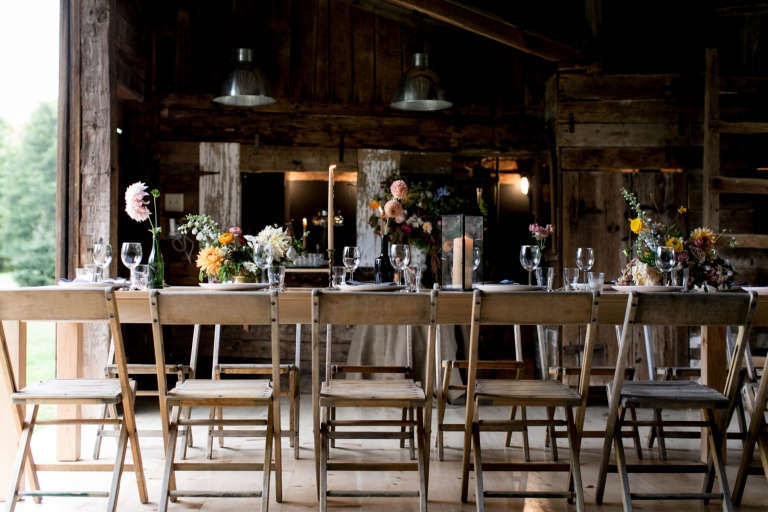 4. Add character with vintage wood folding chairs.
Another item that's easy to source on eBay and yard sales are old wooden folding chairs. Dana cautions that if you buy a mix, you can end up with some at varying heights, so look for sets. To protect their wood floor, Chris bought rolls of 1/2-inch Adhesive Felt Tape and stuck pads on all the legs. Next Dana plans to design silkscreened seat cushions; stay tuned.
5. Build your own dessert table.
At Ravenwood, extra tables, such as this dessert spread, are put together from sawhorses. These are Ikea's Oddvald solid wood trestles; $15 each. The tabletop is "a bunch of wood planks held together with a crossbar," but an unfinished hollow core door or piece of plywood covered with a tablecloth also work well.
6. For tea and coffee, consider enamelware.
In addition to enamelware's rustic appeal, Dana notes that it's light, so can be carried as guests mingle and venture outdoors. She sourced the teapots, mugs, and platter from Crow Creek on Amazon.
7. Serve waffles for dessert.
Looking to highlight Ravenwood's own maple syrup, the couple recently served gluten-free waffles made from fresh corn with apple compote and maple cream. It was such a hit that they recommend it an alternative to pie.
Note the container of forks: It's a galvanized metal planter from the plant section at Ikea. Chris is the one who likes to do the silver polishing: He swears by a two-step process: Goddard's Silver Dip followed by Tarn-X Silver Glaze for shine. For more on the topic, see Justine's Expert Advice: How to Clean and Polish Silver.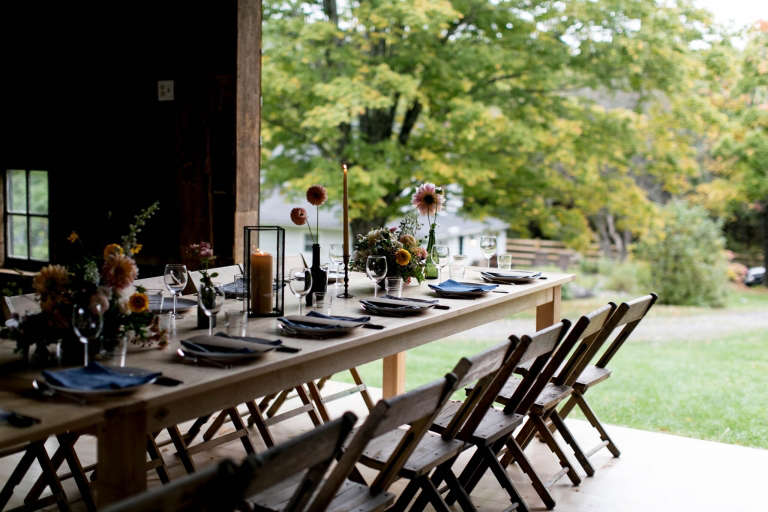 8. A table with leaves lends flexibility.
The Ravenwood dining table has four- and six-foot leaves and extends to 26 feet, "so that we can make use of it both with the barn doors open and shut."
9. Cook over open fire.
The barn doesn't have running water—or a kitchen—so all of the cooking takes place out back. Chris set up Argentinean-style asado grills and a Viking cooktop (he found it on the street in NYC several years ago, added a wood frame, and hooked it up to a propane tank). The metal baker racks, also known as speed racks, are from restaurant supply stores: "we cut some in half so they can go under tables; they hold prepped and cooked ingredients on sheet pans." All equipment is on casters and gets rolled into the barn during the cold months. The "great wall of wood" (from the couple's own pine and maple trees) is used for cooking and as screen to block views of their next-door neighbor.
10. Pretend you're a pioneer.
Chris makes stews in a Lodge Camp Dutch Oven that hangs from a campfire tripod. He grew up in Texas, and though he has worked in the kitchens of Café Boulud and WD-50, his specialty is cooking over a flame.
11. A fire pit adds drama.
Beyond the cooking area, there's a 60-inch Steel Fire Ring: "We bought the biggest size and surrounded it with stones from the abandoned walls in our woods. Everyone is drawn to it."
The next Ravenwood farm meals will take place in the spring (you can sign up online). The couple is also in the process of creating an online store to showcase the work of the artists and designers they collaborate with on their dinners.
Peruse our Tabletop posts for more ideas, including A David Stark–Designed Holiday Table Setting, and see our favorite holiday recipes and drinks.
(Visited 228 times, 1 visits today)