In 2010 Ron Finley transformed an unassuming strip of land alongside the sidewalk bordering his South Los Angeles home into a joyous garden he shares with the community. This act evoked awe, as his neighborhood was better known for strip malls than for greenery, a state of affairs that guerrilla gardener Finley deplores. "Why is concrete and asphalt the norm?" he asks. "Why isn't this the norm?"
This is a tangle of edible and ornamental plants—from artichokes to sunflowers to bananas—which envelops passersby as they walk along the sidewalk. And Finley's garden was just his first step. The self-proclaimed Gangsta Gardener has created a non-profit, The Ron Finley Project, to inspire others to transform unused urban spaces.
Meanwhile Finley's own garden may be living on borrowed time.  A real estate firm purchased the property in late 2016, threatening eviction. Finley and friends, including natural-food company executives and slow-food pioneers, are working to raise funds to buy back the land to save the garden. The other day we visited Finley for a garden visit (and a lesson in an unexpected use for nasturtium pods):
Photography by Stacey Lindsay.
Finley says he got the idea for his garden after he grew tired of having to travel far from his neighborhood to purchase fresh produce that wasn't laced with hard-to-pronounce pesticides. He looked around and saw an epidemic happening in South Central: People suffering from curable diseases and obesity sky-rocketing. He wanted to change all that with his garden by giving his community 24-hour access to healthy produce. After all, "you are what you eat eats," he says.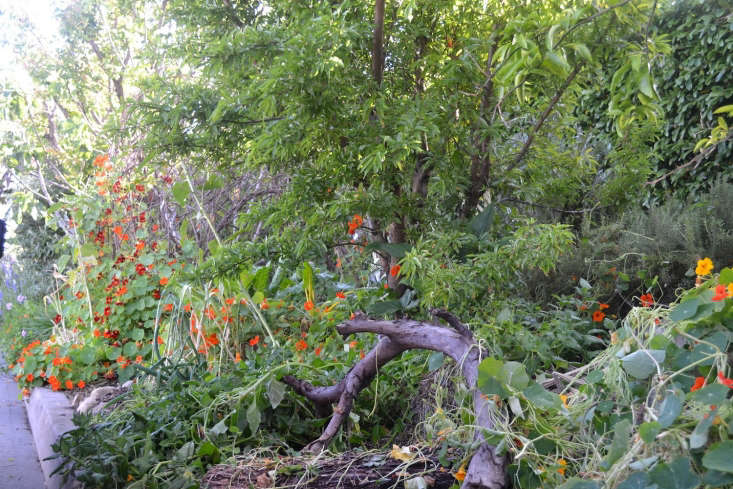 Interested in exploring more community and family gardens? Visit our posts:
(Visited 345 times, 1 visits today)