Tomorrow when Michelle Obama and a corps of photogenic multicultural schoolchildren head out to the White House lawn to plant vegetable seedlings, they'll be kicking off the seventh growing season of a flourishing edible garden that once caused skeptics to roll their eyes. In 2009 when the First Lady first grabbed a shovel (and learned–on camera–just how hard it is to dig up grass), a New York Times reporter wondered, "What would Mrs. Obama's impeccable outfit – thigh-length wrap sweater and patent leather boots–look like when she was done?"
Luckily, no harm has befallen the First Lady's wardrobe. And she's learned a few things about gardening along the way. As the first permanent White House kitchen garden since World War II has grown (it now sprawls over 1,500 square feet), so have her ambitions. While the White House gardeners added fruit trees, berry bushes, and flowers to attract pollinators, the First Lady used the garden as a springboard to launch her "Let's Move" campaign to improve children's health.
Here are 10 garden ideas to steal from Michelle Obama's White House garden:
Photography via Obama Foodorama except where noted.
Above: Michelle Obama's gardening wardrobe has evolved with her garden. For a lightweight navy hooded jacket similar to the First Lady's, a Swing Trench Coat is $228 at J. Crew. Photograph via ABC.
"On March 20, 2009, I was like any other hopeful gardener with a pot out on the windowsill or a small plot by the back door. I was nervously watching the sky. Would it freeze? Would it snow? Would it rain?" Michelle Obama wrote in American Grown, the story of how she embarked on an adventure: planting her first garden. 
The first step? Coming up with a good garden layout. 
Garden Design 101
Above: Photograph via American Grown.
The White House kitchen garden has the good fortune to be sited in full sun. If you're laying out a garden from scratch, see Michelle Obama's Kitchen Garden Design Checklist from Let's Move.
Two helpful hints from the checklist: Put the tallest plants in the back of the
garden so they don't steal the sun from shorter plants and lay out planting rows from north to south "to maximize the sun's rise and fall."
Lettuce First
Above: Lettuce seedlings in raised beds in the White House garden in early April 2015. If you're looking for a raised-bed kit to start a garden, see 5 Favorites: Raised Garden Bed Roundup and Design Sleuth: Stacked Raised Beds for the Garden.
If you're ready to plant, start in early spring with lettuce. If you're growing lettuce from seed, sow the cool weather crop now for a harvest in late spring and early summer.
Succession Planting
Above: For slate garden markers similar to the ones in the White House garden, see High/Low: Slate Garden Marker Kits. For more garden plant labels, see 10 Easy Pieces: Garden Markers.
As you plant spring crops including lettuce, spinach, and onions, remember to leave room for summer crops such as tomatoes and corn. If you have a small garden plot, after the spring harvest enrich the soil by digging in compost and manure and then plant summer crops. For a reminder of when to plant what, see Johnny's Seeds Vegetable Succession Planting Chart. 
Above: Corn is one of the summer crops in the White House garden. 
Let's Move
Above: The more you tend your own garden, the healthier you'll be. Gardening is good exercise; you can burn 182 calories by weeding for half an hour.
Experiment
Above: Tomatillos in the White House garden. 
In addition to growing the usual suspects, the White House gardeners plant tomatillos, sea kale, and Lincoln oats (all of which end up on the menu at the White House). If you want to grow your own oatmeal, plant Hulless Oats; a 1-ounce packet of seeds is $4 from Baker Creek.
Make Room for Flowers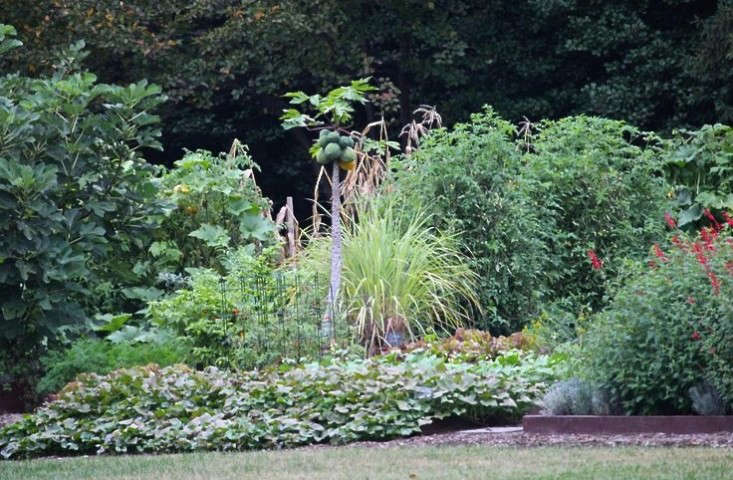 Above: Red flowering salvia (R) is planted alongside peanuts, pumpkins, papaya, figs, lemon grass, and squash in the White House garden. 
Pamper the Pollinators
Above: Plant flowers that attract bees, birds, butterflies, and moths. The White House garden has a raised bed dedicated to 34 varieties of plants that pollinators love, including butterfly weed, goldenrod, white wood aster, Coreopsis 'Moonbeam', Joe Pye weed, willow leaf 'Blue Star', Liatris 'Blazing star', purple lungwort, broom sedge, Black-eyed Susan, and little bluestem grass.
Save the Butterflies
Above: Last spring Michelle Obama planted two types of milkweed as host plants for endangered monarch butterflies.
Monarch caterpillars live exclusively on milkweed plants, according to the National Wildlife Federation: "Milkweeds contain glycoside toxins that are harmless to the monarch but poisonous to its predators. Monarch caterpillars feed on all the different parts of milkweed plants and store up the toxins in their body. The toxins remain in their system even after metamorphosis, thereby making adult monarchs poisonous as well."
Milkweed wildflowers belong to the genus Asclepias; an Asclepias Mixture of 10 plants is $14 from Breck's.
Keep Bees
Above: A beehive on the White House lawn next to the vegetable beds.
To learn more about Beekeeping, see our posts The Naked Beekeepers of Hong Kong and A Simple Garden in Oakland, Chickens and Bees Included.
Don't Give Up
Above: A plaque in the White House garden has a quote from Thomas Jefferson to remind gardeners that the hope is "the failure of one thing repaired by the success of another" will provide a bountiful harvest.
Gardens are at the mercy of rain, wind, hail, insects, and varmints; don't expect everything to go right all the time. If one plant fails, try another.
"Trial and error is normal in gardening–your garden will get better over time, year after year," advises the Let's Move program. If you're looking for more advice, the federal Department of Agriculture's Cooperative Extension program offers non-formal education and gardening tips "including a local Extension Master Gardener volunteer to help with gardening challenges or lead training sessions." 
Find your county's Cooperative Extension Office at the National Pesticide Information Center. 
For more help planning a kitchen garden, see:
(Visited 196 times, 1 visits today)