Spanish gardening owes its traditions to centuries of invaders: Romans, Visigoths, Arabs, and Habsburgs (who infiltrated by marriage). Along with their armies, they brought their ideas for how to cope with the strong midday sun of a semi-arid Mediterranean climate and for making the most of a year-round growing season.
Classic elements work well in modern gardens. Here are 10 landscaping ideas—traditions from the Iberian Peninsula—that will translate well to your garden.
Archways
The arched doorway is a graceful architectural detail dating from the Roman era, evident in the garden of a 10th-century medieval castle (now a summerhouse available for rent via Airbnb) about an hour and a half's drive north up the coast beyond Barcelona.
For more of this project, see A Study in Stone: The Resurrection of a Medieval Castle Garden in Catalonia.
Walled Patios
At Can Lis the summerhouse that architect Utzon built for his family, The outer pillars and supporting walls are traditional Mallorcan marès, a local porous sandstone, with denser Santanyí sandstone used for interior walls and floors throughout. For more, see An Architect's Indoor-Outdoor Dreamscape in Mallorca.
Walled courtyards are serene sanctuaries, a retreat from the heat and bustle of the world outside. A tradition that dates back to ancient Persian gardens, walled patios can be planted with scented vines and flowers; the confined space intensifies the fragrance.
Balcony Railings
For a look that's authentic to the scrollwork of the 1400s and 1500s, choose wrought iron with slender twisted spindles, decorated with symmetrical swirls, tendrils, and curves.
Reflecting Pools
The Romans perfected the process of transporting water with their infrastructure of aqueducts, technology they brought with them to the Iberian Peninsula. Fountains, ponds, and pools have been integral features of Spain's Mediterranean gardens since.
The mere sight of cool water in a hot climate is enough to lower your blood pressure if not your actual body temperature. For a water feature with mesmerizing abilities, create a reflective surface (paint a pool's bottom a dark, tranquil color to turn it into a mirror of the sky).
Loggias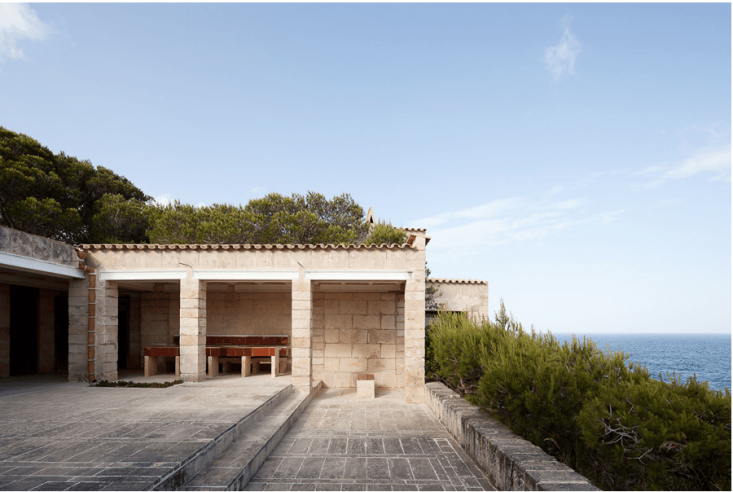 To ease the heat of midday sun without sacrificing the light, a loggia offers respite. On Mallorca, Danish architect Jørn Utzon's summerhouse (shown above) has multiple loggias and courtyards to extend living space from indoors to out. For more of this project, see An Architect's Outdoor-Indoor Dreamscape on Mallorca.
Pergolas
From the Latin word "pergula," a pergola can be a roof overhang with room beneath it for shaded seating, or it can be a freestanding trellis supported by poles. Create more shade by training a fast-growing vine to grow up the side.
Orange Trees
Flowering citrus trees are veryfragrant: in a warm climate plant a dwarf lemon tree or two in your garden near a doorway or path so you can enjoy the perfume.
Mosaic Tile
The Moors brought their tradition of tile with them to the Iberian Peninsula and it has since spread worldwide. Re-create the look of Moorish mosaics with modern tile from Ann Sacks (shown above). For similar tile, see the Eastern Promise collection.
Old and New
For the fountain, designer Pam Shamshiri found a vintage brass tap at a flea market in Spain. Add a patina of age and history to a new hardscape project with vintage hardware.
Jasmine & Vines
Flowering vines and climbing roses are easy companions in Spanish gardens. For added fragrance, plant jasmine and scented heirloom roses.
Are you designing a garden in a Mediterranean climate? Start with our curated guides to Garden Design 101, including hardscaping guides for Gravel Courtyards, Swimming Pools, and Decks & Patios. See more landscaping ideas:
(Visited 1,682 times, 1 visits today)