Along the coastline about an hour and a half's drive north of Barcelona lies the medieval town of Peratallada, where most everything including the old buildings, roads, and paths are made of carved stone. In the center sits the Castillo de Peratallada, a 10th-century castle (now a summer house available for rent via Airbnb).
Barcelona-based architecture studio Mesura restored the gardens surrounding the castle and reinvigorated the landscape with a modern design that adroitly preserves ten centuries of rich history. Today we explore the stone garden; stay tuned for the dramatic pool on Friday as our Pool of the Week.
Photography by Salva López courtesy of Mesura.
Above: The castle, partially covered in ivy, comprises several stone buildings nestled around a central courtyard. Mesura began its update of the grounds with a mandate to use only local materials.
Above: Peratallada means "carved stone." The grounds spread across 250 square meters (about 2,690 square feet).
Above: The castle entrance is a full two meters below the street, so Mesura joined the two levels with a series of tiered patios.
Above: "A beautiful hundred-year-old acacia stands up as the counterpoint to the horizontal characteristic of the project," say the architects. At left, water from the pool cascades over a concrete ledge and into a channel to be recirculated.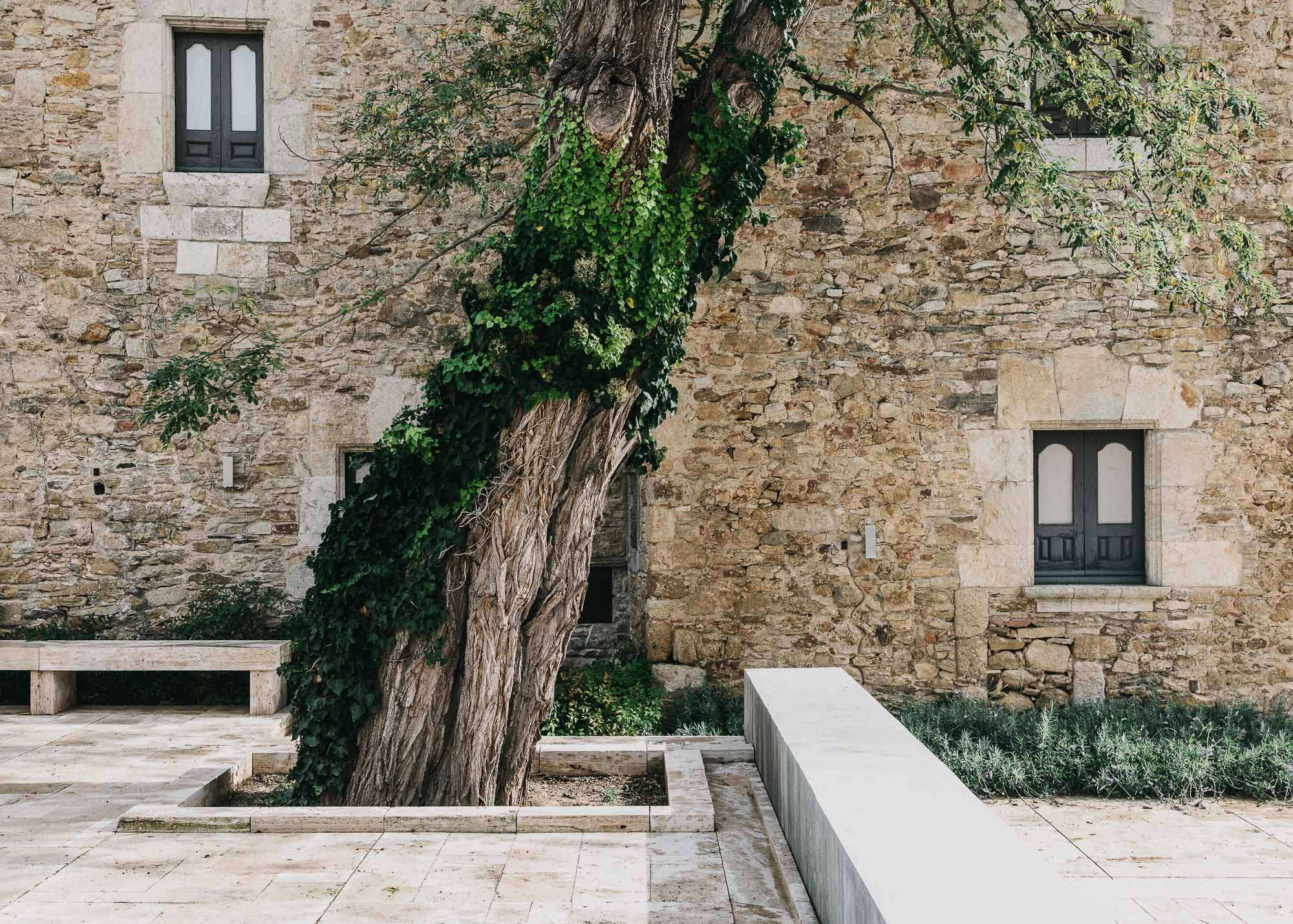 Above: The patios are made of Turkish white travertine marble, reclaimed from a project in the nearby village of Girona.
Above: Say the architects of using the reclaimed stone, "Its recycled origin required the use of pieces with smaller format in different sizes, and compelled a difficult carving-up procedure."
Above: A close-up view of the marble patio. Mesura mapped a complicated arrangement of eight different pattern blocks of smaller rectangles and squares; there is a pattern to the patio, but it's not easy to spot.
Above: An outdoor shower made of the same marble has grooves and a drain cut using CNC technology.
Above: Mesura added benches, low walls, and a wet bar of colorless micro concrete with subtle wood-grain details. Here, an outdoor faucet drains into a sloped concrete basin.
Above: Accent lighting and electrical outlets are built into the concrete furniture.
Above: Peratallada is reached by driving along a winding, tree-lined road off the highway.
Above: The Castillo de Peratallada at a distance. For rental information, visit Airbnb.
For more in Spain, see Where Florists Go to Buy Their Plants and Island Escape: Finca Son Gener in Mallorca.
(Visited 345 times, 1 visits today)