A downspout is one of those elements of a facade that homeowners like to ignore. And who can blame us? Downspouts are not attractive. They can be loud when they are effective, and troublesome when they aren't (think: clogged leaves).
Why not consider a rain chain? No clogs. No Dents. No water-rushing-through-a-pipe sounds. In fact, rain chains are like a built-in water feature: visually appealing, they offer a soothing sound when water cascades down.
How do rain chains work? It's easy. They attach to the gutter outlet with a connector spout that directs the water down the chain into a water receptacle or drainage bed where the bottom end of the chain is secured. This highly effective rainwater device has been used for centuries in Japan. Not ready to replace every downspout on your home? Consider updgrading at least those at your home's entry and other well-used outdoor areas where the downspouts are visually conspicuous.
Here's our roundup of favorites:
Cup Style Rain Chains
Link Style Rain Chains
(N.B.: Link style, rather than cup-style rain chains, are recommended for climates with heavy snow.)
Above: I am partial to the simple and utilitarian Stainless Steel Link Rain Chain. Made of very high marine-grade 316L stainless, the links are welded for maximum load capacity. Available in four thicknesses ranging from 1/8th inch to 5/16th inch, the stainless chain is from $89.25 to $108.38 (depending on thickness) for a 9.5-foot length at Gutter Supply.
Above: The Zen Loop Link Rain Chain is handmade of 3-inch copper rings; $121.13 for an 8.5-foot length at Gutter Supply.
Above: Made of copper, an 8.5-foot length of Diamond Rain Chain is $127.95 from Japanese Style.
Above: A Copper Link Rain Chain is appreciated for the patina it develops over time. The Extra Links Copper Rain Chain features an extra link inset into the chain for improved water flow; $20.95 per linear foot.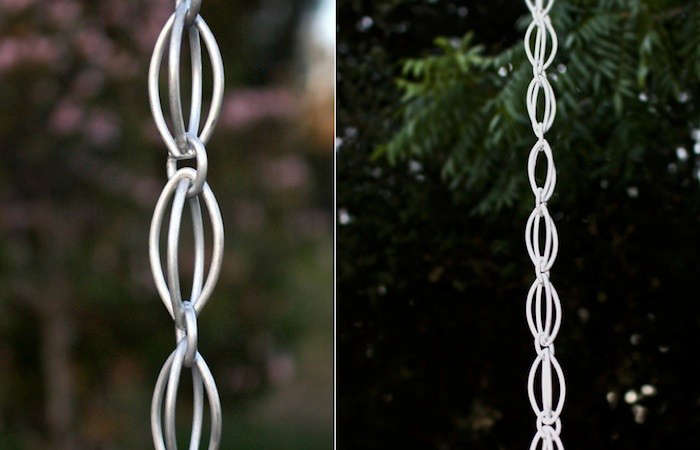 Above: The aluminum Double Oval Loop Rain Chain in a metal gray finish is $54.95 for an 8.5-foot length chain at Rain Chains Direct.
Above: Monarch's Copper Teardrop Rain Chain; $82.04 for an 8.5-foot length chain through Amazon.
N.B.: See more ideas to add Curb Appeal with our Hardscape 101 design guides, including Exteriors & Facades 101: A Design Guide. For more environmentally friendly (and stylish) ways to manage rainwater, see:
(Visited 440 times, 1 visits today)