Open fire cooking is a slow burning trend—with recent attention thanks to chef Francis Mallmann's Patagonian-style cooking. For the camper, the outdoor chef, or the owner of a good fire pit, here are 10 stoves designed for open fire cooking.
Above: The Stansport Cast Iron Camp Fire Tripod is made of solid steel with a nickel plated chain and s-hook for hanging a cast iron dutch stove from; $16.99 at Walmart.
Above: The adjustable Tripod Stand from Snow Peak is made of chrome coated steel; $159.95.
Above: The Three-Legged Bålgrill Deluxe made of steel coated with heat resistant paint is €64.95 at Easy Camp in Denmark.
Above: The Portable Outdoor Campfire Pot Stand Holder is made of lightweight aluminum for $27.55 through Ali Express.
Above: A Cabela's Outfitter Barbecue Grill comes with an adjustable pot holder; $64.99 at Cabela's.
Above: The Guide Gear Campfire Cooking Equipment Set is made of heavy-duty iron with fire hooks for different styles of open fire cooking; $44.99 at Sportsman Guide.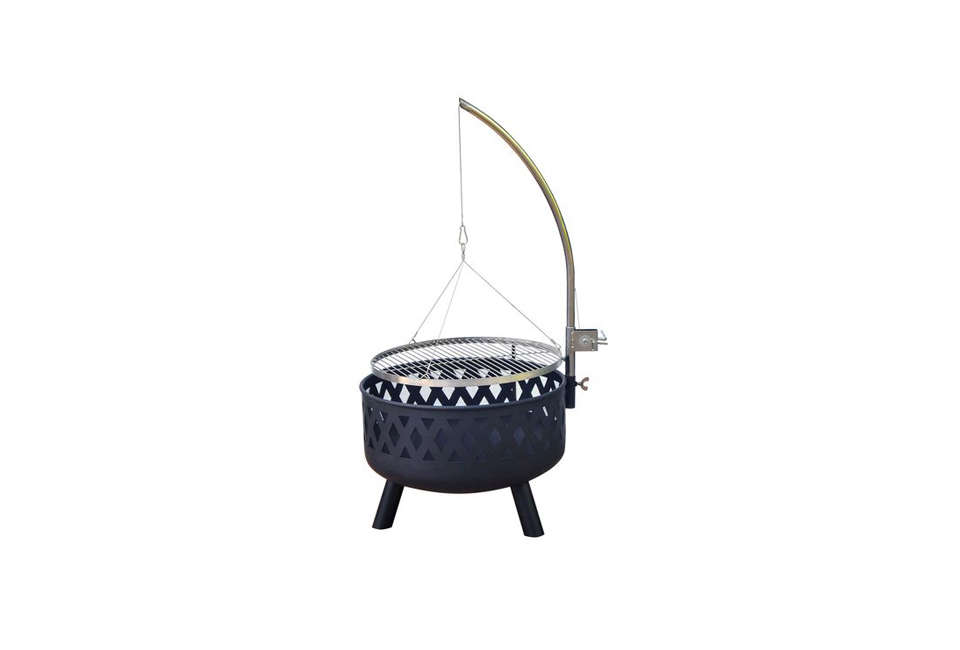 Above: The Outdoor Fire Pit Brazier Heater Stove with an adjustable hanging grate is available through Terapeak.
Above: The Rome Industries Adjustable Cooking Grate is a simple grate for a low fire pit; $114.95 at Bellacor.
Above: The Folding Campfire Dutch Oven Cooking Grill measuring 14 by 16 inches an adjustable grill and hanging hooks; $95 at Etsy.
Above: The Sunnydaze X-Marks Fire Pit Cooking Grill measures 24 inches in diameter and is made of steel to resist high temperatures; $54.95 at Amazon.
Above: The Rivergrille Cowboy 31-Inch Charcoal Grill and Fire Pit has varying levels for different styles of cooking; $199 at Home Depot.
For more outdoor cooking ideas see our posts:
(Visited 134 times, 1 visits today)