The charcoal vs. gas grill debate will go on as long as there are backyards and patios. Suffice it to say we are on the charcoal side of the debate—hotter flame, richer flavor, albeit with more sooty mess and less spontaneity. In the charcoal arena, there are three types of grills to choose from: kamado, open fire, and kettle.
Kamado Cookers
A kamado is a traditional Japanese wood- or charcoal-fired earthen vessel. The modern versions of the kamado cooker are marketed as barbecues for outdoor use. Their special appeal is the ability to cook at lower temperatures, so meats and vegetables emerge more tender.
Kamado-style cookers are made from a variety of materials, including high-fire ceramics, refractory materials, traditional terra cotta, and a mix of Portland cement and crushed lava rock. Outer surfaces are usually a high gloss ceramic glaze.
Above: The leader in the category is The Big Green Egg with five sizes from XL ($900) to Mini ($220); for a wide selection of sizes and configurations, see Amazon. An active BGE Bulletin Board Site has hundreds of thousands of posts about cooking almost everything under the sun on a Big Green Egg—from Thanksgiving turkeys to the perfect brisket to grilled pizzas.
Below: At the high end, Viking has introduced a Charcoal Ceramic Cooking Capsule, $2,499 at Elite Appliance.
Open Fire Grills
Above: The leader in this category is the Grillery. Pundits such as Tom Brokaw and the late R. W. Apple of the NY Times put this open-flame grill in a league of its own. Available directly from the manufacturer, Grillworks Inc., each unit is custom manufactured in the US. The grill is available in a variety of sizes and configurations at prices ranging from $3,495 to $13,775.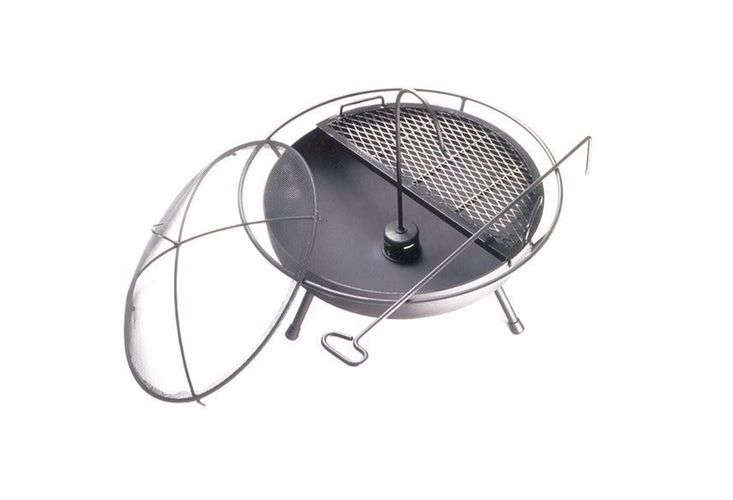 Above: California FirePit has several models that double as both a cooking surface and an open pit fire for warmth and ambience. Until recently only available on the west coast, they are now available across the US. The California FirePit Tahoe is $649 from Jackson's Hardware.
Above: Also from California FirePit, a Sequoia model with an adjustable grille and screw-in legs is $799 from Living Outfitters.

Below: In a more modern direction, we like the looks of this sturdy, all-steel Piet Hein Eek Grill, which has two cooking levels and a shelf for storage. The price is €1,054 plus shipping from the Netherlands.
Kettle Grills
Weber has dominated the kettle grill category since the first one was invented by George A. Stephen, Sr., one of the co-owners of the Weber Brothers Metal Works, a Chicago custom order sheet metal shop. Stephen took two half-spheres that were destined to be buoys in Lake Michigan and fashioned them into a dome-shaped grill with a rounded lid, and the classic Weber kettle grill was born.
Above: We like the Weber Blue or Green Kettle Grills
($149 at Amazon) in addition to the standard black (unfortunately, red is no longer manufactured).
Above:: As usual, the Scandis do us one better in the design department. Danish company Dancook's stainless steel and aluminum 1400 Kettle Charcoal Barbeque is sleek and stylish; £161.99 at Amazon.
Grills on the Go
For nomadic grillers, a unit that can hide snugly out of site or travel to a park, beach, or neighbor's yard is useful.
Above:: The tried and true Weber Smokey Joe
, for $39.99, is always at the ready.
Above: The other Weber we like in this category is the Weber Table Top Grill
($49.99), which folds up nicely for travel.
Above: A compact Table Grill by Eva Solo from Danish designers Claus Jensen and Henrik Holbaek is perfect for urban outdoor spaces. The wooden base protects your outdoor table from the heat. After grilling, the bowl, rack and insert can be put in the dishwasher for easy clean-up. Without the rack and insert, the porcelain bowl doubles as a salad bowl; $207 from Finnish Design Shop.
(Visited 24 times, 1 visits today)