We have the 19th-century Parisian urban planner Georges-Eugène Haussmann to thank for our ideas about how a Parisian balcony should look:a  graceful filigree railing set against a facade of cut stonework, with sweeping views of the grand boulevards below and pretty potted plants spilling over with flowering vines.
Haussmann's vision of an airy Napoleonic city of light created countless narrow balcony gardens in the center of the city. Part of his legacy was to create the casually chic balcony garden. Here are seven favorite Parisian balcony gardens from our archives:
10th Arrondisement Aerie
You can create a layered look by thinking of a balcony as a space with three separate zones for plants: a facade (where trained vines can grow up the wall), a floor (where potted plants can cluster), and a railing (for window boxes full of herbs and sun-loving flowers). See more of Valsonne's charming garden in How to Garden Like a Frenchwoman: 10 Ideas to Steal from a Paris Balcony.
Roof with a View
See more of this garden in Secret Paris: A Tiny Roof Garden with an Eiffel Tower View.
Skylight, with a View
See more of this garden in A Ceramicist and an Architect in Paris.
Hotel Balcony Garden
See more at Arts et Métiers: An Industrial-Cool Hotel in Paris, Redone in Terrazzo and Marble on Remodelista.
Awnings shade the balcony gardens from hot midday sun.
Montmartre Mini Balcony
A 452-square-foot studio apartment overlooking the rooftops of Montmartre includes a small balcony, from which documentary-style photographer Marie Hennechart enjoys the view in a collapsible butterfly chair. See more in Photographer Marie Hennechart's DIY Parisian Studio Apartment Makeover on Remodelista.
Indoor Balcony
Read more in 8 Houseplant Ideas to Steal from a Grand Parisian Escalier.
Duplex Garden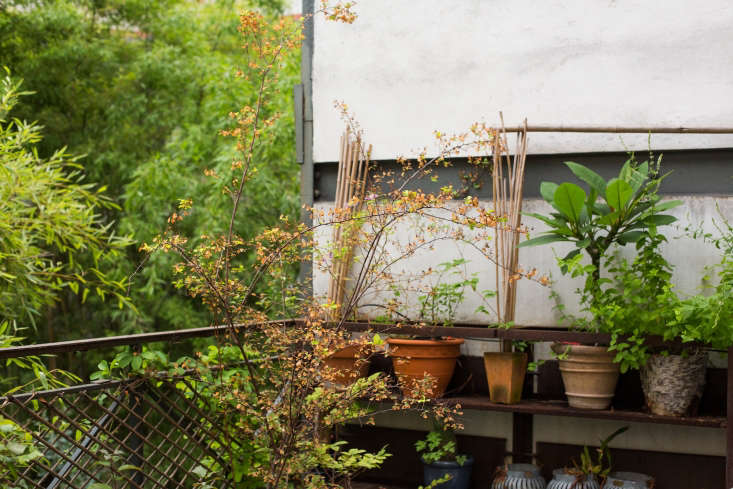 For more of this balcony garden, see How to Garden Like a Frenchman: 10 Ideas to Steal from a Parisian Courtyard.
See more ideas to steal from our favorite European gardens (indoors and out):
Finally, get more ideas on how to plant, grow, and care for various houseplants with our Houseplants: A Field Guide.
(Visited 537 times, 1 visits today)