From Danish design house Ferm Living: a collection of frost-proof concrete planters and pots to pair with the company's mini trellises. Suddenly it makes sense to grow a vine up a wall indoors.
Above: Ferm Living's new collection of wide-mouthed Concrete Planters is available in four sizes and three colors (dark gray, light gray, and ochre). Prices will range from €21.60 to €119.20, depending on size, from Ferm Living.
Above: Suitable for both indoor and outdoor use, Ferm Living's larger wide-mouthed concrete pots can be paired with Ferm Living's houseplant trellises. A powder coated iron Plant Wall trellis available in two colors including Mint (shown) is €28.80.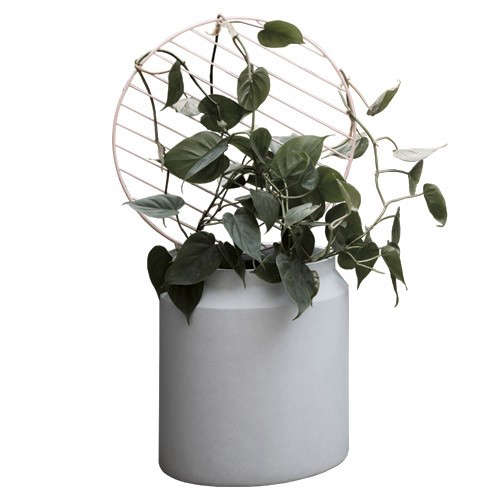 Above: A round Plant Wall Circle available in two colors (including gray, Shown) is €28.80 from Ferm Living.
Above: Small concrete pots can sit on a windowsill. Also shown (at R) is Ferm Living's solid brass small Hexagon Pot; $44 from Scandinavian Design Center.
Above: The concrete pots are best suited to low-water plants; beware that moisture can seep through the concrete and could damage floors.
For more stylish houseplants, see:
Finally, get more ideas on how to plant, grow, and care for various vines and climbers with our Vines & Climbers: A Field Guide.
(Visited 202 times, 1 visits today)