In the garden, July is a month with a split personality: We look back wistfully (at the successes of spring) and forward with trepidation (can this garden be saved, to withstand the August heat that's ahead).
Here are a few quick garden fixes that will pay off next month (and in September).
Clean Up the Strawberry Patch
After you've picked the last strawberry from your plants, it's time to cut back brown or drooping leaves. Weed between plants and mulch with an inch or two of compost. Now it the time to thin or transplant strawberries; carefully dig up runners as well as roots to move a clump to a new spot.
For more growing tips, see Strawberries: A Field Guide to Planting, Care & Design.
Deadhead
Hone your deadheading technique: See Landscaping 101: How to Deadhead Flowers.
TLC for Tomatoes
I never met a tomato plant that didn't perform better with a little coddling. Pinch back suckers to help them focus their fruiting efforts. Make sure tomatoes get enough water (from a drip irrigation system or a hose, every day).  See more tips at Tomatoes: A Field Guide to Planting, Care & Design.
Cut Back Spent Flowers
Many flowering spikes—from penstemons to foxgloves to gladiolas—have finished flowering by now. Or have they? When you cut back spent blossoms, check to see if any lateral spikes are growing from the spikes. If so, leave them in place to encourage more blooms.
Add Annuals
Many of our favorite flowers are annuals that cheerfully take on the job of adding color to the garden just as summer perennials start to flag in August's heat. With bright blooms and attention-grabbing flowers, these fast growers can make you love your garden in late summer. (And many annuals will live on by resowing themselves, with seeds carried on a breeze to pop up in a new spot next year.
For more ideas, see Everything You Need to Know About Cottage Gardens and browse our curated design guides Annuals 101 for tips to grow Sunflowers, Nasturtiums, and Zinnias.
Help Your Hydrangeas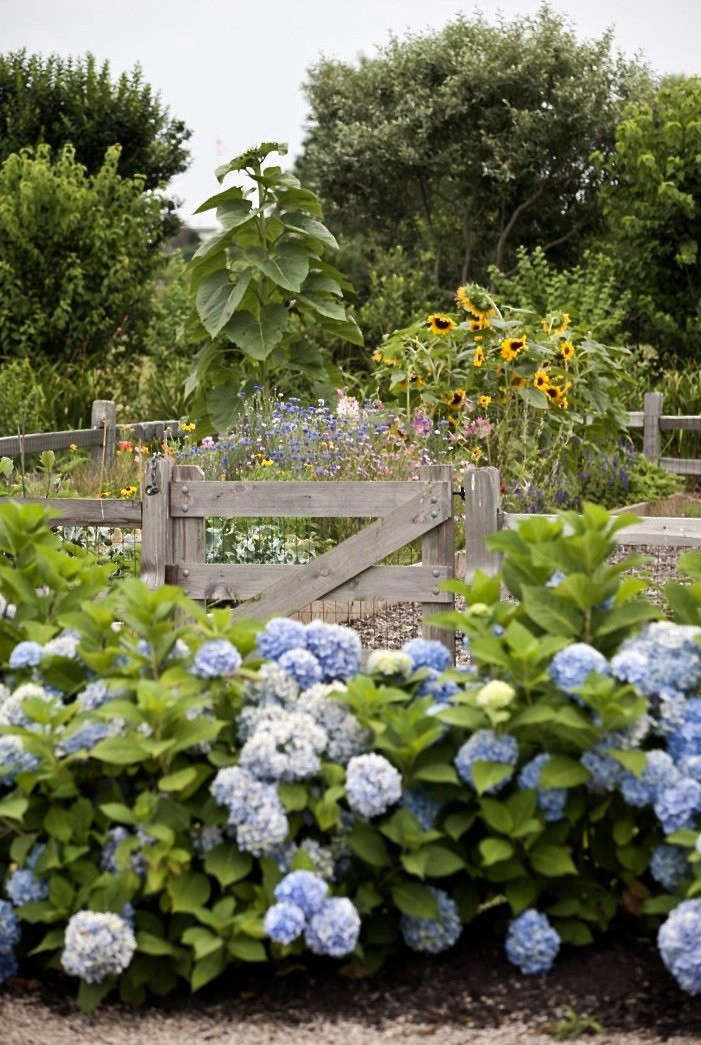 Do you wish your pink hydrangeas were blue, or vice versa? You can take control of their color destiny by amending the soil. For tips see Hydrangeas: How to Change Color from Pink to Blue.
Keep Weeding
Don't let the weeds win. If you need a new weapon to inspire you during the doldrums of summer, see a few of our favorites in 10 Easy Pieces: Weeding Forks.
Prune Fruit Trees
Prune spring-flowering fruit trees in summer when spores of silver leaf disease are dormant.
For more tips, see Everything You Need to Know About Flowering Trees.
Fill Bird Baths
Water evaporates faster in hotter temperatures. Replenish bird baths as needed. For more ideas about designing water features, see Everything You Need to Know About Fountains.
Cut Back Wisteria
Wisteria, if unchecked, will behave like a thug, says our friend Tim Callis, a garden designer on Cape Cod. He recommends shearing several times a year. In summer, cut back long shoots and stems to no more than six leaves.
Water if Needed
Gardens like an inch of rain a week. Is yours getting enough? Use a Rainwater Calculator to figure it out, and if your plants need more irrigate accordingly.
Automate your irrigation system with Hardware 101: Smart Irrigation Controllers. And if you need to upgrade or repair your irrigation, see Drip Irrigation: Emergency Repair Kit Essentials.
Don't Mow Low
In hot, dry months keep your lawn looking green by allowing blades of grass to grow longer; a crew cut will create brown spots. Use the right tool for the job; see 10 Easy Pieces: Reel Lawn Mowers and 10 Easy Pieces: Riding Lawn Mowers.
N.B.: This post is an update; it was first published July 2015.
Are you planning a major overhaul or a minor rehab in the garden? Get inspiration from our Garden Design 101 guides and see:
(Visited 291 times, 1 visits today)