Built in 1930, a shingled seaside cottage and its sprawling gardens in Little Compton, Rhode Island had seen better days by the time Dara and Dan Brewster bought the property in 2000. But then, isn't every garden an ever-evolving rehab project?
Of course, not every summer cottage has wisteria growing through the roof.
The Brewsters (owners of online shop Dara Artisans) have–with the help of friends and family–tamed the wisteria, trained roses to grow over the front door, created a kitchen garden, and built terraces and retaining walls with local stone on the property's six acres. For a tour of the interiors of the Brewsters' house, see The Brewsters At Home In Little Compton, RI on Remodelista.
Photography by Nathan Fried Lipski of Nate Photography.
Above: The Brewsters live on Sakonnet Point, with views of the sea and Newport, Rhode Island.
Above: The driveway is bordered by hydrangea hedges.
Above: Roses grow over the front entryway.
Above: The major challenge in creating the seaside garden was to choose plants that would prove impervious to salt, sea spray, and wind. Hedges of pink rosa rugosa, salt tolerant and extremely happy if planted in New England, will thrive on beaches, dunes, roadsides, in vacant lots–or as a foundation planting as shown at the Brewsters'. For more, see 10 Easy Pieces: Perennials for the Seaside Garden.
Above: Dan Brewster and his son, Graham, 26, built the dry-stone retaining walls.
Above: An exuberant morning glory vine climbs a lamppost.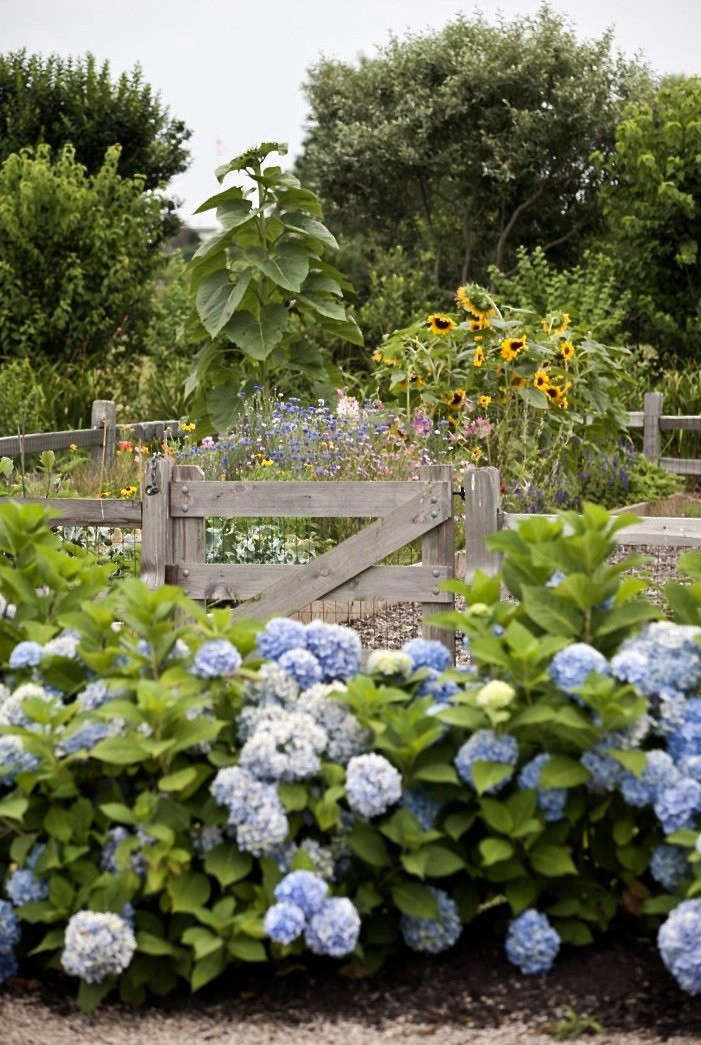 Above: Hydrangeas stand guard over the sunflowers.
Above: The Brewsters have two perennial gardens, a kitchen garden (with four raised beds), and a naturalized garden along the perimeter of the property.
Above: Purple and white phlox in full summer bloom.
Above: Dahlias in the sun.
Above: A butterfly magnet, spiky white liatris will reach heights of up to 4 feet in the summer garden.
Above: Tools of the trade.
Above: Raspberries begin to ripen.
Above: Dara Brewster (L) and potted container plants.
Above: An outdoor room for gatherings and dinners is sheltered from the sea.
Above: The outdoor dining room is original to the property.
Above: Shutters get replaced every five to seven years after the wood succumbs to the effects of the harsh salt air.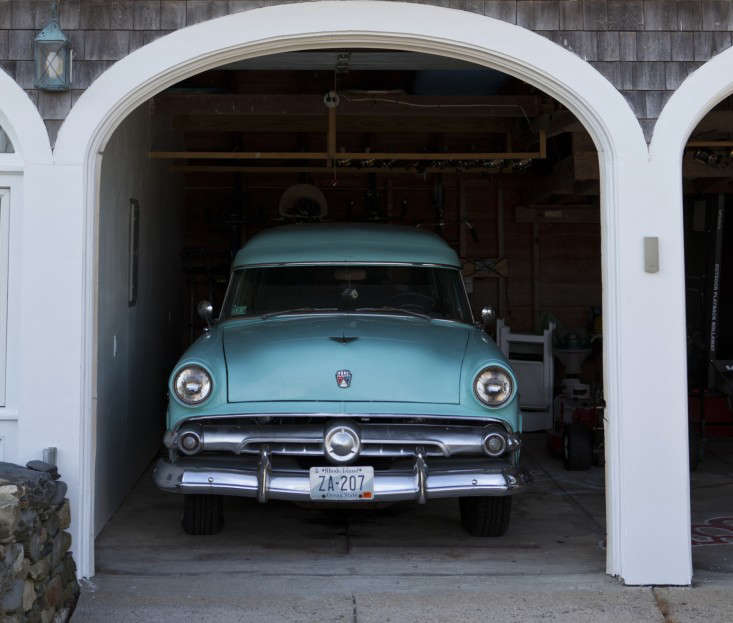 Above: The garage.
Above: A late-afternoon view of the gardens and the sea.
For more of our favorite New England gardens, see Boston's Best-Kept Secret: Eva's Organic Garden.
(Visited 319 times, 1 visits today)