Our judges have selected the finalists, now you choose the winners. Vote for the finalists in each of 12 categories in the Considered Design Awards, on both Gardenista and Remodelista. You can vote once a day in each category, now through August 15.
In the Best Outdoor Living Space category, which was open to both professional designers and amateur gardeners, our five finalists are Greg and Rainy Smith, Earth Inc., Leslie Needham Design, Daniel Nolan for Flora Grubb Gardens, and Stelle Lomont Rouhani Architects. 
Project 1
Stelle Lomont Rouhani Architects | Bridgehampton, NY | Hasenacher
Design Statement: "Situated with an optimal view of the farmland, lake, and city beyond, the pool house is conceived as an open pavilion with built-in amenities for true relaxation: cooking, lounging, dining, and view gazing. In case of inclement weather, the pavilion can be completely enclosed by deploying the folding glass doors."
Chosen by: Guest judge and event designer David Stark, who said: "This is a perfect home/garden for entertaining. The proportions of the flat roof of the porch and its relationship to the sleek, elegant pool are quite nice. Why ever go inside?!"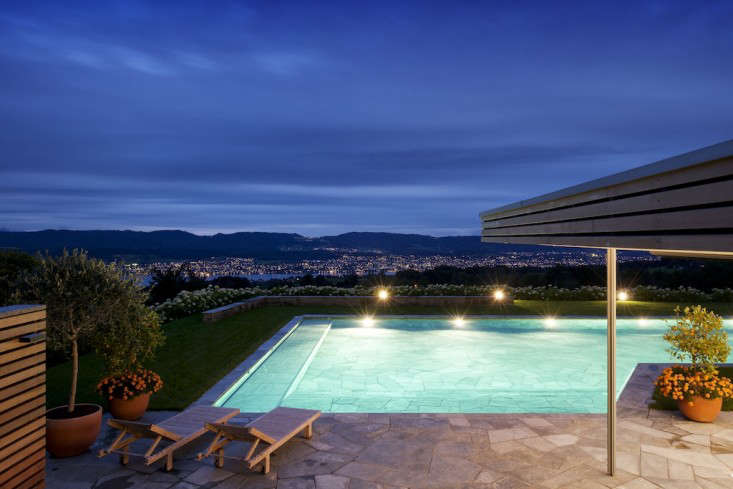 Above: "View from pool terrace of the lake and city beyond."
Above: "Farmhouse pool pavilion opened up for night time entertaining."
Above: "Custom picnic table harvested from local trees."
Above: "Stone terrace made from indigenous stone."
---
Project 2
Daniel Nolan for Flora Grubb Gardens | San Francisco, CA | Octavia Terrace
Design Statement: "I don't think my client was expecting me to say 'Dior 2013 Spring Collection' when I was meeting with him to discuss his project, but we were standing in his city terrace that was so stark that I immediately thought of the show. The set was designed as an homage."
Chosen by: Gardenista editor in chief Michelle Slatalla, who commented: "The equivalent of the little black dress is the little white garden, and this one gracefully brightens and warms a severe facade."
Above: "The terrace was inspired by the 2013 Dior Spring Collection."
Above: "The look is minimal but warm, and provokes both meditation and reflection." 
Above: "Undulating Buxus, punctuated with Acer 'shishigashira' all planted in matching concrete spheres."
---
Project 3
Leslie Needham Design, LLC | Bedford, NY | A Studio for Inspiration
Design Statement: "As a landscape designer, inspiration comes from the outdoors. My at-home studio (formerly a wagon shed attached to the house) offers large views and quick passage to the terraces and gardens around the house. These views and walks through the gardens are a constant source of creative motivation."
Chosen by: David Stark, who had this to say about the project: "I love the romance and the feeling of discovery in this garden. The relationship of the home/studio to the landscape is seamless and the pull to get lost within the garden is strong. Lovely." 
Above: "The studio opens up to the gardens with two pairs of large French doors."
Above: "The main terrace of the house is a few short steps from the studio."
Above: "Across the grass from the studio are stone steps to the orchard."
Above: "The steps are planted with herbs, iris, sedums and mint: happy re-seeders."
---
Project 4
Earth Inc. | Toronto, Ontario, Canada | The Meadows
Design Statement: "Exiting the house, you enter a honed concrete dining patio and on toward a sunken fire pit lounge. A wood/I-beam boardwalk takes you across a water basin fed by three copper spigots set into a wood textured concrete wall. The boardwalk continues through a meadow of mass planted Switch Grass."
Chosen by: David Stark, who said: "At first glance, this garden feels quite simple, but I appreciate that it's anything but. It is a very convincing fantasy and a really fabulous space for entertaining. Exotic and unexpected!" 
Above: "View from the sunken fire pit patio across the water feature and boardwalk."
---
Project 5
Greg and Rainy Smith | Manhattan Beach, CA | Friday Wine Night Retreat
Design Statement: "In an effort to reduce water use, we removed our lawn and created a space that is an extension of our home and has become our social gathering spot for our family's favorite Friday Wine Nights."
Chosen by: Michelle Slatalla, who said: "With string lights, built in seating, and a fire pit, this is the ultimate outdoor party room. With contrasting textures and the warmth of wood, nobody misses the lawn (or the higher monthly water bill).
Above: "Fire pit, bocce ball mini-court, sitting area."
Above: "A smaller playing field doesn't ruin the game one bit!"
Above: "Simon is a fan of the area as well!"
Above: "A mini-court for the minis!"
Found your favorite? Vote once per day in each of 12 categories across both sites, now through August 15:
(Visited 51 times, 1 visits today)