Our judges have selected the finalists, now you choose the winners. Vote for the finalists in each of 12 Considered Design Awards categories, on both Gardenista and Remodelista. You can vote once a day in each category, now through August 15.
In the Best Amateur Garden category, our five finalists are Caitlin and Tessa McLaughlin, Bettina Mueller, Harriet and Scott Kaufman, Nenita Franck, and Sherry Smith. 
Project 1 
Caitlin and Tessa McLaughlin | Northamptonshire, UK | Urban Contemporary Garden
Design Statement: "An effective and realistic design for a small urban space. Sleek polished concrete tiles and multi-stemmed hazel tree create a focus amongst the naturalistic style planting. The garden is a grid system, replicated through paving, ponds, block charred oak seating, and cuboidal wildflower turf structures to create theatre."
Chosen by: guest judge and garden designer Carolyn Mullet, who said, "A lot is packed into a small space! Choosing diagonal paving was smart, and the charred seating is especially nice."
Above: "Spring flowers and herbs complement each other in the same borders."
Above: "Polished concrete paving leading to charred oak seating and multi-stemmed hazel tree. Naturalistic planting with Festuca amethystina, Angelica 'Ebony', Anthriscus sylvestris, and Polemonium "˜Lambrooks mauve'."
Above: "Reflective 'L' shaped ponds mirror the planting above and create tranquility."
Above: "Wildflower turf structures create height and theater to the garden." 
---
Project 2
Harriet and Scott Kaufman | Cutchogue, NY | Garden by the Sea
Design Statement: "Ten years ago we fell in love with a cottage on 7.5 acres overlooking the sound on the North Fork of Long Island. It didn't have much of a garden but was covered in wild cherry trees with a view to die for."
Chosen by: Carolyn Mullet, who called it a "classic East Coast garden that respects well-defined open spaces. Detailing is especially appropriate."   
Above: "We've planted dozens of trees and cleared dense bush to create shapes and open space."
Above: "A two-acre field is planted each year with wildflowers or rye grass."
Above: "We planted close to 200 hydrangeas around the garden, mostly macrophylla and paniculta."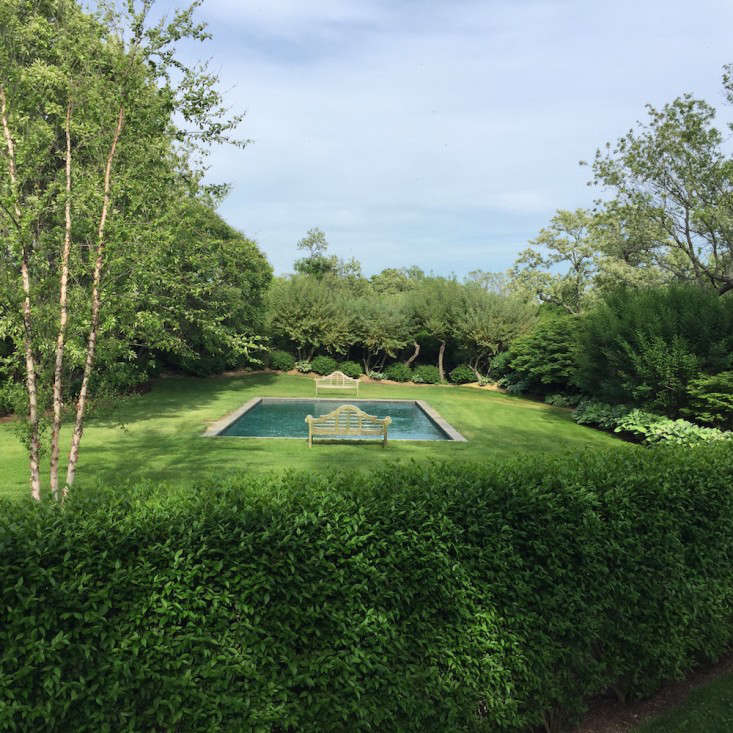 Above: "We created separate gardens for the pool and tennis court and vegetables and an orchard."
---
Project 3
Bettina Mueller | Tivoli, NY | A Tea Garden in Tivoli
Design Statement: "Drawing from her decades-long study of the Japanese Tea Tradition where great–even legendary–gardens are small by necessity, Bettina Mueller sets out to turn her 1/8 backyard in the small Hudson Valley village of Tivoli, New York into a private world of beauty and tranquility."
Chosen by: Gardenista editor in chief Michelle Slatalla, who said: "The use of simple, rustic materials reinforces the beauty of the natural surroundings."
Above: "My backyard garden inspired by the Japanese Way of Tea."
Above: "The entry arbor to the tea garden. A straight path goes to the middle gate."
Above: "Once through the middle gate the stone path changes to scattered stepping stones."
Above: "Bamboo fences, paths and this water basin contribute to the feeling of a tea garden."
---
Project 4
Nenita Franck | Gleneden Beach, OR | Nenita's Salishan Hills Garden
Design Statement: "First thought was to have a woodland garden to blend in with the surrounding forest. Had to consider the nearby ocean, too. I needed a more dramatic garden and filled 1/3-acre property with flowering plants and colorful trees. Native plants are nurtured. Birds, bees, butterflies, deer, coyote, racoons, squirrels."
Chosen by: Carolyn Mullet, who said: "This is a garden that's all about the joy of growing plants in a naturalistic style. Color and texture have been used in an expressive, personal way."
Above: "Primula, rose, calla lily, azalea, and rhododendron add drama to Japanese maples."
Above: "Hillside back garden features hydrangeas, spirea, hebe among vine maples, pine, ash, and empress."
Above: "Stone pillars balance among Ca. Orchid, bamboo, weigela, coastal pine, Himalayan honeysuckle, barberry."
Above: "Find asters, daisies, agapanthus, iris, crocosmia, hydrangea, among natives as the serviceberry, huckleberry, ferns, raspberries."
---
Project 5
Sherry Smith | Austin, TX | Ca Colina
Design Statement: "Rocky slopes, minimal soil on limestone bedrock, high summer heat, frequent droughts, hungry deer–these are the environmental challenges my garden endures. My home lies on the threshold to the Texas Hill Country, so I've built a garden with native and adapted plants and naturalistic hardscape using local stone."
Chosen by: Michelle Slatalla, who remarked: "Working with (rather than against) a challenging climate, gardener Sherry Smith created the surprise of a green oasis in a dry, hot setting."
Above: "Agave americana marginata surrounded."
Above: "Studio entry–native limestone, native plants."
Above: "Reve d'Or antique rose on back deck."
Above: "Mountain laurel in bloom standing over blue agaves."
Found your favorite? Vote once per day in each of 12 categories across both sites, now through August 15:
You need to login or register to view and manage your bookmarks.