You could easily zoom past it on busy Crenshaw Boulevard in Palos Verdes Peninsula, CA. It is so unexpected to find this haven of greenery among the strip malls and shopping centers. But the South Coast Botanic Garden is definitely here–and location is not the only surprise it has in store for you:
You'll never suspect you are walking on top of 3.5 million tons of garbage, touring the site of a former strip mine and county landfill. Walk past the gift shop, and you will be greeted by beautifully maintained specialty gardens: the Fuchsia Garden, the Volunteer Garden, the Dahlia Garden, all filled with plants and bursting with blooms. These areas are lovely, but not all that different from gardens you might encounter elsewhere, (even here on the East Coast, where I live).
It is when you strike out on one of the many trails to explore the more remote areas of the garden's 87 acres that you begin to realize you are not in Brooklyn anymore.
This garden is blessed with the climate zone that West Coast-centric Sunset Magazine identifies as "23." It is one of the best for growing subtropical plants, and specimens have been gathered from all over the world.
There are gorgeous California native plants such as the Wild Lilac, in stunning bloom when we visited in March.
Follow the homey signs to the lake, and you will pass a stand of exotic Caesalpinia Spinosa "Tara" ornamental trees from South America, which are highly prized for their gorgeous yellow flowers and distinctive bumpy bark. In the US they are only hardy to zones 10 and 11, but if you have those conditions you can buy seeds for $4 a packet from Chile Flora.
We meandered to the lake just in time to find a rather blasé egret relaxing and looking very much at home among masses of water loving plants including Cyperus Alternifolius, also known as Umbrella papyrus, which is native to Madagascar. If you'd like some around your own water feature, you can buy the seeds ($2.47 for 300) from Seedaholic.
We were tempted to spend some time lolling on a bench enjoying the lake view like a lot of our fellow garden visitors, but we continued on.
Our reward was a shady stroll through an amazing grove of Moreton Bay Fig trees from Australia. These large evergreen banyan trees look like something out of Grimm's Fairy Tales and can grow as high as 200 feet. They are particularly interesting because of their distinctive buttressing roots, which protrude above the soil and help keep these huge trees securely anchored.
.
In fact we were so totally dazzled by the garden and so caught up in exclaiming over the exotic plant life that we never suspected we were walking on top of a former strip mine and county dump. From 1929 to 1956, the land under the South Coast Botanic Garden was an open pit mine where tons of diatomite, a widely used industrial material, were scraped from the earth.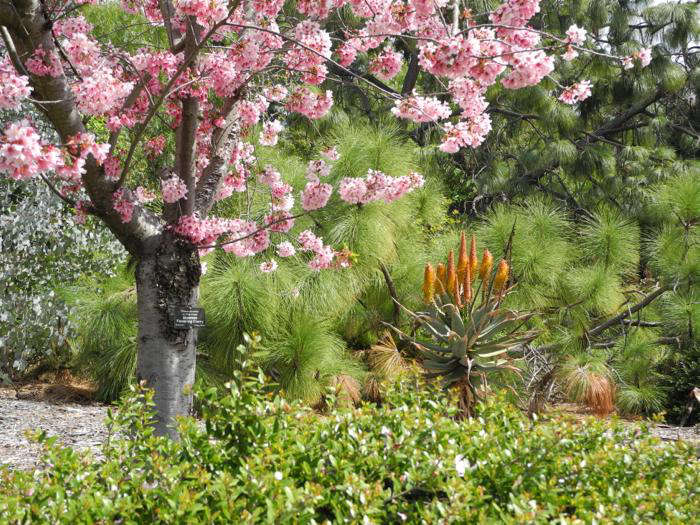 From 1957 to 1961, Los Angeles county used it as a landfill. In 1961 local citizens persuaded officials to convert the land into a botanic garden. It began with 40,000 donated trees, shrubs, and other plants. Today the number of plants exceeds 200,000.
They are living proof of what can be achieved when resources and vision are directed to repairing damage to our planet. The fact that you can explore this garden and never guess its history is testament to the success of its conversion from mine and refuse pit to sanctuary.
Visit the South Coast Botanic Garden any day except Christmas. In addition to the many plants, 200 species of birds are sighted annually. The garden offers a full program of classes, lectures, concerts and other activities, many aimed at families and children.
Do not go to Los Angeles without seeing this amazing place.
If you're up for a scenic stroll in the same area, take a look at this post: A Gentle Walk in the Land of Eternal Sunshine.
Take a walk with us; see our favorite Hike of the Week stories.
(Visited 33 times, 1 visits today)